'Destiny 2': Best Perks For The 'Something New' Hand Cannon
KEY POINTS
Something New is a 120RPM Stasis hand cannon that drops from the Bonfire Bash activity
The weapon is one of the few guns in the game that can roll with Demolitionist and Wellspring
The gun can consistently two-tap Guardians when Harmony is active
The Solstice event for 2022 added one new weapon to its loot pool, and it's the game's first-ever Stasis 120RPM hand cannon.
The ironically-named "Something New" is a reskinned version of the Better Devils or True Prophecy model. Like the two, it sits in the Kinetic slot, which means players could still use their god-roll energy weapons for whatever purpose they need them for.
Despite the similarities, Something New stands out thanks to its unique perk pool, decent base stats and a hilariously broken origin trait that lets Guardians load eight rockets into a single Gjallarhorn magazine. Here are some powerful perk combos that players should look out for.
Wellspring + Demolitionist
There are very few guns in the game that can roll with this combo. This is arguably the best way to regenerate energy from a neutral state without having any crazy builds involved. Simply get kills with the weapon and watch the energy meters refill.
Feeding Frenzy + Headstone
Headstone is an amazing perk for Stasis builds thanks to its ability to generate crystals, which can spark a chain of interactions between aspects and fragments. Since Something New is a hand cannon, players will have very little trouble scoring headshots with it regardless of game mode.
Feeding Frenzy makes up for the gun's slow reload speed and small magazine size, though other perks like Ensemble, Stats-For-All and Triple Tap can fill this role just as well.
Tunnel Vision + Multikill Clip
This combo is what most PvP players will want if they want to snowball with this hand cannon. Both perks proc off reloading after a kill, which will grant users five seconds of greatly increased accuracy and lethality.
Tunnel Vision works extremely well with Multikill Clip since it will help players score multiple kills with one magazine, further enhancing the latter's effectiveness.
Harmony
This perk works best with a Hunter wearing Lucky Pants and another Harmony weapon like Wolftone Draw or Retraced Path. Players can easily get two-crit kills in PvP with Something New, provided Harmony is active, and scoring that kill will allow for easy one-taps with Wolftone or very quick melts with the trace rifle.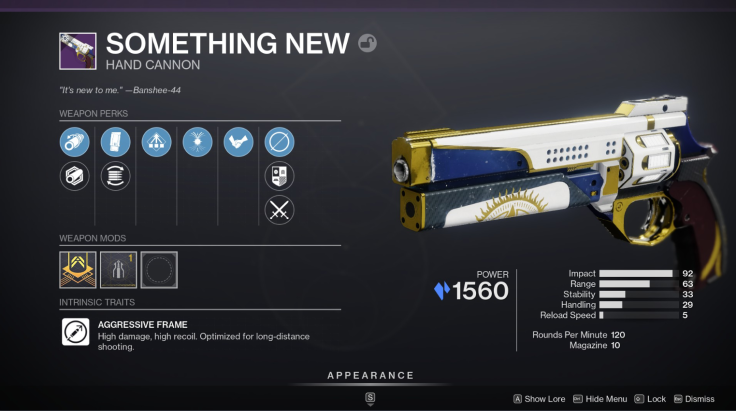 © Copyright IBTimes 2022. All rights reserved.
FOLLOW MORE IBT NEWS ON THE BELOW CHANNELS