'Destiny 2': Lumina Exotic Hand Cannon Quest Guide
New content has been rolled out for "Destiny 2's" Season of Opulence with the next chapter in the Thorn-Last Word storyline. Another Exotic hand cannon, named Lumina, is now available in the game for Annual Pass owners.
Lumina is an Exotic hand cannon that, as can be seen in the trailer below, both damages enemies and heals allies, which sets it apart from any other weapon in the game. In order to start the quest, you must first complete the Thorn questline. You'll know you're on the right track when you're presented with a message telling you that you should return to the clifftop in relation to the man with the golden gun, referred to as the "same place as before."
A Message from Shin Malphur – Head to EDZ
To get started, head to EDZ and work your way through the Salt Mines, located just north of Trostland. You will come across a Fallen transponder that transmats you to the next area. From there, you must make your way to the end of the path and hug the ledge. You'll then see an opening with carious abandoned camps. Here, you'll find a chest that you need to open. Once you've completed this step, you'll then need to proceed through a series of additional steps to obtain Lumina.
Visit the Original Thorn's Location Using The System Positioning Device
The next step is called "A Fateful Gift" and tells you to identify the location of the original Thorn using your system positioning device. You'll then receive an item called a System Position Device, which can be found in your Triumphs. Hover over the device to see where you need to head. The location you need to go to changes by the hour and is different for everyone.
Head to the designated area and search for a chest. It will not be marked on your radar, however, your Ghost will notify you when you're close.
Bearers of Evils Past – Generate Orbs of Light
Next up is to generate 250 Orbs of Light. While that sounds like a lot, Orbs generated by your teammates count towards your progress, so get your Fireteam ready.
Rose Revealed
At this point, you will get the Legendary hand cannon, Rose, as well as 3 Legendary quest steps.
From this point on, you will have to rely on data miners. Data miners have allegedly uncovered all of the steps, and you can see it here.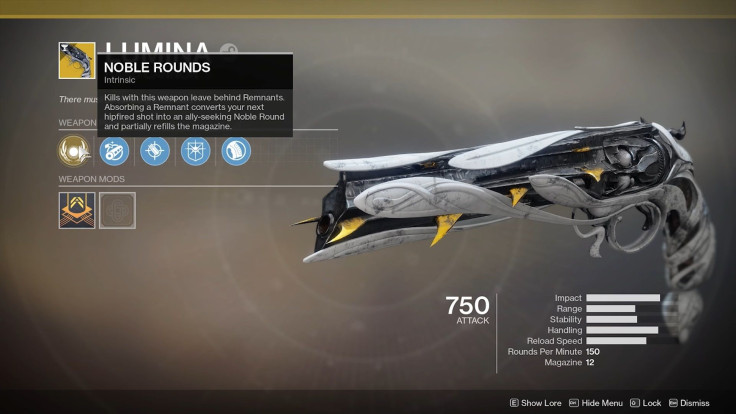 © Copyright IBTimes 2022. All rights reserved.
FOLLOW MORE IBT NEWS ON THE BELOW CHANNELS