Diabetes Affects Almost 50 Percent Of Mexicans, Costs The Government $44B A Year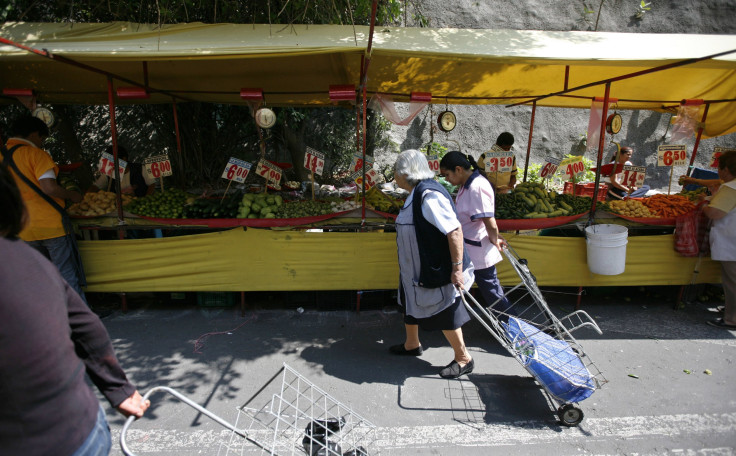 MEXICO CITY -- The Mexican capital is a fragrant city. All around town there are open stalls of freshly cut flowers for sale. Out in the sun, women dry palm trees that will be later turned into hats or fans. And food carts are perched in every corner, selling tacos, fresh guacamole and fruit juices.
But when entering any of the markets in Mexico City, what's even more apparent are homemade candy, popsicles and fried empanadas, and cans of everything from Coca-Cola to tamarind soda.
Lately, however, the most sought after item in any of these markets -- which sell everything from food to furniture to plants to electronics -- are compression stockings.
There's a reason for the popularity of the item, which helps blood circulate in the legs: The number of diabetics in Mexico has spiked tremendously.
More than 6 million Mexicans have been diagnosed with diabetes in the last two years, and several thousands others will do the same. In Mexico there are almost 50 million overweight adults -- 44 percent of the total population -- and these are the people who are most at risk, according to the Mexican National Survey on Health and Nutrition from 2012.
Aside from how it affects someone's health -- it can lead to blindness, heart disease and nerve damage -- diabetes, as a chronic disease, has a serious impact on the country's economy and development.
Mexico spent more than $4 billion in 2012 in managing diabetes-related problems, including treatment, medical attention and research. The amount is, according to the survey, larger than the funding for social security, which covers 44 million Mexicans.
"Diabetes is a social problem, it means a burden not only in matters related to healthcare costs," said a report from the World Bank that same year. "It lowers productivity, causes employees to miss their jobs and has an overall negative impact in the economy."
Mexico's strategy to control diabetes and obesity -- when it comes to both, Mexico is the leading country in the world, with over a third of adults suffering from them -- aside from launching a pro-prevention campaign, is to make unhealthy food and drinks unappealing to the wallet: As part of President Enrique Peña Nieto's political reforms, there is the so-called "soda tax," which increase the price of sugary drinks 10 percent and the price of junk food 8 percent.
Mexico is not alone in this fight. Sixty million Latin Americans are diabetic, and the World Bank predicts that the number will hit 85 million by 2035.
Several other Latin American countries have started to pay more attention to what is feeding their citizens. Argentina has started laws regulating the use of salts in processed foods, whereas Uruguay has the most restrictive law on cigarettes in the continent.
© Copyright IBTimes 2023. All rights reserved.