Pacific Alliance Ends Tariffs On 90% Of Trade Between Mexico, Colombia, Peru And Chile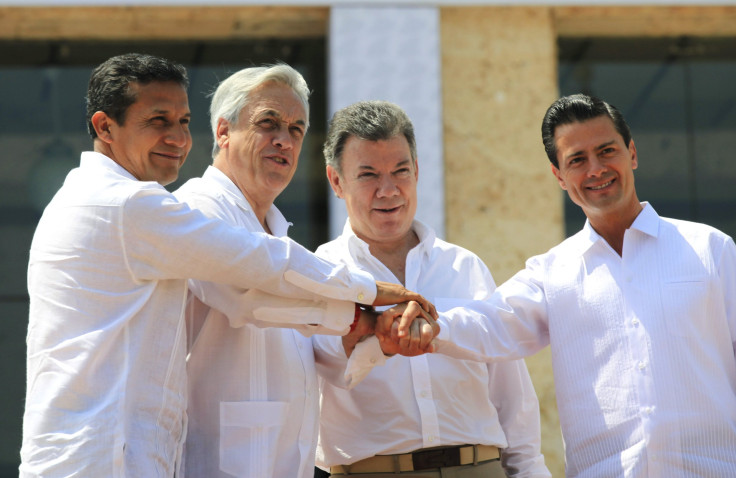 MEXICO CITY -- The presidents of Mexico, Colombia, Peru and Chile signed Monday an agreement to eliminate tariffs on 92 percent of trade among their countries. The accord, signed during the eighth summit of the Pacific Alliance in Cartagena, Colombia, is an addendum to the charter of the alliance signed in June 2012.
The agreement is a step forward in the economic integration of the four fastest-growing economies in Latin America, and a significant advance in their goal of working as a united trade partner with Asia, which is the main goal of the alliance.
The remaining 8 percent of trade -- mostly agricultural goods that require special treatment and have to go through specific screening -- will be "progressively added," Colombian President Juan Manuel Santos said. The agreement, he added, will increase trade among the four participants, "making us more competitive individually and collectively."
Mexican President Enrique Peña Nieto called the pact the "largest [Mexico] has signed since the Free Trade Agreement with the United States" or NAFTA. Chile's Sebastián Piñera (who leaves office next month) emphasized the alliance's openness, saying it is "not against anybody, only in favor of increasing the quality of life in our countries."
The four member states represent together 36 percent of the region's GDP and half of its exports. The economic venture also means a change in the geopolitics of the region, after the stagnation of Mercosur, an older economic alliance that includes Brazil, Paraguay, Uruguay, Argentina and Venezuela.
© Copyright IBTimes 2022. All rights reserved.
FOLLOW MORE IBT NEWS ON THE BELOW CHANNELS