Did ISIS Boy Execute Russian Spies? Moscow Investigating, But No Confirmation 'So Far'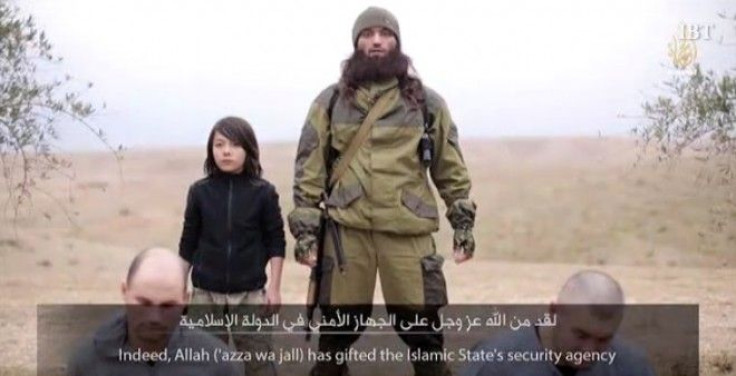 Russia said it is investigating Wednesday whether two men shown executed by a child jihadist in a video released by the Islamic State militant group are Russian spies. The Russian embassy in Syria said it doesn't have any confirmation "so far" that the men were Russians or Russian agents, according to Radio Free Europe.
The embassy "is looking into the information suggesting that this could have been an execution of Russian citizens, particularly members of the Russian special services," embassy spokesman Oleg Samochkin told the Interfax news agency, according to Radio Free Europe. "So far, we do not have information to confirm that any of those shown is a Russian citizen," Samochkin added.
The two men in the video are shown speaking in Russian and confessing to working for Russia's Federal Security Service, or FSB, in Syria to infiltrate the militant group also known as ISIS. One of the men says he's from Kazakhstan, and their confessions appear to be rehearsed, indicating that they may not be Russian spies as claimed by ISIS.
One of the men identifies himself as Zhanbolat Mamaev of Kazakhstan and claims he's a member of the FSB. He said part of his mission was to go to Syria to obtain information on ISIS from Russian-speaking members of the group. The second man said his name is Sergei Ashimov and "appears to be ethnic Russian," according to Radio Free Europe.
One of the men confesses to being ordered to assassinate an ISIS leader, according to Fox News. The men are later allegedly shot by a boy. "Allah has gifted the Islamic State's security agency with the apprehension of these two spies," a man accompanied with the boy says in the video. "By Allah's grace, they are now in the custody of the lion cubs of the caliphate."
© Copyright IBTimes 2023. All rights reserved.