Dirty Doctors? Anonymous Essay Documents Physicians' Racist, Sexist Behavior Before Unconscious Patients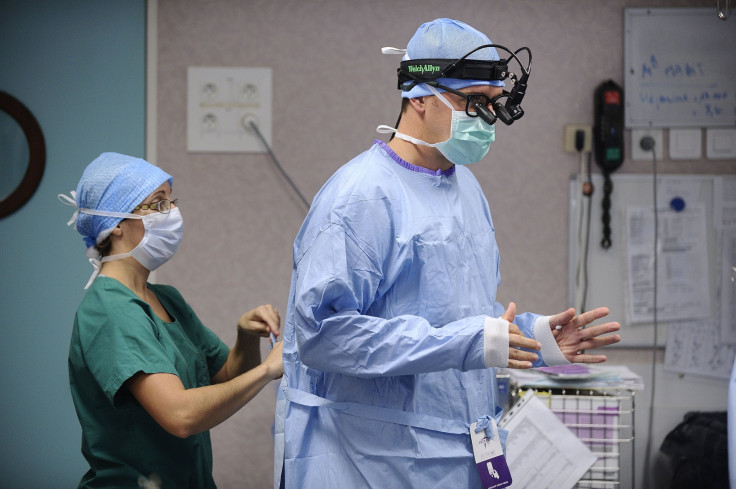 When doctors-to-be take the Hippocratic Oath, they swear to uphold a range of promises to patients. "Whatever houses I may visit, I will come for the benefit of the sick, remaining free of all intentional injustice, of all mischief and in particular of sexual relations with both female and male persons, be they free or slaves," reads one section of the ancient text.
When patients are unconscious, they have no way to guarantee that doctors will conduct themselves with the professionalism and maturity they are sworn to. Most physicians and surgeons, presumably, do behave ethically. But what happens when they don't? Who speaks up in defense of the patient? Or are uncomfortable incidents merely swept under the rug?
Those questions are at the heart of an anonymous essay, "Our Family Secrets," published Monday in the Annals of Internal Medicine, an influential medical journal. The piece recounts a horrific incident in which the author, as a medical student, witnessed an obstetrician verging on sexually assaulting an unconscious, bleeding patient -- a new mother, named Mrs. Lopez -- all with racist overtones.
"Dr. Canby raises his right hand into the air. He starts to sing 'La Cucaracha.' He sings, 'La Cucaracha, la cucaracha, dada, dada, dada-daaa.' It looks like he is dancing with her. He stomps his feet, twists his body, and waves his right arm above his head," the author described. "All the while, he holds her, his whole hand still inside her vagina." The doctor had just saved the mother's life by stopping severe bleeding after she had given birth.
Such circumstances are a stomach-roiling nightmare. But because they're uncomfortable to talk about, they often go undiscussed. That is precisely why the Annals of Internal Medicine decided to publish the essay, Dr. Christine Laine, the journal's editor-in-chief, said.
"This was obviously an extreme example," Laine said in an interview. "It's not common, but even if it only happens rarely, that's too often," she added. "Our main motivation in publishing it was to prompt discussion," she explained. "We didn't want the journal to stuff this behavior under the rug."
The idea of publishing the essay in the first place was controversial enough to have sparked an "impassioned" discussion among the journal's editorial team. "We all agreed that the piece was disgusting and scandalous and could damage the profession's reputation," the editors, including Laine, wrote in an editorial accompanying the piece. "Some believed that this was reason not to publish the story. Others believed that it was precisely why we should publish it."
The essay also recounted a second, separate anecdote. The author described facilitating a medical humanities class in which a student shared his memory of a physician preparing a woman for a hysterectomy. As he cleaned her, the doctor said, "I bet she's enjoying this." Shocked and uncertain, the student played along and laughed.
That moment is central to both stories. "The message isn't, you shouldn't be fearful of this," Laine said. "The reason for publishing this is to generate discussion that will empower people to stand up to colleagues when they see colleagues acting in a disrespectful manner toward patients," especially when speaking up against such behavior can be intimidating.
The essay is far from the first exposé of questionable behavior among doctors. In 2014, a doctor took a selfie in the procedure room of the comedian Joan Rivers, who was under anesthesia for an endoscopy scheduled with a different doctor. Rivers died a week later, after going into cardiac arrest.
In June, a jury in Virginia ordered an anesthesiologist and her practice to pay a patient half a million dollars for defamation and medical malpractice after the patient listened to an audio recording he had accidentally made of the medical team discussing him while he was under anesthesia for a colonoscopy.
"After five minutes of talking to you in pre-op," the anesthesiologist said, "I wanted to punch you in the face and man you up a little bit," the Washington Post reported. A medical assistant pointed out a rash on the patient, and the anesthesiologist told her, "It's probably tuberculosis in the penis, so you'll be all right." During the operation, as many as three people were in the room.
In "Our Family Secrets," the dancing obstetrician looked at the author of the essay, who began to sway to his beat. "My feet shuffle. I hum and laugh along with him," the piece recounted. And then, the scene ended abruptly. Another doctor in the room had spoken up, rebuking them, "Knock it off, a--h----!"
© Copyright IBTimes 2022. All rights reserved.
FOLLOW MORE IBT NEWS ON THE BELOW CHANNELS