Dirty Doctors: Does Spike In Physician Arrests In New York Reflect Ethics Crisis In American Medicine?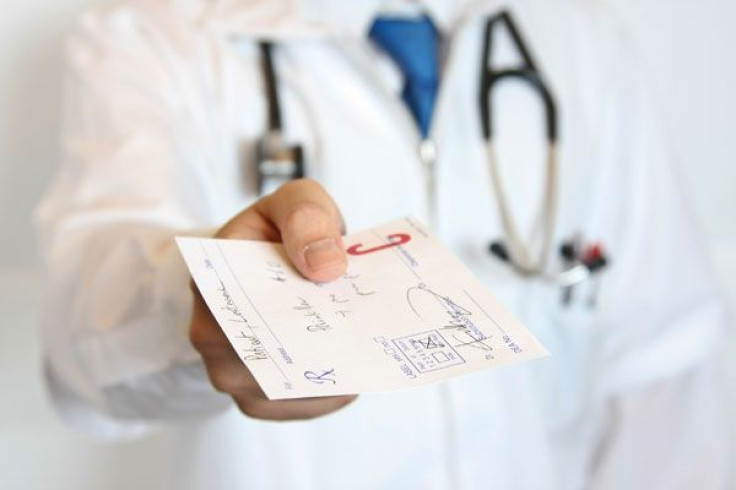 Not long ago, Demetrios Gabriel was a respected pediatrician, well liked by his patients, with an unblemished professional history. The 46-year-old doctor, who graduated from New York Medical College in 1990, had no sanctions or malpractice claims against him, and his patients in Brooklyn and Staten Island had given him a five-star rating on HealthGrades.com. Then Gabriel saw a chance to make some extra money by accepting payments from a New Jersey lab for ordering unnecessary blood tests for his patients.
It was a simple arrangement. In exchange for ordering the tests, Gabriel was paid $200,000 ($4,500 per month) by Biodiagnostic Laboratory Services (BLS) of Parsippany, N.J., according to the U.S. Attorney's Office, District of New Jersey. Things went smoothly for a while. But after the arrangement was discovered -- prosecutors won't say how they learned of his involvement -- Gabriel, of Gabriel Pediatrics, a group practice, was arrested and charged with accepting bribes from BLS (federal officials said Gabriel Pediatrics was not charged).
Gabriel pleaded guilty in federal court in Newark, N.J., and faces up to five years in prison. He was, according to the FBI, part of an ambitious bribery scheme that brought in more than $100 million in payments to BLS from Medicare and private insurers. The latest to admit guilt in this operation is Dr. Surender Gorukanti, a Brooklyn pediatrician who, according to federal officials, pleaded guilty on March 25 to accepting $14,000 ($1,000 per month) in bribes from BLS in return for doing the same thing Gabriel did: referring patient blood specimens to the lab.
The story of BLS and its corrupted doctors would be disturbing enough had it unfolded in isolation, had it been an aberration. It wasn't. According to the U.S. Attorney's Office, District of New Jersey, Gabriel and Gorukanti are just two of at least 19 New York-area doctors the New Jersey office alone has prosecuted in the past year, compared to just seven in the previous year. The physicians' alleged crimes, mostly fraud-related, include mail, insurance, Medicare and employment fraud, as well as illegal sale of narcotic prescription drugs and accepting bribes.
Among the prosecuted doctors are many that, like Gabriel, enjoyed stellar reputations at the time of their arrests. Dr. Jose Katz, a cardiologist with offices on Fifth Avenue in New York and in New Jersey, spent more than two decades as a professor at Columbia University. He was sentenced in November to six and a half years in jail after admitting he intentionally misdiagnosed up to 80 percent of his patients with heart problems so he could collect $19 million in extra Medicare money.
New Jersey U.S. Attorney spokesperson Rebekah Carmichael, whose office prosecuted Gabriel and Katz, said patients came to Katz for routine visits and most left with false diagnoses of coronary artery disease and angina and orders to undergo unnecessary tests, many of which were "contraindicated for the patient." Judge Jose Linares of U.S. District Court in Newark told AP that Katz perpetrated a medical fraud so vast that "it boggles the mind."
Is This a Trend?
While hesitant to call the increased number of doctor prosecutions a trend, Carmichael said there has been a "definite increase, a spike" in arrests this past year, and that the actual number could be even higher than 19. "This isn't a number we keep in a formal way," she said. "It's a list we keep internally in the public affairs office for our own reference. We can't just run the numbers; there is no database on arrested doctors. So this list of 19 isn't necessarily exhaustive."
The U.S. Attorney's Office, Southern District of New York, which encompasses Manhattan, also said it doesn't keep specific statistics on doctor prosecutions, but its spokesperson, Jennifer Queliz, said attorneys there, too, are actively working doctor corruption cases, specifically ones that involve the illegal sale of narcotic painkillers, which has reached epidemic proportions in recent years.
Richard Zabel, a deputy U.S. Attorney with the Southern District of New York, told IBTimes, "In a number of these cases, unfortunately, doctors have become prescription machines and abdicated their role as professionals. Where appropriate, we will prosecute, but the medical profession and licensing authorities need to also take a look at whether such individuals should continue in the practice of medicine."
New York Governor Andrew Cuomo has made the prosecution of unethical doctors a focus of his administration in the past year. In August, Cuomo signed a law that will eventually allow authorities to track prescriptions more closely and help prevent doctors from illegally prescribing and selling these drugs. And in October, the governor banned 18 doctors from billing New York's no-fault auto insurance system as part of his statewide initiative to stop the abuse of the no-fault insurance system, which costs New Yorkers hundreds of millions of dollars in unnecessary insurance costs.
"Doctors and medical service providers who conspire to abuse the system should know that New York State is watching and will not hesitate to take appropriate actions to shut down fraud when it occurs," Cuomo said in a statement last year.
Doctor corruption is clearly not unique to the U.S. An exhaustive study last year by the European Commission on Corruption in the Healthcare Sector found that bribery of doctors in EU countries is common and "often related to preferential treatment – particular to bypassing waiting lists." Bribery of doctors occurs most frequently in former transition economies of Central and Eastern Europe, where it is "seen as common practice," the study concluded, but it is also "widespread" in Greece and Italy. The study also found that improper financial relationships between drug companies and doctors in Europe is "problematic" and may lead to "higher drug prices or increased drug consumption by the population." But the study found that these relationships are declining in Europe because of increased public demand for doctors to declare conflict of interests and for stricter legislation.
One scandal cited in the study involved Mediator, the amphetamine drug introduced by French doctor and diet guru Pierre Dukan. The drug, which was marketed to overweight diabetics but also prescribed by doctors to healthy women who wanted to lose weight, prompted changes in how many doctors police themselves, the study found. Mediator has killed at least 500 people by damaging their heart valves, according to the French health ministry. That scandal has led to more self-regulation among European doctors as well as "the introduction of legislation [throughout Europe] that is inspired by the American Physician Payments Sunshine Act," which is a part of Obamacare, the European Commission study concluded.
Tarnished by Greed and Dishonesty
Law enforcement sources won't speculate as to why doctor arrests have been increasing in New York. But the high-profile arrests are giving the city an unenviable reputation. One New York physician -- Dr. Evan Levine, a New York cardiologist and clinical assistant professor of medicine at Montefiore Medical Center-Albert Einstein College of Medicine -- said the arrests are evidence of a disturbing trend not only in New York but in American medicine nationwide.
"The system has become tarnished by greed and dishonesty," said Levine, who's the director of the Saint Joseph's Cardiovascular Center in Yonkers. Levine, who in 2005 published a controversial book, "What Your Doctor Won't (Or Can't) Tell You," said doctor corruption isn't new, "but it wasn't previously on such a grand scale as it is now."
Levine personally knows some of the New York doctors who've recently been arrested, and has earned a reputation among his fellow physicians and among hospital administrators and drug company executives as a critic of his own profession in the media and on his own blog. He spoke with IBTimes about the recent arrests because, he said, he wants patients to know the truth about the healthcare scams that are taking place across the country.
Levine, who every year since 2001 has been named "Top Doctor in Cardiovascular Medicine" in the New York metro area by the Castle Connolly Guide, thinks the majority of America's doctors are still honest. But he said more of them than ever are succumbing to the temptation to participate in crimes, mostly because of greed. He cited fellow New York cardiologist Rohan Wijetilaka, whose medical license had already been revoked for performing unnecessary tests on patients and who is now accused of fraud and peddling painkillers. Wijetilaka pleaded not guilty in federal court in December, reported New York News 12. Manhattan U.S. Attorney Preet Bharara said in a statement at the time of Wijetilaka's arrest that Wijetilaka, who's scheduled to go to trial in September, was a "corrupt physician" who will "no longer be in a position to violate the Hippocratic oath to which he swore, jeopardize the health and well-being of his patients, or break the law."
What troubles Levine most, he says, is that there seems to be less shame attached to such wrongdoing than there was in the past. After Wijetilaka lost his practice, Levine noted, when doctors and hospitals might be expected to distance themselves from him, "some flocked to make some type of deal with him to get the patients he could no longer see."
As further evidence of physician wrongdoing, Levine pointed to an article that ran in the January edition of the American Heart Association's journal that lists a database of the use in New York of diagnostic coronary angiography, a special X-ray test used to show if coronary arteries are blocked or narrowed. Patients in the database were rated as appropriate, uncertain or inappropriate for the procedure, and the database found that only 35 percent of all the coronary angiograms between 2010 and 2011 were "appropriate" for patients, while 25 percent were considered "without merit."
"In just that single year, there were more than 2,000 patients who had a cardiac angiogram even though they had no symptoms suggestive of coronary disease or even a stress test exam prior to the procedure," Levine said. "In other words, it appears that at least 2,000 people were put through an invasive procedure with risks that include stroke, heart attack and death, when they didn't need it."
For this relatively simple procedure, which can be performed in under half an hour, Levine said the bill can reach $8,000. "By comparison, it would require a general practitioner to see about 124 patients, for an intermediate visit, in order to bill $8,000, based on Medicare rates," he said. "An efficient lab should be able to perform around 12 diagnostic angiogram studies in a day, per room, billing around $96,000."
One of the Most Shocking Cases
Despite the efforts of politicians and law enforcement agencies, it appears not much has changed since October 2012, when 91 people including doctors, nurses and other medical professionals were reportedly charged with committing $430 million in Medicare fraud in New York and six other U.S. cities. The Daily Mail reported that the charges ranged from healthcare fraud and conspiracy to kickback violations, identity theft and money laundering. Attorney General Eric Holder called it the largest alleged medical fraud bust of its kind in U.S. history.
Supporting Levine's contention that the problem runs deeper than New Jersey and New York are cases involving the prosecution of unethical doctors across the U.S. In the Boston area last month, Dr. Fathalla Mashali, a pain medicine physician, was arrested and accused of prescribing high-dose narcotics to patients who were known to be drug abusers and whose medical conditions did not warrant it, and of fraudulently billing Medicare for physical exams that never occurred, according to the Boston Business Journal.
In Chicago last month, Dr. Sathish Narayanappa Babu was arrested and charged with dispensing prescription medications illegally and fraudulently billing Medicare, federal authorities told the Chicago Tribune. Agents reportedly seized more than $100,000 from the bank accounts of Babu's company, Anik Life Sciences Medical Corp.
An Atlanta-area doctor was indicted earlier this month on federal charges of illegally distributing painkillers. AP reported that Dr. Sanjay Sinha of Woodstock, Ga., is accused of visiting casinos, befriending casino employees and writing them prescriptions for hundreds of pills.
Ethicist Jack Marshall, an attorney, teacher and president and founder of ProEthics, a Washington D.C.-based company that offers training sessions on ethics for doctors, lawyers and other professionals, said the financial uncertainties now facing medicine probably play a part in causing more doctors to cheat and steal.
"They entered the profession with expectations of a certain level of affluence," he said. "Of course, true professionals are supposed to eschew money for the public good. Doctors also tend to be narcissists, and are hostage to what I call self-validating virtue: If they do it, it must be OK, because they are good people. Or so they think."
Marshall noted physicians tend to be held in high esteem by the public because they are seen as inherently good, and in his view have been allowed to "self regulate." He added, "Doctors are lax in reporting professional misconduct," and said criminal misconduct isn't even discussed in medical school ethics classes. "The focus there is typically on bioethics," he said.
Some physicians see Levine as unnecessarily critical, said Dr. Robert Meyer, an emergency room physician at the Montefiore Medical Center in New York who has worked with Levine for more than 20 years. But dismissing Levine's criticism ignores the realities of physician abuse, he said. That abuse, he said, goes beyond the court cases to encompass hospitals doing unnecessary tests and rewarding ER docs who are incentivized to admit or not admit patients depending on the Medicare billing cycle, and the hiring of physicians by pharmaceutical companies to author ostensibly scientific studies and speak on behalf of their medications.
Big Pharma and Doctors
One aspect of medical ethics that has been much debated is the evolving relationship between physicians and big drug companies. In his 2004 book "On the Take," Dr. Jerome Kassirer, former editor-in-chief of The New England Journal of Medicine, looked at how the financial relationships between doctors and big pharma sometimes leads to bias and to doctors giving dangerously misleading and even false information to their patients.
"There's been an increase in pressure on doctors across the board over the last decade or so, especially with respect to their incomes," said Kassirer, who had a medical practice for 30 years and has taught internal medicine at Yale, Stanford and Tufts University. "That resulted in more doctors taking more money from the pharmaceutical industry. As doctor fees and other things got tighter, we saw more attempts by doctors to bolster their incomes in a number of ways, and not just in criminal but in other unethical ways. That kind of erosion of professional ethics is extremely bothersome."
At least on that front, the problem appears to be getting better, not worse. Drug company payments to physicians actually dropped between 2011 and 2012, partly because of greater transparency, according to ProPublica. In an effort to reduce potential conflicts of interest, drug companies have in recent years begun releasing details of payments to doctors for promotional talks, research and consulting.
As of 2012, 15 drug companies published the information, most because of legal settlements. Some of the nation's largest drug companies, including Eli Lilly, Pfizer and Novartis, have cut payments to physicians for promotional speeches amid heightened public scrutiny of such spending, a ProPublica analysis shows.
Kassirer attributes this drop in part to the Physician Payment Sunshine Act, a part of Obamacare, which in September will require all drug companies to publicly report payments to doctors.
"Doctors know what's coming and they're becoming more reluctant to sign up with drug companies because they don't want their name on a searchable database," Kassirer said.
Despite predictions that the Affordable Care Act would be vulnerable to fraud, Levine said the system has so far not been widely abused. Recent arrests, he claimed, are unrelated to the new law. Still, Levine doesn't believe the act goes far enough to fix the inherent ethical quandary associated with payments made to physicians by drug companies.
"The Sunshine Act brings transparency to what doctors are paid from big pharma, and for that important step I support it," he said. "But it does not prevent physicians from reaching backroom deals for some quid pro quo arrangement: 'You write my drug and you get paid lectures.' This remains the problem and it will continue. It will embarrass some doctors, but not many, to stop working these unwritten deals with pharma, and it is just a first, trivial step in the right direction."
In Levine's view, guilty doctors have been influenced by a larger culture that is "polluted by images of the ultra-rich. People seem more enamored of money today than ever, and this is translated to some physicians who see income as by far their most important goal and sometimes their only goal. Most doctors work very hard and are actually underpaid. The problem is, if you speak up and challenge the ethics of a hospital administrator or drug company or fellow doctor and show the slightest bit of irreverence, regardless of whether you are right, you will be a target for revenge."
New Jersey U.S. Attorney spokesperson Carmichael said that when doctors put profits over patients to the point of fraud, "there are repercussions for all who use our health care system. Overbilling, over-testing, bribery and other crimes not only defraud the government and insurers, they also undermine the integrity of the doctor-patient relationship. Our office, as part of a robust health care fraud focus, has made a conscious effort to hold individual doctors accountable for their crimes and to deter others who might be tempted."
FOR FREE to continue reading
✔️ Unlock the full content of International Business Times UK for free
offer available for a limited time only
✔️ Easily manage your Newsletters subscriptions and save your favourite articles
✔️ No payment method required
Already have an account?
Log in
© Copyright IBTimes 2023. All rights reserved.