Doctor In The House? Brazil To Import 6,000 Cuban Physicians, But Medical Council Warns They're Not Qualified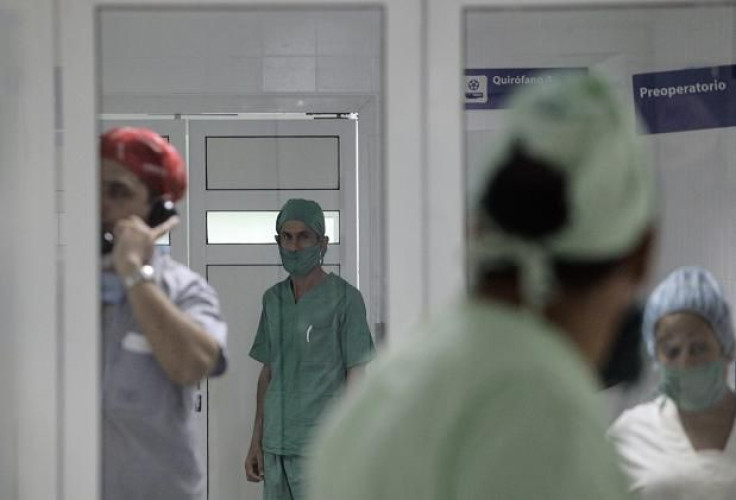 Brazil's principal medical body has condemned a plan by the government to import 6,000 Cuban doctors for the country's remote northeastern and jungle regions, where Brazilian physicians are typically reluctant to serve and health care services are deficient.
Antonio Patriota, Brazil's foreign minister, said in Havana that talks are under way with the Pan-American Health Organization to permit Cuban physicians to practice in Brazil.
Despite the noble intentions of the program, Brazil's Conselho Federal de Medicina (Federal Council of Medicine) called the plan "irresponsible," given questions over the quality of Cuban doctors' training and the low standards of Cuban medical schools.
The council demanded that any Cuban (or other foreign) doctor sent to Brazil have their qualifications reexamined and recertified prior to practicing in the country.
Cuba has dispatched some 30,000 doctors over the past decade to work in the poorest regions of Venezuela, Havana's closest ally in Latin America, the Guardian reported. In exchange, the late Venezuelan President Hugo Chavez provided Cuba with oil at a discount.
The Brazilian government appears to want this expertise as well.
"Cuba is very proficient in the areas of medicine, pharmaceuticals and biotechnology, and Brazil is considering receiving Cuban doctors," Patriota said at a news conference accompanied by his Cuban counterpart, Bruno Rodríguez, adding that the doctor program would solidify ties between the two countries.
In exchange for the physicians, Brazil agreed to pay for the upgrade of five airports in Cuba, among other infrastructure projects.
Patriota told Brazil's Folha newspaper that Brazil suffers from "a deficit of medical professionals," causing a chronic shortage in poor, rural and underserved areas of the country.
According to Brazil's Health Ministry, Brazil has 1.8 doctors for every 1,000 people, versus ratios of 3.2 to 1,000 in Argentina and 1.9 to 1,000 in Venezuela. In Cuba, the corresponding figure is six doctors for every 1,000 people. Brazil is also recruiting doctors from Spain and Portugal.
Brazil and Cuba are seeking closer ties in other venues as well.
"The bilateral agenda in Brazil and Cuba has been intensified with high-level visits and diversification and deepening in economic and social areas," said the Brazilian Foreign Ministry in a statement. "The two countries cooperate in sectors ranging from biofuels, construction, transport, food security and health."
Cuba's foreign minister added that his country is "highly interested" in learning about economic development from Brazil with respect to such items as credits, small and medium-size companies, and fiscal and tax systems, adding that Brazil is already Cuba's second-largest trade partner.
In fact, bilateral trade jumped sevenfold between 2003 to 2012, with Brazilian exports to Cuba expanding by 36.9 percent between 2010 and 2012 alone, said the Brazilian Foreign Ministry.
Interestingly, a country on another continent is also concerned about the importation of Cuban doctors.
Opposition lawmakers in the West African nation of Ghana have criticized President John Dramani Mahama for bringing in 350 physicians from Cuba.
Members of the opposition New Patriotic Party claimed that the government imported the Cubans to fill the slots created by striking Ghanaian doctors.
According to Joy News of Ghana, Kwadwo Owusu Afriyie, the general secretary of the NPP, said: "The government should show leadership. The solution is not to bring in doctors from elsewhere. What if nurses, pharmacists, teachers go on strike? Are we going to bring teachers or pharmacists to man our hospitals [and institutions]?"
Afriyie added: "It is because of the crises that we are in and they [government] think that by bringing the doctors in you tell the [Ghanaian] doctors to go to hell."
Like Brazil's medical council, some in Ghana also question the competence of Cuban physicians.
Francis Tawiah, a Ghanaian columnist, wrote in GhanaWeb that since 2005, of the 300 Cuban doctors who applied to revalidate their medical licenses with Brazilian authorities, only 25 passed and became authorized to practice in Brazil.
"Cuban health students don't learn what most medical students in most countries learn in most medical schools," said Humberto Fontova, a Cuban refugee and political commentator in the U.S., GhanaWeb reported.
"Ghanaian people must be very careful about [these] bogus Cuban … doctors in Ghana," Tawiah wrote.
"Most of them are not really qualified as doctors."
© Copyright IBTimes 2023. All rights reserved.
FOLLOW MORE IBT NEWS ON THE BELOW CHANNELS