Does Obama Love America Or Not? Republican Governor Scott Walker Isn't As Sure As Rudolph Giuliani What The Answer Is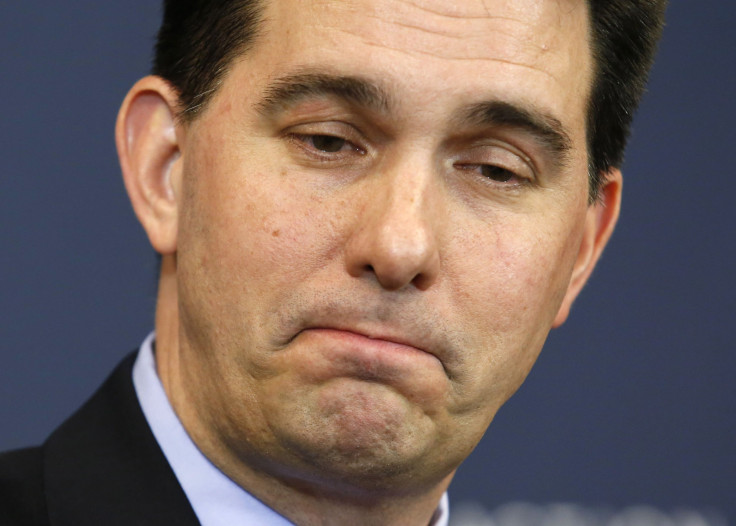 UPDATE 7:30 p.m. EST: Wisconsin Gov. Scott Walker, a potential 2016 Republican presidential contender, said Saturday he doesn't know if President Obama is a Christian because he's never talked with him about the issue. The Washington Post reported Walker said, "I don't know," when asked during an interview on the sidelines of the National Governors Association meeting in Washington.
"I've actually never talked about it or I haven't read about that," Walker said, adding the question is irrelevant and most Americans don't care. "I would defy you to come to Wisconsin. You could ask 100 people, and not one of them would say that this is a significant issue."
A Walker spokesperson later tried to clarify the governor's remarks in a phone call to the Post.
"Of course the governor thinks the president is a Christian," spokeswoman Jocelyn Webster said. "He thinks these kinds of gotcha questions distract from what he's doing as governor of Wisconsin to make the state better and make life better for people in his state."
Original post:
Wisconsin Gov. Scott Walker said in Washington Saturday that he doesn't know whether U.S. President Barack Obama loves America. "You should ask the president what he thinks about America," Walker told the Associated Press while he was in the country's capital for a meeting of state governors. "I've never asked him, so I don't know."
And with those words, the leading contender for the 2016 Republican presidential nomination stepped into a controversy that's been simmering since Wednesday, when Politico quoted former New York Mayor Rudy Giuliani as saying, "I do not believe that the president loves America." Giuliani made his controversial remarks about the president at an event in Manhattan honoring Walker, who attended it and had kept quiet about the ex-mayor's remarks that unleashed a slew of cable-news commentary and its own trending Twitter hashtag.
Giuliani's remarks are unsurprising. The mayor in office at the time of the Sept. 11, 2001, attacks on America is known for his combative stances. It also wasn't the first time he's lashed out at Obama in recent weeks. He's been escalating his attacks on the president for not taking a tough stance against President Bashar Assad of Syria and for comments the president made about Islamic extremism that were perceived as insulting to Christians.
Walker's ambiguous reply offers a glimpse into how he would run a presidential campaign. A Washington Post editorial Friday criticized the governor for his "spineless silence" in the wake of Giuliani's comments. Now that Walker's silence has been broken, he'll be called out for his noncommittal response.
During his successful 2008 presidential campaign, Obama's nationality and loyalty to his country was called into question by hardline conservatives in much the same way.
"At certain times over the last 16 months, I have found, for the first time, my patriotism challenged -- at times as a result of my own carelessness, more often as a result of the desire by some to score political points and raise fears and doubts about who I am and what I stand for," Obama said in July 2008, when he responded to attacks made by conservative media outlets.
© Copyright IBTimes 2023. All rights reserved.