Presidential Election 2016: Scott Walker Campaign Announcement 'A Ways Off'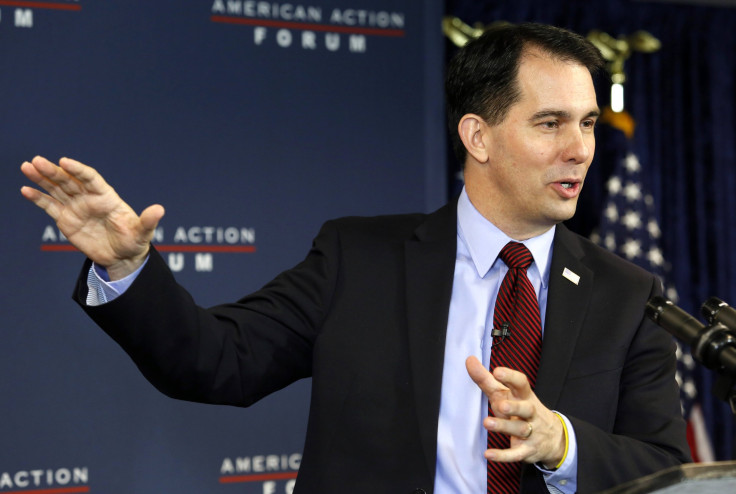 WASHINGTON -- Wisconsin Gov. Scott Walker said since his speech in Des Moines, Iowa, last month, there has been increased interest around the country in his mounting a presidential campaign. But he has no plan to launch an exploratory committee any time soon. Instead, he will follow the path several other prospective candidates are taking, using his political group Our American Revival as the venue to build a likely presidential campaign.
"Should we decide to, we would go probably from where we are at to an outright presidential campaign, if we thought the circumstances were right. But that's still a ways off," Walker told reporters at the National Governors Association's winter meeting in Washington Saturday.
Walker is one of several Republican governors with presidential aspirations attending the bipartisan meeting of state leaders. He recently found himself atop several polls testing the Republican primary waters in the states that vote first. A recent Iowa poll even put him 14 points ahead of other Republican rivals.
Walker said the well-received speech he delivered at the Iowa Freedom Summit, a Republican meeting organized by U.S. Rep. Steve King, was a turning point for him. He said there was widespread positive press coverage of his speech.
"A lot of voters, potential voters, in Iowa, New Hampshire, South Carolina and elsewhere said, 'Hey, this guy could win,'" Walker said. "So we got a lot of response from grassroots activists, seeing the stories that have come out in the last few days here in Washington, New York and elsewhere, a lot of tremendous response from people who wanted to help out financially in terms of organization, and our hope is to build on it."
Walker dismissed the idea he could encounter friction with other candidates who are looking at a run, saying he and New Jersey Gov. Chris Christie are friends and that former Florida Gov. Jeb Bush called him personally before launching his political action committee last month.
"I don't think you're going to see any real friction among me and any other candidates," Walker said. "The governors and former governors I know the best. I don't know the members of the Senate quite as well. I'm a big fan of Marco Rubio [of Florida] and have worked with him in the past."
And Walker's not worried about being an early leader in the polls distracting from his efforts to build a campaign.
"We know it's like riding a roller coaster: There are going to be ups and downs," Walker said. "We don't get too high when things are exciting. We don't get too low when things are bumpy along the way. We are going to be steady."
© Copyright IBTimes 2023. All rights reserved.