Doha Oil Production Talks Delayed As Initial Draft Runs Into Complications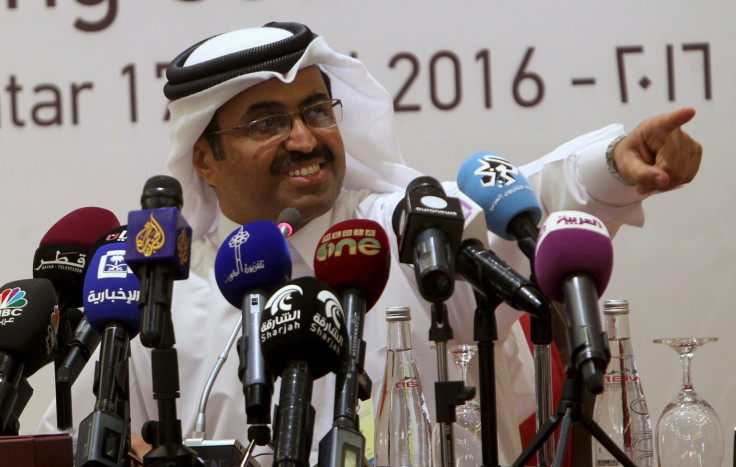 UPDATE: 3:15 p.m. EDT — Major oil producers ended their talks Sunday in Doha, Qatar, without a decision production limits, postponing commitments until at least June, Al Jazeera reported.
"The meeting concluded that we all need time for further consultation, from now until June OPEC meeting," Qatari Oil Minister Mohammed Saleh al-Sada said following the gathering.
Hopes for a resolution dwindled after Iran said it would not send a representative to the session that included the Organization of the Petroleum Exporting Countries and non-OPEC oil producers and had no intention of limiting production until it had regained its presanctions market share. Saudi Arabia said it would not cut production until everyone else did.
Original Story:
Talks between Organization of the Petroleum Exporting Countries and non-OPEC countries were delayed by hours Sunday as an initial draft plan to cap crude oil production ran into complications, media reports said, citing sources in Doha, Qatar.
Ahead of the meeting, delegates had put out a draft accord that called for freezing output at January levels until Oct. 1, according to Reuters. However the talks were derailed in the morning after Saudi Arabia said it wanted all OPEC members to participate in the talks, causing a spike in tensions with arch-rival Iran.
Iran has maintained that it would not attend the Doha meeting or consider capping its production.
"The Saudis changed everything early this morning," an OPEC source told Reuters Sunday. "They want all OPEC members to join first."
The draft also called for a monitoring committee comprising members of OPEC and other countries to ensure compliance among the oil producers.
Ministers of various countries had expressed optimism over clinching a deal before the meeting. However, Iran remained a key sticking point, as the country did not send any representatives to the meeting. In addition, it remains to be seen if the deal will be considered strong enough to convince markets that producers are serious about stopping excess production to bolster prices.
© Copyright IBTimes 2022. All rights reserved.
FOLLOW MORE IBT NEWS ON THE BELOW CHANNELS