Donald Trump May Increase US Military Spending; China, UK, India Follow In Defense Budgets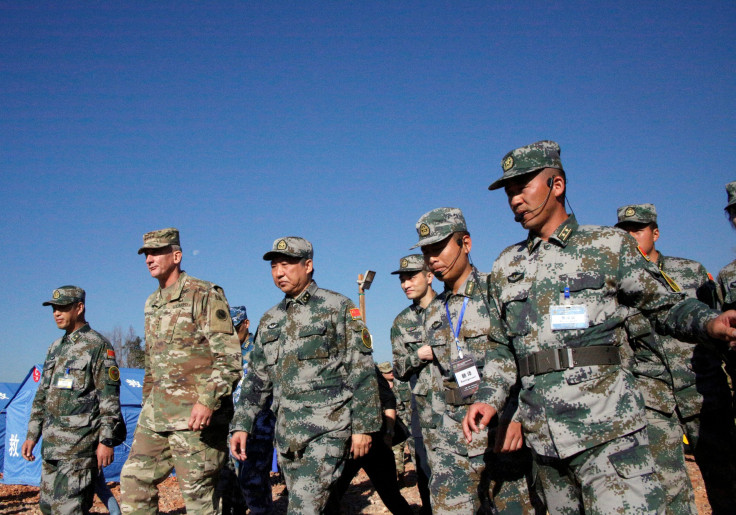 Global defense budgets will continue to rise in the face of increased tensions between world powers and geopolitical instability, according to IHS Jane's latest annual Defense Budgets report. The analysis put the United States as the frontrunner in military spending, followed by China, United Kingdom and India.
"Defense spending returned to a healthy rate of growth in 2016, kicking off what we expect to be a decade of stronger global defense spending," said Fenella McGerty, principal analyst at the London-based defense and security analysis firm, in a statement. "Defense spending should recover to pre-financial crisis levels by 2018."
According to the report, global military expenditure rose to $1.57 trillion this year, as compared to $1.55 trillion in 2015. It looks at the defense spending for 105 countries, capturing 99 percent of global defense spending, IHS Jane's press release says .
Here are the major trends seen in the report:
United States
The U.S. is the world leader in defense spending with $622 billion spent on the military in 2016. The country's defense budget accounted for almost 40 percent of the global total, the report showed, and is expected to see a further push when President-elect Donald Trump takes office.
The construction mogul's Defense Department spending plans include 350 new Navy ships, 1,200 aircraft, equipment and weapons for at least 65,000 new Army soldiers and at least 13,000 more Marines. While there is no indication of how much all this will cost, defense analysts estimate it around $90 billion per year in spending increases.
The country's "investment levels going forward were to decrease by 1.1 percent in real terms, but with the election of Trump, the expectation is that both investment and readiness will receive injections of much needed funds," Guy Eastman, a senior analyst at IHS Jane's, said.
China
According to the report's forecast, the Asian giant will almost double its defense budget from $123 billion in 2010 to $233 billion in 2020 — four times that of the UK and more than the combined spending of Western Europe. This has been attributed to regional tensions, like the South China Sea altercations, and the need for power projection.
Europe
For the first time since 2010, European defense budgets have risen, mostly because of the deteriorating security situation in the region. While the combined budget for the European Union in 2016 was $219 billion, it is expected to stand at $230.4 billion in 2020.
"However, growth could be set back if the region's economic recovery is derailed by the ongoing difficulties in Southern Europe as well as uncertainty surrounding the UK's negotiations to leave the EU," McGerty said.
India
The South Asian country has overtaken Saudi Arabia and Russia to become the fourth-largest spender in the world. India spent $50.6 billion in 2016 on defense, up from $46.6 billion from the year before. If the pound continues to weaken, India will spend more on defense than the U.K. by 2018, the report shows.
"Procurement spending has been constrained in India over the last three years as personnel costs have increased," Craig Caffrey, principal analyst, IHS Jane's, said in the statement. "However, what we expect to see from 2017 onwards is a military focused on modernization. India needs new equipment to fulfill its modernization drive. Over the next three years, India will re-emerge as a key growth market for defense suppliers."
Russia
Russia's defense expenditure saw its first reduction since the late 1990s, causing the country to drop to the sixth position in the report.
"We expect the Russian defense budget to fall again next year and it will sit below France in the number seven position by 2020, based on current plans, with a total defense budget of $41.4 billion," Caffrey said.
Middle East
The fastest growing region in terms of defense spending between 2012 and 2014 saw a dip in spending because of the dramatic drop in oil prices. However, 2015 and 2016 figures are still higher than 2013 figures.
"We've seen a pause in growth in the Gulf States as a result of the collapse in oil prices," Caffrey said. "However, generally speaking, defense has been protected from cuts due to regional instability. In the cases of Kuwait and Qatar, we've actually seen significant increases in defense spending."
© Copyright IBTimes 2022. All rights reserved.
FOLLOW MORE IBT NEWS ON THE BELOW CHANNELS