'Don't Believe The Propaganda:' Russian TV Producer Praised For Live Broadcast Interruption
KEY POINTS
The woman has been identified as Marina Ovsyannikova
She was reportedly detained after she interrupted a live news programme
"NO WAR. Stop the war. Don't believe propaganda. They are lying to you here," read the sign
An anti-war protester interrupted a live news program on Russia's state television, holding up a sign that read, "NO WAR. Stop the war" and "Don't believe the propaganda." The incident took place Monday, -- the 19th day of Russia's invasion of Ukraine.
The act of dissent at Channel One's studios comes amid what human rights groups have called an "unprecedented, nationwide crackdown on independent journalism, anti-war protests and dissenting voices" in Russia. The sign held up by the Russian TV producer – identified as Marina Ovsyannikova – read in English and Russian: "NO WAR. Stop the war. Don't believe propaganda. They are lying to you here."
Another phrase, which looked like "Russians against war," was partly obscured, according to Al Jazeera. The video was shared by Bernie Sanders on Twitter on Monday. Ovsyannikova rushed to the screen holding the sign, and seconds later, the show abruptly cut away.
"She has since been detained," Sanders shared, saluting her "act of incredible courage."
Ukraine's President Volodymyr Zelensky thanked the woman in his nightly video address.
"I am grateful to those Russians who do not stop trying to convey the truth. To those who fight disinformation and tell the truth, real facts to their friends and loved ones," Zelensky said. "And personally to the woman who entered the studio of Channel One with a poster against the war."
Kira Yarmysh, spokeswoman for jailed opposition leader Alexey Navalny, wrote on Twitter: "Wow, that girl is cool."
Prior to her protest, Ovsyannikova released a video statement obtained by The Guardian.
"What is happening now in Ukraine is a crime," she began, according to the translation on the video, as she called Russia the "aggressor," and pushed for Putin to be held responsible.
"Sadly, during the past years I worked at Channel One, I spread the Kremlin propaganda and I am ashamed of this. I am ashamed I allowed lies to be told on TV screens, I am ashamed I allowed Russian people to be fooled. We were all silent in 2014 when it all started. We did not go out to protest when the Kremlin poisoned [Russian opposition leader] [Alexei] Navalny. We simply watched this inhumane regime. Now the whole world has turned away from us and the next 10 generations of our descendants will not wash away the shame of this fratricidal war," she continued.
The conflict between Russia and Ukraine continued Tuesday, with overnight shelling causing massive damage at the airport in the eastern Ukrainian city of Dnipro, regional authorities said. Despite the two countries keeping a narrow diplomatic channel open for more planned talks, the Russian offensive in Ukraine edged closer to central Kyiv.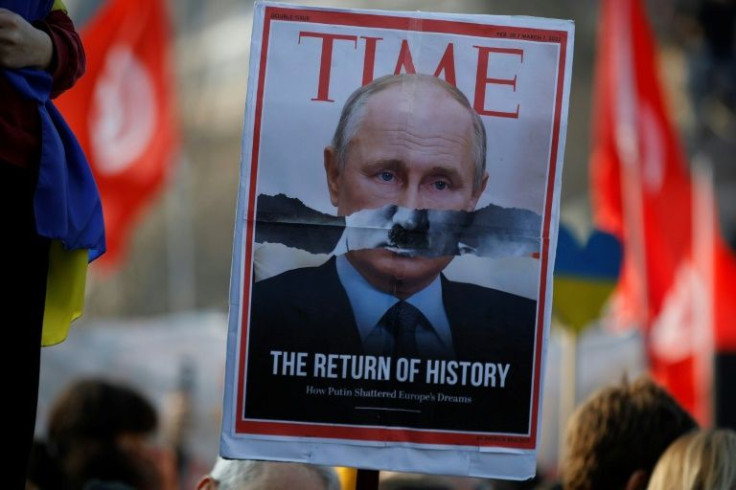 © Copyright IBTimes 2023. All rights reserved.