Double Victory For Chevron in Ecuador Pollution Case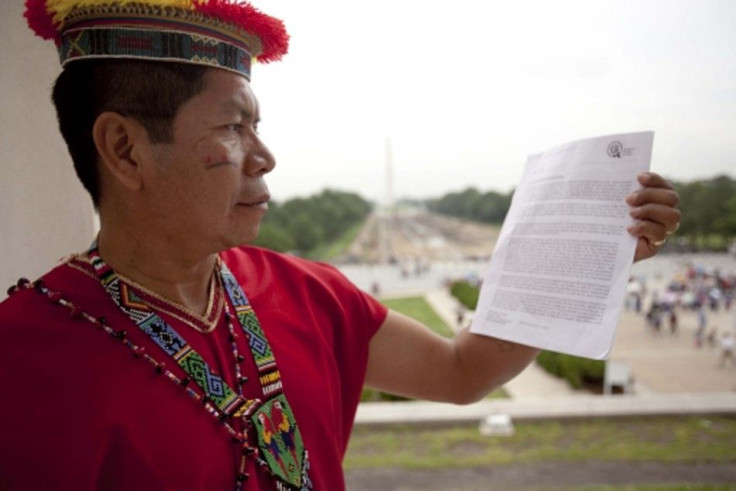 Chevron, the No. 2 U.S. energy company, won two small legal victories this week that could lessen potential liabilities over alleged pollution in South America. A court in Ecuador had previously levied an $18 billion fine.
The charges stem from earlier activities by Texaco, which Chevron, based in San Ramon, Calif., acquired in 2001.
In New York, U.S. District Court Judge Lewis Kaplan allowed a racketeering and corruption case Chevron filed against the indigenous peoples in Ecuador to move forward on Thursday.
Chevron sued them for malicious prosecution after they won an $18 billion judgment for Texaco's alleged pollution of Ecuadorean jungle.
Separately, in The Hague, a panel administered by the Permanent Court of Arbitration enjoined Ecuadorean officials from trying to collect the damages they had assessed against Chevron.
The tribunal invoked a bilateral treaty between the the U.S. and Ecuador to suspend collection of the $18 billion fine.
A court in Ecuador last year found Chevron had polluted tracts of the Amazon jungle.
Hewitt Pate, Chevron VP and general counsel, welcomed the tribunal's action. Both Chevron and the Republic of Ecuador benefit from today's award, he wrote.
The Chevron VP also said he welcomed recent activities by Ecuador's national energy company, Petroecuador, to remediate sites impacted by oil production.
Kent Robertson, a Chevron spokesman, said a final judgment is years away. The next court proceeding in The Hague will be to determine if the arbitration panel has the jurisdiction to hear the appeal.
We expect that this order will be honored [by Ecuador], Robertson said.
But Karen Hinton, a spokesperson for Amazon Defense Coalition representing the roughly 30,000-person suit, said The Hague's injunction has no legal weight and will have no bearing on Ecuador's ability to collect the $18 billion from Chevron.
This arbitration panel has just lost the last remnants of its legitimacy by trying to order a sovereign nation to violate its own Constitution and quash the legal claims of citizens who are literally dying off in the rainforest due to Chevron's pollution, Hinton said. The latest order will have no legal impact in Ecuador or in any country around the world that observes the rule of law.
The developments are the latest chapter in what has been a decade-long saga. Last year,the U.S. Second Circuit Court of Appeals in New York threw out an injunction barring the collecting the $18 billion fine. The same court, on Jan. 19, denied Chevron a similar world-wide injunction.
The company still has a pending appeal in Ecuador's Supreme Court, Robertson said.
Texaco operated in Ecuador for several decades until its joint venture with Petroecuador ended nearly 20 years ago.
Texaco said it spent $40 million cleaning tracts of land in the Amazon between 1995 and 1998. The company was cleared of its obligations by the Ecuadorean government.
Indigenous peoples claimed Texaco didn't properly clean the region and sued Chevron.
Petroecuador, on its part, announced in December it was going to spend $70 million to clean its portions of the Amazon.
Chevron shares traded around $106.28, down 25 cents, in midday trading.
© Copyright IBTimes 2023. All rights reserved.