Apple's Report: Annual Revenue Tops $108 Billion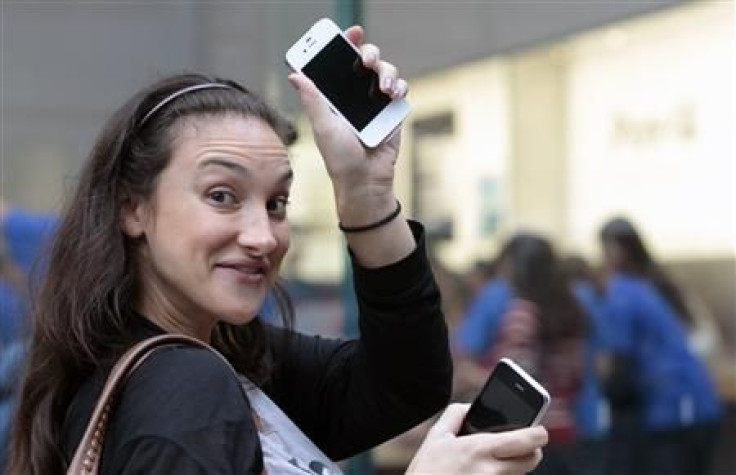 Apple reported full-year revenue of $108 billion, firmly establishing it as one of the world's top technology companies. Fourth-quarter earnings of $6.2 billion exceeded analyst estimates but revenue of $28.3 billion fell slightly shy of them.
The results reported on Tuesday place Apple, already the world's most valuable company, in a technology club whose only other current member is Hewlett-Packard. IBM, with 2010 revenue of $99.9 billion, will likely finish 2011 there, too.
Cupertino, Calif.-based Apple announced earnings for the first time since Chairman Steve Jobs died Oct. 5. The results didn't include anything for shipments of the iPhone 4S, as they only began last week -- which may have restrained sales.
Still, CEO Tim Cook said response to the new line has been fantastic, giving the company strong momentum going into the holiday season.
Apple reported fourth-quarter earnings of $7.05 a share, compared with $4.64 a year ago. Revenue was $28.27 billion compared with $20.3 billion.
Apple shares fell about 6 percent after the results were announced. They closed at $422.24, giving the company a market capitalization of $391.5 billion, keeping it the world's most valuable company.
Here are some items to note:
What are gross margins, usually fatter than any other rivals? Apple's fourth-quarter gross margin, or net profit left after expenses, rose to 40.3 percent up from 39.1 percent last quarter.
Assuming strong demand for the entire product line, with the possible exception of lower iPod sales, that line could be higher. Maynard Um, analyst with UBS, had expected gross margins of at least 40.4 percent. Under Jobs, Apple's policy was generally to charge more for products that were better-designed and offered more than standard technology items.
What were iPhone 4 shipments? Amid all the hoopla for iPhone4S and the anticipated iPhone 5, one question may be how the old models did, especially in September, before the iPhone 4S started shipments in October.
Apple said it sold 17.1 million iPhones, a 21 percent jump over last year, which indicates customers held off buying the old models. That tempered fourth quarter revenue.
Apple has already reported selling more than 4 million of the new models. Did those customers hold off buying last quarter? Analysts like Um at UBS had estimated iPhone 4 shipments would be about 21.5 million, nearly triple the third quarter amount.
How about iPad sales? Demand for iPad 2 is enormous and the last quarter saw HP lay an egg with its TouchPad and Research in Motion's paltry 400,000 BlackBerry PlayBook tablet shipments. With Apple estimated to hold as much as 75 percent market share, what were the actual figures?
Apple said it sold 11.12 million iPads. By contrast, Apple sold 9.25 million iPads in the third quarter and only 4.2 million in the year-ago quarter.
How much cash is available? Given expected higher sales and lower prices for many of the chips used in new products, if not the ARM 5 processor in the latest ones, Apple's cash pile rose to $81.5 billion on Sept. 30.
The money could be used for acquisitions, which Apple has made judiciously; Siri, the personal assistant in the iPhone 4S, came via acquisition. As well, Apple could announce a share buyback or a first dividend at a later date.
Any new shareholder move would be unusual but CEO Cook has been in place less than two months. Many technology giants like HP and IBM pay out healthy dividends. Microsoft paid out a special $30 billion dividend in 2004, set share buybacks and promised to spend $75 billion to enhance shareholder value.
Apple shares have already gained 30.3 percent this year and 411 percent since 2001.
Where is the biggest growth? Key technology rivals like IBM, Dell and HP derive most revenue from outside the U.S., with especially high demand in the developing countries including China.
Last quarter, China accounted for 15 percent of revenue, but that was before the new Apple store opened in Shanghai. Apple reported Asia-Pacific revenue surged 139 percent.
© Copyright IBTimes 2022. All rights reserved.
FOLLOW MORE IBT NEWS ON THE BELOW CHANNELS