Dow Jones Up 326 Points As China Says It Won't Retaliate With New Tariffs
Despite the Trump administration on Wednesday making official its additional 5% tariff on Chinese imports worth $300 billion, China said it won't retaliate for this escalation -- for now.
Wall Street greeted the news of China's temporary restraint with a heartening rally Thursday that saw the Dow Jones Industrial Average close 326.15 points higher, or 1.3% at 26,362.25. The S&P 500 added 1.3% to close at 2,924.58 while the NASDAQ Composite rose 1.5% to 7,973.39.
China trade bellwethers Boeing and Caterpillar rose about 0.8% each. Another China sensitive stock, Deere, closed 2.5% higher while Micron Technology improved 3.5%.
Thursday's Wall Street spike had little effect on the generally grim picture for August where major averages stand lower. The Dow and S&P 500 were both down 2% in August until Thursday. The NASDAQ has yielded 2.5%.
China's Ministry of Commerce on Thursday said it remains opposed to escalating trade tensions, which Wall Street took to mean Beijing won't retaliate against the latest U.S. tariffs. Other sources in China said Beijing also wants to resolve its protracted trade dispute with the U.S. with a "calm" attitude.
Wall Street's perplexing optimism as regards an imminent solution to Trump's trade war continues to baffle some analysts. One of these, Jeffrey Blanchard, director of research at wealth management firm BOS, thinks investors shouldn't get their hopes up about the trade conflict easing anytime soon.
"It doesn't make me any more optimistic or pessimistic," said Blanchard, noted CNBC.
"We're in a situation where the president of the United States can dictate policy instantaneously via tweet, and he's up against a centrally planned economy. With centralized decision-making, you can also move quickly."
The continuing volatility has led to a flight to safer havens. Investors have been gobbling up gold and silver this month and might keep doing so in the months to come. Quite expectedly, the SPDR Gold Trust jumped 8.2% in August while the iShares Silver Trust soared by around 12% in August.
Also weighing heavily on investor confidence is the risk of an economic recession, which Morgan Stanley predicted might take place six to nine months after the U.S. and China go ahead and levy their latest tariff threats. Trump already did so Wednesday. China still has to retaliate.
"If central banks sit back and do nothing, and the Trade War persists, we go into recession. This is not likely," said Nick Raich, CEO of The Earnings Scout, a corporate trend analysis firm. "Central banks remain ready, willing and able to extend the economic cycle taking us into probably something like inning #24."
There's also the continuing yield curve inversion to worry about.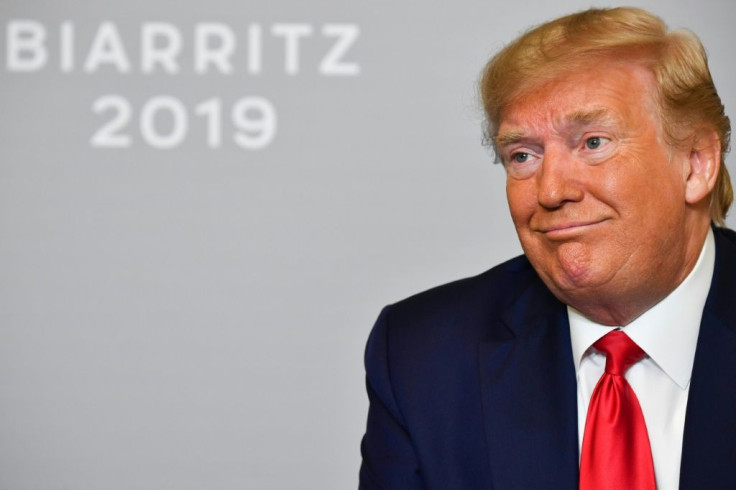 The official announcement of the new tariffs was made by the U.S. Trade Representative (USTR) in an official notice. USTR said collections of a 15% tariff will begin at 12:01 a.m. EDT (0401 GMT) Sunday (Sept. 1) on a portion of the list covering more $125 billion of targeted exports from China.
The first to be hit with the higher tariffs will be smartwatches, flat panel TVs, Bluetooth headphones, and many types of footwear.
USTR said Customs and Border Protection (CBP) will also start collecting a 15% tariff on Dec. 15 on the remainder of the $300 billion list. This list includes cellphones, laptop computers, toys and clothing.
© Copyright IBTimes 2023. All rights reserved.