Dow Jones Industrial Average Drops Despite JPMorgan Chase Rallying 2%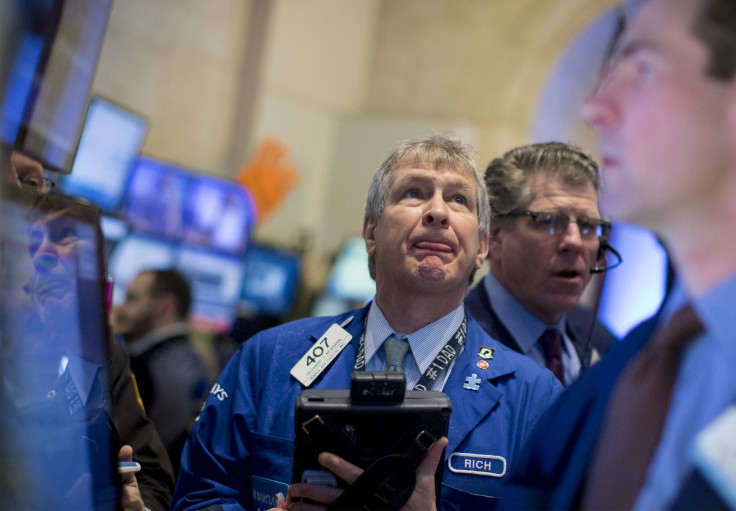 U.S. stocks traded lower Tuesday after investors weighed a series of mixed corporate earnings from JPMorgan Chase & Co. and Wells Fargo & Co., the first two major banks to report quarterly results this earnings season. Shares of Zillow Group Inc. plunged more than 12 percent after the online real estate database company posted weak guidance, while health care company Johnson & Johnson reported currency headwinds last quarter due to a strong U.S. dollar.
Separately, U.S. retail sales rebounded in March, snapping three straight months of declines.
In morning trading Tuesday, the Dow Jones Industrial Average (INDEXDJX:.DJI) fell 40.77 points, or 0.23 percent, to 17,936.27. The Standard & Poor's 500 (INDEXNASDAQ:.IXIC) lost 5.58 points, or 0.27 percent, to 2,086.90. The Nasdaq composite (INDEXSP:.INX) declined 26.52 points, or 0.53 percent, to 4,962.40.
Shares of JPMorgan Chase & Co. (NYSE:JPM) gained more than 2 percent Tuesday to trade above 15-year highs at $63.61 after the biggest U.S. bank by assets saw its quarterly profit gain 12 percent from a year go to nearly $6 billion after revenue from its bond trading unit rebounded.
The S&P 500 financial sector edged down 0.16 percent, however, as of Wells Fargo & Co. (NYSE:WFC) dropped more than 1.4 percent to $53.80. Wells Fargo, the fourth-largest U.S. bank, beat Wall Street earnings expectations, but posted a rare 3 percent profit decline.
Meanwhile, shares of Zillow Group Inc. (NASDAQ:Z) plunged more than 12 percent to $81.07 on Tuesday after the stock was halted in pre-market trading in the midst of the company issuing guidance well below Wall Street estimates. Zillow CEO Spencer Rascoff announced during the company's earnings call that it is expecting earnings in the range of $80 million to $85 million for 2015, down sharply from expectations of around $146.8 million, according to FactSet.
Shares of Dow component Johnson & Johnson (NYSE:JNJ) edged up 0.4 percent to $100.99 after the diversified health care company reported earnings that topped Wall Street forecasts. But the world's biggest maker of health care products posted a rare first-quarter profit drop of 8.6 percent, driven by currency issues due to exchange rates because of the strong dollar.
Chipmaker Intel Corporation will report quarterly results after the closing bell.
U.S. retail sales rose in March for the first time since the holidays as harsh winter weather finally eased last month. Retail sales, a key economic indicator as consumer spending accounts for nearly two-thirds of U.S. economic activity, increased 0.9 percent from a revised 0.5 percent drop in February, the Commerce Department said Tuesday.
Oil prices traded higher Tuesday, with West Texas Intermediate crude, the benchmark for U.S. oil prices, adding more than 1.3 percent to $52.62 a barrel, for May 15 delivery, on the New York Mercantile Exchange. Brent crude, the benchmark for global oil prices, edged up 0.64 percent to $58.30 a barrel, for May 15 delivery, on the London ICE Futures Exchange.
© Copyright IBTimes 2023. All rights reserved.