Dow Jones Industrial Average Drops On 'Grexit' Fears As Eurozone Finance Ministers Meet In Brussels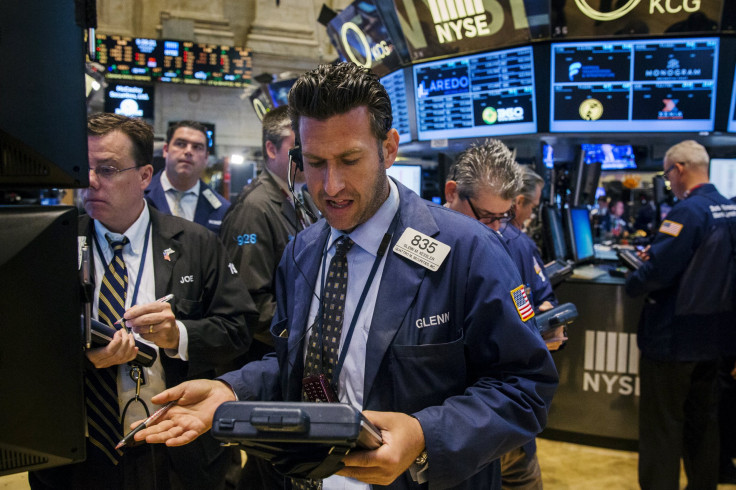 U.S. stocks traded mostly lower Wednesday morning after European creditors rejected reform proposals from Greece, reviving concerns that a "Grexit" could ensue where Athens will default and leave the eurozone as its bailout program expires in six days. Despite global concerns, the Nasdaq composite set yet another record high in morning trading for the third straight day.
The Dow Jones Industrial Average (INDEXDJX:.DJI) dropped 100 points, or 0.5 percent, to 18,035.90. The Standard & Poor's 500 index (INDEXNASDAQ:.IXIC) dipped 4.78 points, or 0.23 percent, to 2,119.41. But the Nasdaq composite (INDEXSP:.INX) added 12.98 points, or 0.3 percent, to an intraday record high of 5,164.36.
Eight out of the 10 S&P 500 sectors traded lower, led by declines from the telecommunications and industrial sectors. The energy and technology sectors were the only gainers.
Chemical maker DuPont Co. (NYSE:DD) was the biggest laggard in the Dow Wednesday, losing 2 percent, while iPhone maker Apple Inc. (NASDAQ:AAPL) was the largest gainer in the index, up 2 percent.
European markets traded lower Wednesday on news that international creditors rejected the latest reform proposals from Greek Prime Minister Alexis Tsipras, with the Athens stock exchange falling more than 3 percent. However, creditors have submitted counterproposals for Athens, Reuters reported, citing sources with knowledge of the matter.
Eurogroup finance ministers are scheduled to meet in Brussels Wednesday at 1 p.m. EDT to discuss Greece's reform proposals, which could be signed off by European Union leaders at their scheduled summit on Thursday and Friday. The meeting this week could be one of the last chances for Greece to reach a deal before the government must repay 1.6 billion euros ($1.8 billion) to the International Monetary Fund on June 30.
"While a deal between Greece and its creditors may finally emerge in the next few days, it still looks unlikely to include the substantial debt relief needed to end the crisis and eliminate the risk of 'Grexit,'" Jonathan Loynes, chief European economist at Capital Economics, said in a research note.
Data released Wednesday showed the U.S. economy shrank less than previously measured in the first three months of 2015, driven by a slowdown in shipping due to labor disputes at West Coast ports.
Although U.S. gross domestic product fell short of expansion, economic growth is "bubbling beneath the surface," says Gregory Daco, head of U.S. macroeconomics at Oxford Economics.
"Faster wage growth and strong employment will support a private sector activity rebound in the coming quarters," Daco said in a research note Wednesday, adding the U.S. economy should grow at an annual rate of 2.3 percent in this year.
U.S. GDP, the broadest measure of goods and services produced across the economy, contracted at a seasonally adjusted annual rate of 0.2 percent in the first quarter, compared with the Commerce Department's second estimate in May of a 0.7 percent contraction, the department said in its third and final estimate Wednesday.
© Copyright IBTimes 2023. All rights reserved.
FOLLOW MORE IBT NEWS ON THE BELOW CHANNELS