Dow Jones Industrial Average Up On First Day Of Trading After Paris Terror Attacks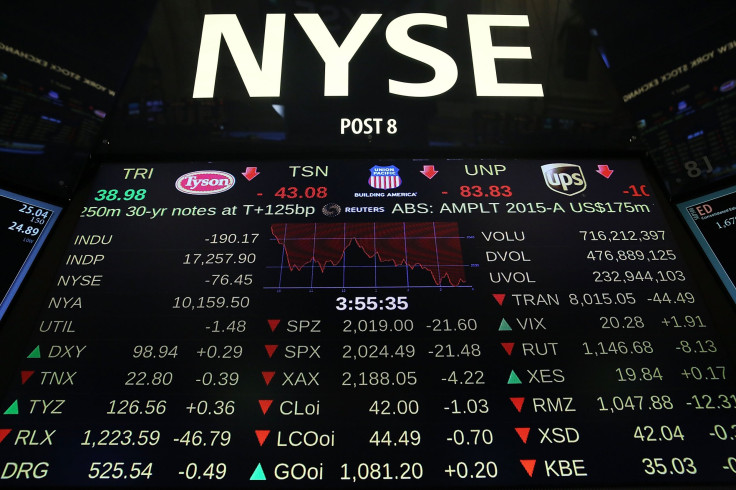 This story was updated at 4:10 p.m. EST.
Friday night's attacks in Paris reverberated through global markets Monday as nervous traders dumped travel and leisure stocks and dove into safe harbor government debt and gold. But global markets overall showed resilience after the attack, and the French stock market dodged a significant selloff. U.S. stocks surged on Monday.
History has shown that terror attacks like the one that claimed about 130 lives across the French capital typically lead to short-term selloffs followed by quick recovery after investors perceive no profound economic impact.
"Global markets seem to be handling the events of Friday night very well," Stephen Guilfoyle, managing director of floor operations at the New York Stock Exchange, said in a morning note. "All traders are trying to figure out if the events of Friday night make the ECB [European Central Bank] more likely to further ease monetary policy or, by the same token, makes the Fed less likely to normalize."
ECB President Mario Draghi suggested last week the 19-country eurozone could announce further stimulus measures in December, citing deflation concerns. Meanwhile the U.S. Fed is poised to move in the opposite direction, by starting to raise borrowing rates for the first time in nearly a decade. Europe's worst terrorist attack in a decade comes as the global economy is showing signs of weakness and a rally in global stocks is decelerating rapidly.
Prior to the opening bell on Monday, the trading floor of the New York Stock Exchange went quiet for a moment of silence to show solidarity with France.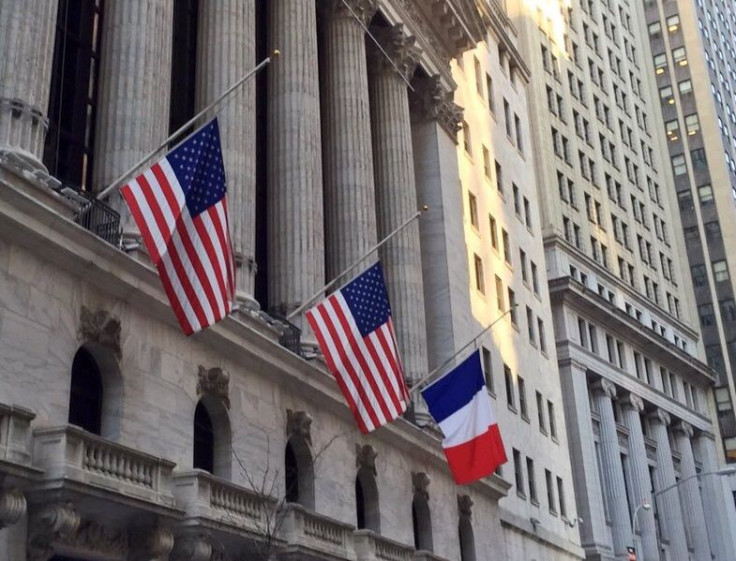 The Dow Jones Industrial Average ( INDEXDJX:.DJI ) closed up 237.77 points, or 1.38 percent, to 17,483, on Monday. The Standard & Poor's 500 index ( INDEXSP:.INX ) rose 30.15 points, or 0.95 percent, to 2,053. The Nasdaq composite ( INDEXNASDAQ:.IXIC ) gained 56.73 points, or 1.15 percent, to 4, 985. All 10 S&P 500 sectors were up, led by energy stocks.
Global Markets
Asian markets – the first to respond to Friday's tragedies in Paris – dropped Monday. Japan's Nikkei 225 fell 203.22 points or 1.04 percent to 19,394, reacting largely to data showing the country's economy dipping back into recession, dealing a hard blow to Prime Minister Shinzo Abe's efforts to pull the country out of a deflationary spiral and spur economic growth. Hong Kong's Hang Seng closed down 385.32 points or 1.72 percent to 22,011 while the mainland's Shanghai Composite Index gained a slight 26.12 points, or 0.73 percent, to 3,607.
European markets closed flat on Monday, with Paris' CAC 40 edging down 3.64 points or 0.08 percent to 4,804. The German Dax gained 4.83 points or 0.05 percent to 10,713. London's FTSE rose 28.10 points or 0.46 percent to 6,146.
Oil Prices
Global crude prices rose as concern over supply disruptions ticked upward in the wake of Friday's attacks and the ensuing retaliatory strikes in Syria. Oil futures hit a 2 1/2-month low Thursday after weekly data showed U.S. crude inventories continued to rise. West Texas Intermediate crude oil, the U.S. benchmark for oil prices, gained 3.39 percent to $42.12 per barrel for December delivery on the New York Mercantile Exchange. Brent crude, the global benchmark for oil prices, gained 1.08 percent to $44.95 for January delivery on the London ICE Futures Exchange.
© Copyright IBTimes 2023. All rights reserved.