Dow Jones Industrial Average Fluctuates As Wall Street Eyes Earnings Season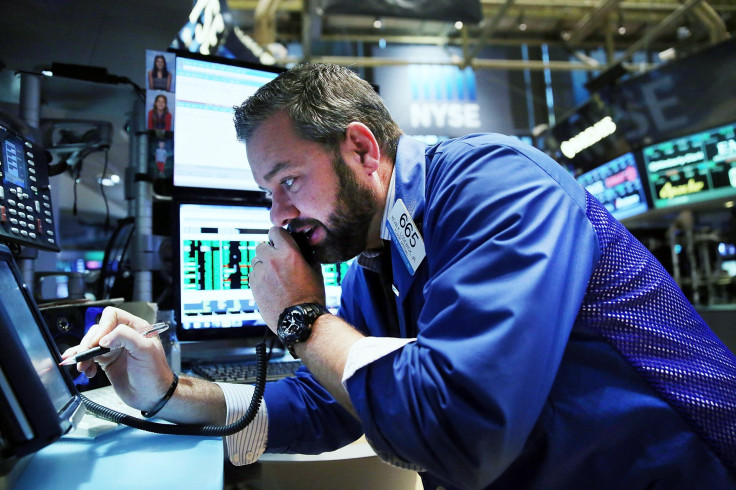 This story was updated at 4 p.m. EDT.
U.S. stocks closed mixed Tuesday, seesawing during most of the trading day as investors weighed corporate earnings along with a mixed trade report that revealed the trade deficit widened in August by the most in five months. The Dow Jones Industrial Average trimmed gains and the Standard & Poor's 500 index turned lower, snapping a five-day winning streak, after the International Monetary Fund lowered its global growth forecasts again this year.
Over the next several weeks, the market will be guided by third-quarter earnings, which are likely to show "more misses than hits," according to Peter Cardillo, the chief market economist at Rockwell Global Capital, as U.S. multinationals feel the pain of a weaker global economy.
Meanwhile, the weaker-than-expected September labor report suggests a "hands-off" approach by the Federal Reserve regarding lifting rates this year as the economy weakens a bit, Cardillo said. Recent data suggests China's manufacturing sector has experienced a sharper-than-expected slowdown.
"While we do not see the economy falling off a cliff, the fact of the matter is that the global economic activity is increasingly becoming a drag on the U.S. economy," Cardillo said in a research note Tuesday.
Rockwell Global Capital reduced its gross domestic product forecast this year from 2.75 percent to 2.5 percent as weaker manufacturing output weighs on any push towards expansion, aside from continued consumer spending growth.
The Dow Jones Industrial Average (INDEXDJX:.DJI) rose 13.83 points, or 0.08 percent, to close at 16,790.26. However, the Standard & Poor's 500 index (INDEXSP:.INX) edged down 7.12 points, or 0.36 percent, to finish at 1,979.93. The Nasdaq composite (INDEXNASDAQ:.IXIC) fell 32.9 points, or 0.69 percent, to end at 4,748.36.
Dow Jones Industrial Average ($DJI) Stock Price - Trailing Year | FindTheBest
IMF Cuts Global Growth Forecasts
Following the opening bell, the Dow fell roughly 26 points but then reversed to trade as much as 91 points higher in morning trading after chemical maker DuPont Co. (NYSE:DD) led the index higher, jumping more than 7 percent.
However, the blue-chip index trimmed gains after the International Monetary Fund lowered its global growth forecasts this year.
The firm projects global growth at 3.1 percent, down 0.2 percentage points from its July forecast for 3.3 percent growth, according to the IMF's latest World Economic Outlook report.
"Relative to last year, the recovery in advanced economies is expected to pick up slightly, while activity in emerging market and developing economies is projected to slow for the fifth year in a row, primarily reflecting weaker prospects for some large emerging-market economies and oil-exporting countries," the organization said.
U.S. stocks closed sharply higher a day earlier, with the Dow Jones Industrial Average rallying 300 points, helping pull all three major averages out of correction territory.
Tuesday, six of the 10 sectors in the S&P 500 closed lower, led by a 2 percent decline in healthcare stocks. The Nasdaq composite fell nearly 1 percent in afternoon trading after the iShares Nasdaq Biotechnology ETF dropped roughly 4 percent.
UnitedHealth Group Inc. (NYSE:UNH) was the biggest laggard in the Dow, shedding 3 percent.
Investors Eye Q3 Earnings
Shares of PepsiCo Inc. (NYSE:PEP) rose 1.5 percent after the global food and beverage company beat earnings and revenue expectations, helped by price hikes. For the quarter ended Sept. 5, PepsiCo posted net income of $533 million, or 36 cents per share, compared with a profit of $2.01 billion, or $1.38 per share, during the same period a year earlier. PepsiCo also raised its full-year growth forecast.
Other notable companies reporting after the closing bell Tuesday include Yum Brands Inc.
Alcoa Inc. (NYSE:AA), the world's third-largest producer of aluminum, will kick off third-quarter earnings season Thursday when the company announces its latest quarterly results after the closing bell. Corporate earnings are forecast to fall by 4.1 percent, according to analysts polled by Thomson Reuters.
Trade Deficit Widens In August
The U.S. trade deficit widened by the largest in five months in August while exports fell to the lowest level in nearly three years. The deficit increased 15.6 percent to $48.3 billion, the biggest deficit since March, the Commerce Department said.
The increase in the deficit also partly reflects a surge in cell phone imports ahead of Apple Inc.'s iPhone 6S launch, which is expected to reverse before the end of this year.
However, the widening trade deficit demonstrates the extent to which deteriorating global growth and the sharp appreciation in the dollar have impacted U.S. external trade, says Steve Murphy, U.S. economist at Capital Economics.
"It's unfortunate that American consumers are spending their money on imported goods, but at least they are spending freely. And since domestic production of cell phones is very limited, this surge is not really a currency story, with cheaper imports squeezing out American-made products," Murphy said in a note Tuesday.
Oil Extends Gains
Crude prices leaped 5 percent Tuesday after OPEC said it expects global oil production to ease in 2016, which could help ease concerns about a glut in crude supplies. Global crude prices have lost more than half of their value over the last year due to fears of oversupply.
Global supply is forecast to rise to 95.98 million barrels a day next year, 0.1 percent less than expected last month, the U.S. Energy Information Administration said Tuesday in its Short-Term Energy Outlook.
Following the report, West Texas Intermediate crude, the benchmark for U.S. oil prices, leaped 4.9 percent to $48.53 per barrel for November delivery on the New York Mercantile Exchange. On the London ICE Futures Exchange, Brent crude, the global benchmark for oil prices, jumped 5.2 percent to $51.80.
The gains in crude oil helped boost the S&P 500 energy and material sectors, which added 2.5 percent and 1.5 percent, respectively. Oil also rallied more than 3 percent a day earlier on news Russia said it was ready to meet with OPEC and other nonmember crude producers to discuss the crude market.
© Copyright IBTimes 2023. All rights reserved.