Dow Jones Industrial Average Plunges Nearly 200 Points: Here Are 3 Reasons Why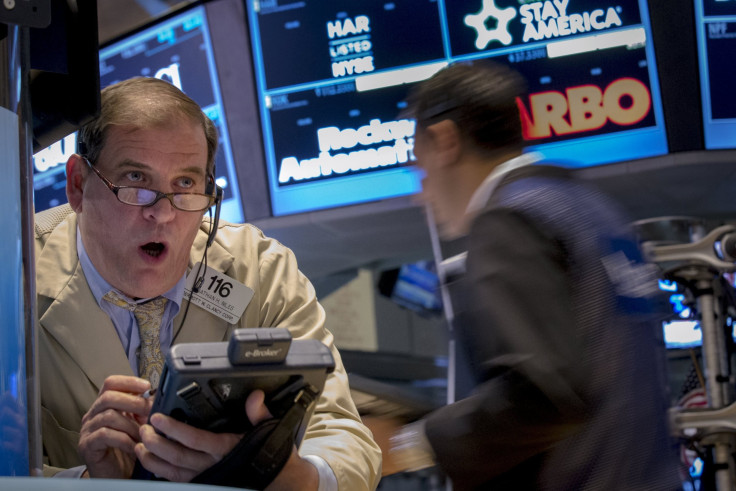 U.S. stocks extended losses and closed sharply lower Thursday, with the Dow Jones Industrial Average plunging nearly 200 points, as all three major U.S. indexes traded lower. Thursday's declines were led by biotechnology, following disappointing quarterly earnings results, while shares of Dow component Apple Inc. dropped 2.7 percent.
The Dow (INDEXDJX:.DJI) tumbled 195.01 points, or 1.08 percent, to close at 17,840.52. The Standard & Poor's 500 (INDEXNASDAQ:.IXIC) lost 21.34 points, or 1.01 percent, to finish at 2,085.51. The Nasdaq composite (INDEXSP:.INX) dropped 82.22 points, or 1.64 percent, to end at 4,941.42.
For the year, the Dow has gained 19 points, or 0.11 percent. The S&P 500 index has risen 27 points, or 1.3 percent. However, the Nasdaq has gained 205.37 points, or 4.34 percent in 2015.
Thursday's sell-off was a combination of "weaker than expected dominoes that have been slowly falling," says Adam Sarhan, founder and chief executive officer of Sarhan Capital.
First, biotechnology and heathcare stocks have been trending sharply lower during a mixed earnings season. The iShares Nasdaq Biotechnology exchange-traded fund (NASDAQ:IBB) dropped more than 3 percent Thursday, with Celgene Corp. (NASDAQ:CELG) falling 4.5 percent to close at $108.06 after the biopharmaceutical company's quarterly revenue disappointed Wall Street.
Second, the U.S. dollar fell this week following a disappointing GDP report on Wednesday, while the euro traded higher. The U.S. dollar index, which measures the greenback against major world currencies, hit a nine-week low of $94.82 on Thursday, while the euro jumped to a two-month high of $1.12 against the greenback. However, European stocks dropped this week as a strengthening euro is perceived as a tailwind for exporting companies.
The U.S. economy slowed more than expected in the first three months of the year as first-quarter gross domestic product grew at a seasonally adjusted annual rate of 0.2 percent in the first quarter, the Commerce Department said in its preliminary estimate Wednesday. Following the report, the U.S. Federal Reserve kept interest rates at historic lows Wednesday, suggesting the central bank will likely wait to raise rates until after its June meeting.
"Until we see the U.S. economy pick up steam, the Federal Reserve won't raise rates anytime soon," Sarhan said.
Meanwhile, a third factor added to the mix is the old adage "sell in May and go away," a historic seasonal trading pattern, kicking off Friday, that refers to the tendency of the stock market to post its best returns between November and April and record a weak performance between May and October.
"From a psychological standpoint, that's also a factor weighing on the financial markets this week," Sarhan said.
Apple Inc. (NASDAQ:AAPL) was the biggest laggard in the blue-chip Dow, dropping more than 2.7 percent to close at $125.15, a day after the iPhone maker issued "no comment" to reports that a key component in its Apple Watch was found to be defective, the Wall Street Journal reported.
Economists are looking ahead to Friday's economic calendar, which includes the University of Michigan's consumer sentiment report, released at 10 a.m. EDT.
© Copyright IBTimes 2023. All rights reserved.