Dr. Doom 2013 Prediction: Roubini Says Worse Global Economic Turmoil Approaching; Five Factors To Blame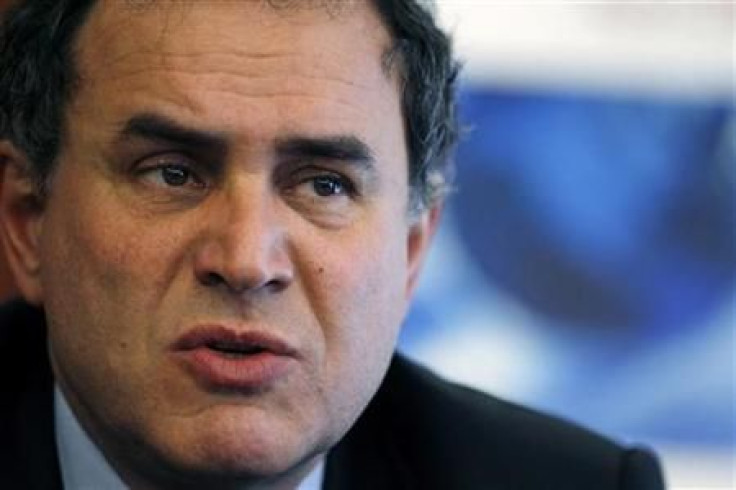 For the last three years, the consensus has been that a robust and self-sustaining recovery for the U.S. economy is on the cards, but economist Nouriel Roubini, dubbed Dr. Doom, thinks that it's not likely to happen, rather he expects below trend growth for many years to come.
Roubini, a professor at the Stern School of Business at the New York University and the Chairman of Roubini Global Economics, rightly predicted the 2008 economic crisis and stated recently that a perfect storm for a global economic disaster is heading our way. And if his words have any credence, then expect 2013 to be much worse than it was during the 2008 crisis.
According to Roubini, the alarming economic downturn could cause the global financial system to grind to a halt. He highlighted five factors that have to be blamed for the looming disaster and argued in a post on the Project Syndicate website that an American economic breakdown would lead to a lot of suffering in the rest of the world.
Even this year, the consensus got it wrong, expecting a recovery to above-trend annual GDP growth - faster than 3 percent, Roubini wrote. And now, after getting the first half of 2012 wrong, many are repeating the fairy tale that a combination of lower oil prices, rising auto sales, recovering house prices, and a resurgence of US manufacturing will boost growth in the second half of the year and fuel above-potential growth by 2013.
Roubini believes that for several reasons, the U.S. economy will slow further in the second half of 2012 and be even lower in 2013. He explained five reasons:
First, growth in the second quarter has slowed down from a mediocre 1.8 percent in January-March, as job creation - averaging 70,000 a month - fell sharply.
Second, expectations of the fiscal cliff will keep spending and growth lower throughout the second half of 2012. The uncertainty about the result of the 2013 presidential election will also plague markets.
Third, the fiscal cliff could amount to a 4.5 percent-of-GDP drag on growth in 2013 if all tax cuts and transfer payments were allowed to expire and spending cuts triggered.
Of course, the drag will be much smaller, as tax increases and spending cuts will be much milder. But, even if the fiscal cliff turns out to be a mild growth bump - a mere 0.5 percent of GDP - and annual growth at the end of the year is just 1.5 percent, as seems likely, the fiscal drag will suffice to slow the economy to stall speed: a growth rate of barely 1 percent, Roubini wrote.
Fourth, in the last few quarters, private consumption growth also hasn't reflected growth in real wages. Since last year, growth in disposable income and consumption has been sustained by another $1.4 trillion in tax cuts and extended transfer payments, causing another $1.4 trillion of public debt.
In 2013, as transfer payments are phased out, however gradually, and as some tax cuts are allowed to expire, disposable income growth and consumption growth will slow. The US will then face not only the direct effects of a fiscal drag, but also its indirect effect on private spending, Roubini explained.
Fifth, there are four external forces that would affect growth in the U.S. further: the debt crisis in Europe, a wonky economy in China, generalized slowdown in emerging markets and the risk of higher oil prices in 2013 as negotiations and sanctions fail to persuade Iran to dump its nuclear program.
The US Federal Reserve will carry out more quantitative easing this year, but it will be ineffective: long-term interest rates are already very low, and lowering them further would not boost spending, Roubini warned.
© Copyright IBTimes 2023. All rights reserved.