E3 2014: 'Dying Light' Release Date Delayed Until 2015: Game Producer Says It's Not Just Another Zombie Game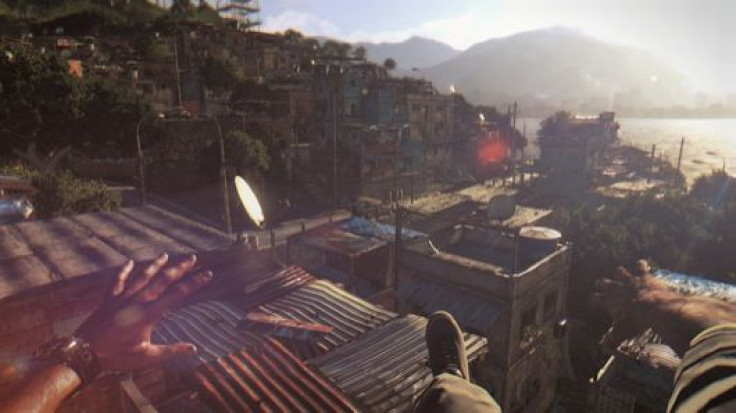 You've probably seen the game trailers for "Dying Light." You've probably watched the entertaining video clip showcasing the game's mechanics featuring French musical artist Woodkid's catchy "Run Boy Run." But you've also probably wondered, what sets this zombie game apart from others?
How does Poland-based developer Techland's "Dying Light" differ from "DayZ," "The Last of Us" or the "Left for Dead" series?" We spoke to "Dying Light's" game producer, Tymon Smektala during the Electronic Entertainment Expo in Los Angeles this week and asked him just that.
"We don't think of 'Dying Light' as another zombie game," Smektala told IBTimes. "It's an action game with zombies in it. What's most important is the natural movement system. It's a very unique way of traversing the environment. We try to give players unlimited freedom in moving around our fictional city."
In the game, which is told from a first-person perspective, you can explore the open world, search for items and battle the undead. Players can equip themselves with weapons like a spiked baseball bat, a pistol and an electric ax. You can also swim through water, climb walls and explore the rooftops of buildings.
Oh, and the game is not easy, the zombies are fast -- and they will bite you. During our hands-on, we explored the town's slums while battling it out with blood-thirsty zombies. Our favorite weapon? The spiked baseball bat.
"We really think it is something that will evolve the genre. In normal FPS games, you have to move through corridors, you stick to a path. In our game, you can go everywhere. If you see anything you can reach, you can go there," Smektala added.
"Dying Light" will allow users to play by themselves or as a team.
"It's a single player game at heart, but you can also play four player co-op. You can play the whole campaign with other people. We also have a player versus player mode, which is called 'be the zombie,' and you can play as a zombie and invade other people's games. It's really fun," Smektala told us.
In "Dying Light," the setting changes from night to day. The zombies are active even in daylight, but at night, you can go into stealth mode to avoid them. However, it's best to move quickly. When one zombie finds you, his friends will often come to his aid, swarming you and leaving you for dead.
As far as his favorite feature of the game, Smektala enjoys the blood and gore. "I like the viscerality of it, the brutality of it. We get that a lot. People are really liking they can smash skulls, break arms, break legs. That really is cool, and the brutality is something I think people will really remember about 'Dying Light.'"
Last month, it was announced that the game would be delayed until 2015. The title will launch for the Xbox One, Xbox 360, PS3, PS4 and PC.
© Copyright IBTimes 2023. All rights reserved.
FOLLOW MORE IBT NEWS ON THE BELOW CHANNELS