East Ukraine War: Grad Rockets Used For First Time Since Ceasefire, Says OSCE Chief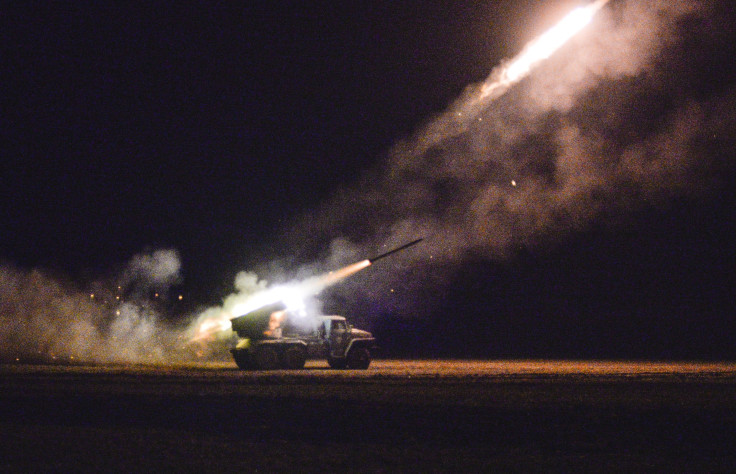 Fighters in eastern Ukraine are resorting for the first time since a ceasefire was signed in February to using a powerful, indiscriminate weapon that can cause heavy damage at long distances, and inflict enormous collateral damage on civilians. The Organization for Security and Co-operation in Europe reported Thursday that its monitors on the ground had heard the firing of Grad rockets, a highly controversial Russian-built weapon designed to kill large numbers of enemy troops dozens of miles away.
The weapon was heard being fired -- it's not clear by which side -- near Donetsk on Saturday and in the village of Hranitne on April 30, according to Alexander Hug, deputy chief monitor for the OSCE's Special Monitoring Mission to Ukraine, who also said at a briefing in Kiev that the security situation in the region was deteriorating.
"Over the last week the OSCE SMM have heard hundreds of sounds of attacks. Especially on May 2 in Donetsk we heard the launching of Grad rockets, which led to civilian casualties," said Hug. "While the ceasefire is in place, there remain 'hot spots.' The situation around the Donetsk airport is unpredictable and there are ever more violations of the agreements. People continue to die."
While Donetsk is under rebel control and Hranitne is under Ukrainian government control, Hug said that it was unclear who had fired the rockets. The OSCE monitors, who are charged with keeping tabs on the ceasefire, conduct daily spot verifications in their official capacity -- but in recent weeks they have complained about not been given access to areas controlled by pro-Russian rebels. This, they said, has made it difficult to ensure that the terms of the Minsk II truce were being fulfilled, including accounting for the whereabouts of heavy weapons.
Before the ceasefire officially came into force on Feb. 15, the Grad system had been used widely by both sides since the conflict broke out in April 2014. But with the Minsk II deal on Feb. 12, government and rebels forces both agreed to cease using it.
Designed and originally built in 1963 in the Soviet Union, the Grad system is still considered to be a highly powerful, if indiscriminate, weapon. A direct descendant of the Katyusha rocket launcher that terrorized German troops in World War II, it normally consists of a truck carrying around 40 tubes that fire one rocket each, simultaneously, at a single area, which can be as far as 40 km (24 miles) away. The standard rocket is often fitted with a fragmentation warhead that disperses fragments of metal at high velocity upon impact. Other warheads can deliver gas or explosives.
Meanwhile, U.S. Secretary of Defense Ashton Carter said pro-Russian rebels were preparing to launch a new offensive in the contested region of Donbas.
© Copyright IBTimes 2022. All rights reserved.
FOLLOW MORE IBT NEWS ON THE BELOW CHANNELS