Ebola Monitoring In The US: CDC Scales Up Scrutiny Of All West African Travelers With 21-Day Monitoring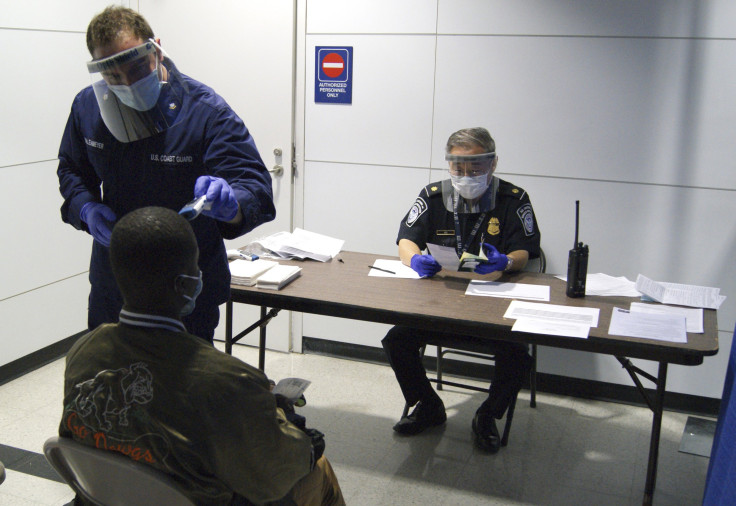 The Centers for Disease Control and Prevention will monitor all travelers coming to the U.S. from Ebola-stricken West African nations for 21 days instead of just some travelers, the health agency announced Wednesday, according to the Associated Press. Until now, health officials at several international airports in the country have screened passengers on flights arriving from the epicenters of the Ebola outbreak -- Guinea, Liberia and Sierra Leone -- for signs of the virus, but additional monitoring only occurred if a person had symptoms that could indicate Ebola, such as a fever.
The new monitoring program will start in six states: Georgia, Maryland, New Jersey, New York, Pennsylvania and Virginia, according to the AP. Visitors from the West African nations as well as aid workers, journalists and other Americans returning from the area will be given kits to help them track their temperature. They will be asked to inform local health officials of their status daily. About 150 people arrive daily in the U.S. from Guinea, Liberia and Sierra Leone and disembark at one of five airports: Virginia's Washington Dulles International, Atlanta's Hartsfield-Jackson, Newark's Liberty International, Chicago's O'Hare and New York's John F. Kennedy International. While the U.S. government has shied away from a complete travel ban, fear of a U.S. spread has led many to call for stricter travel restrictions on inbound flights from the region.
Despite the CDC having already ramped up airport health screenings at those five locations to weed out potentially sick passengers, and in spite of just three confirmed cases of Ebola in the U.S., Twitter users expressed support for the CDC's 21-day monitoring period. Many said that they thought the health agency should have begun monitoring all travelers arriving from West Africa much earlier.
Health workers across the U.S. are learning how to put on and take off full-body protective gear after the CDC announced stricter guidelines for treating Ebola patients. The new regimen comes after two Dallas nurses who treated Thomas Eric Duncan, the first person diagnosed with Ebola in the U.S. and the country's only death from the disease, contracted the virus. The CDC guidelines include requiring nurses to fully cover their bodies with protective clothing instead of just mostly covering their skin.
© Copyright IBTimes 2023. All rights reserved.
FOLLOW MORE IBT NEWS ON THE BELOW CHANNELS