Ebola Travel Ban: Political, Public Support Grows For West Africa Flight Restrictions, But Obama Not On Board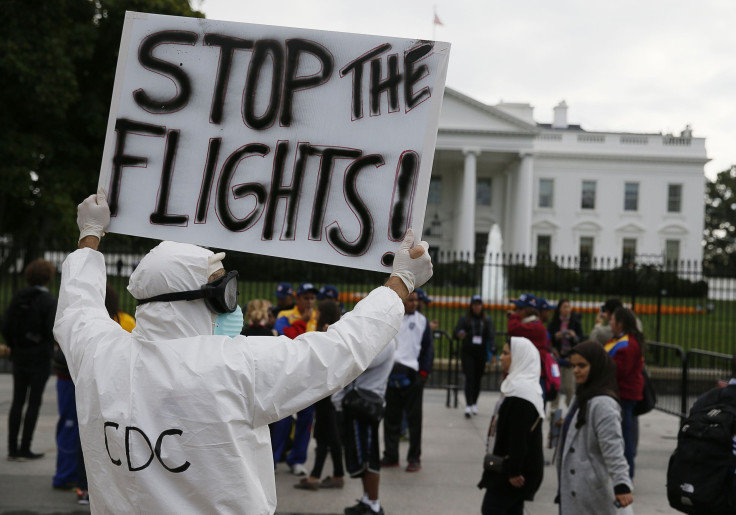 Support is growing among politicians for a travel ban to be put in place for the West African nations at the center of the Ebola outbreak, and public opinion is on their side. But President Barack Obama is not.
As of Monday afternoon, 87 lawmakers (72 congressman and 15 senators) backed an Ebola travel ban, 76 of them Republicans, according to a tally compiled by The Hill. The political support comes two weeks after Liberian national Thomas Eric Duncan, who was the first person to be diagnosed with Ebola in the U.S., died at a Dallas hospital. Nina Pham, a nurse who treated Duncan, was the first person to contract the virus in the U.S. Duncan also spread Ebola to Amber Vinson, another nurse at Texas Health Presbyterian Hospital, who then traveled to Ohio.
Obama has come out against an Ebola travel ban, saying it would stymie the efforts of aid workers in West Africa who are trying to contain the virus. The head of the Centers for Disease Control and Prevention also said that a travel ban would make it more difficult to stop the outbreak. The Washington Post reported that a travel ban may also make aid workers reluctant to help in West Africa if they knew they couldn't return to the U.S.
U.S. Sen. Marco Rubio, R-Fla., one of the leading proponents of a travel ban, said Monday he planned to introduce legislation to temporarily ban U.S. visas to West African nationals and any other African countries where the Ebola virus may spread, should the disease reach those countries. The legislation would be introduced in November when Congress returns from its break for the midterm elections.
"We must take any and all necessary precautions to contain this virus -- and common-sense restrictions on travel from countries now confronting this epidemic is an important step," Rubio said in a statement. "The most effective way to combat this deadly virus is to address it at its source. This ban on issuance of visas does not mean we will be completely cutting off the affected countries from the outside world. We must continue to increase our assistance to those countries as they struggle to contain this outbreak. That is, ultimately, the only way we will be able to stop this outbreak and keep Americans safe from this horrible disease."
An ABC/Washington Post poll from last week showed that the elected officials urging for an Ebola travel ban are on the side of a majority of Americans. Two-thirds of those polled said they support "restricting entry" of people from Ebola-affected countries into the U.S.
The travel ban has become an issue in a handful of important elections ahead of the November midterm contests. In New Hampshire, U.S. Sen. Jeanne Shaheen is in a tight race with former Massachusetts GOP Sen. Scott Brown, who asked that the Democratic incumbent support an Ebola travel ban because the measure is "beyond partisan politics." A spokesman for Shaheen said Monday that the senator "strongly supports any and all effective measures to keep Americans safe including travel bans if they work," Time magazine reported.
© Copyright IBTimes 2023. All rights reserved.
FOLLOW MORE IBT NEWS ON THE BELOW CHANNELS