Ebola Patient Reported In Brazil, Potential Threat Of Virus Spreading To Latin America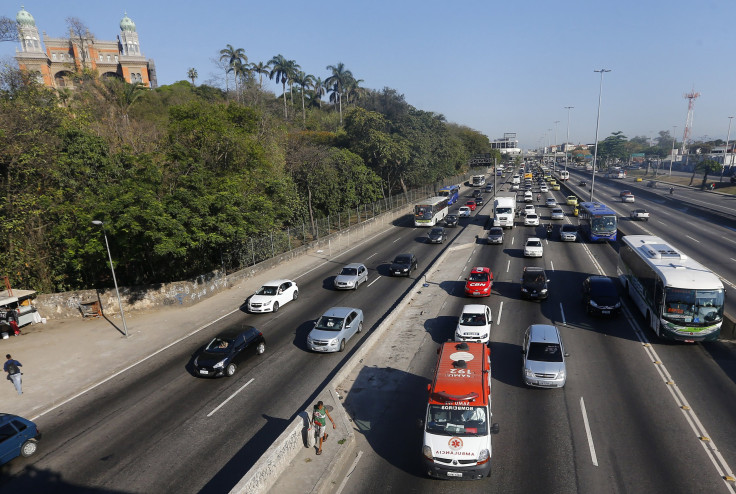 A 47-year-old man being tested for Ebola in a hospital in Rio de Janeiro, Brazil, is the first suspected case of the virus reaching Latin America. The unidentified patient arrived in Brazil on Sept. 19 from Guinea, one of the nations that have been most severely affected by the Ebola outbreak that has killed more than 3,400 people and is poised to spread to Europe and the U.S., according to health officials.
The man went to a hospital in southern Brazil on Thursday with a fever, according to the Wall Street Journal. The Health Ministry said his temperature was slightly above normal, but he hadn't shown any other symptoms. The patient was transported by plane to the National Institute for Infectious Diseases in Rio de Janeiro. The international airports at São Paulo and Rio de Janeiro receive flights several times a week from Africa.
The U.S. marked its first death from Ebola this week after Thomas Eric Duncan of Liberia died in a Dallas hospital. In Europe, a Spanish nursing assistant is being treated for Ebola, while health officials are investigating reports of Ebola in Macedonia.
European and U.S. leaders announced this week Ebola travel screening policies aimed at catching Ebola victims arriving from the West African countries grappling with the outbreak, including Liberia, Guinea and Sierra Leone. The suspected Ebola patient in Brazil has sparked fear in other Latin American nations about Ebola arriving from West Africa.
"Argentina doesn't have direct flights with countries affected [by Ebola] nor with countries near the affected areas," Jorge Capitanich, President Cristina Kirchner 's cabinet chief, told reporters on Friday. "Even so, resources have been prepared to have an active epidemiological alert system."
Ebola symptoms can mirror other diseases indigenous to Brazil, such as malaria and dengue fever. Brazil has had recent false Ebola alerts, but this is the first time a potential case has reached the level of the national health ministry, according to Agence France-Presse.
© Copyright IBTimes 2023. All rights reserved.