Ecuador Protests: Correa's Oil Crisis, Policies Could Spell End Of Latin America Success Story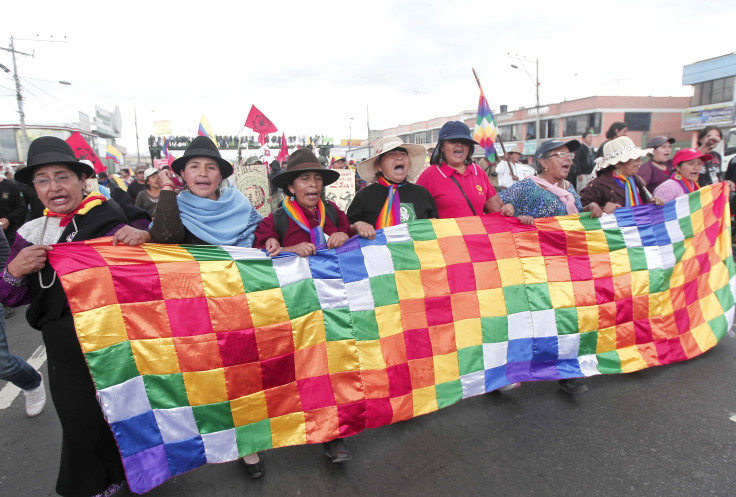 A vast array of disparate groups, including indigenous communities, medical associations, teachers' unions, senior citizens and business owners, have all come out in full force across Ecuador in recent weeks to put their discontent on display, marching through streets, blocking roads, waving flags and shouting slogans. Each group touts a different laundry list of complaints and demands, but they are all targeted at one man: Ecuador's President Rafael Correa.
Once considered one of the world's most popular leaders, Correa has seen his approval ratings tumble in recent months amid plummeting oil prices, growing debt and repressive tactics against dissenters, triggering outcry from a noticeably diverse swath of Ecuadorian society. It's a significant shift for Correa, who was once hailed as a modernizer whose policies helped Ecuador become the third-fastest growing country in Latin America and boast the region's most dramatic decline in poverty over the past seven years. But with Correa now wading through criticism from both the political left and right as he attempts to keep his hold on power beyond the end of his presidential term, the remarkable success story Ecuador has projected in recent years is facing one of its biggest challenges yet.
"What you're seeing, it's beyond frustration," said Kevin Koenig, the Quito-based director of the Ecuador program at Amazon Watch, an international organization supporting environmental and indigenous rights. "It's really boiling over."
Correa came into office in 2007 after a tumultuous decade that saw seven presidents come and go before their terms were over. He solidified his reputation as a leftist leader who vocally critized U.S. foreign policy and allied himself with figures like late Venezuelan President Hugo Chavez. Many of Ecuador's indigenous communities supported his initial rise to power as Correa trumpeted populist, anti-imperialist rhetoric.
Heavy social spending fueled by oil revenue facilitated much of the boom that lifted more than a million Ecuadorians out of poverty in recent years. Correa's so-called citizen's revolution saw poverty rates fall from 37 percent in 2007, when he entered office, to 22 percent by the end of 2014, according to government calculations. Public investments also yielded infrastructure improvements and new hospitals.
But last year's global drop in crude oil prices sapped away much of the government's means to sustain that spending. Ecuador's oil revenue fell by 50 percent, leaving the government to burrow into deeper debt with China, cut back on spending and raise taxes and tariffs to make up for the shortfall.
A June survey found that 46 percent of Ecuadorians approved of Correa and 45 percent disapproved, according to polling firm Cedatos. The figures aren't nearly as dire as those for some of his Latin American counterparts. But it marked a stark decline for Correa, who ended 2014 with a 60 percent approval rating, according to the same pollster.
Many protesters see a warning of what could become Ecuador's fate just a few hundred miles outside its borders. "Ecuador is not Venezuela" was a rallying cry of an anti-tax protest in June. Correa's reliance on oil revenue, increasing debt to China and increasingly bitter divisions between government loyalists and opponents invite the comparisons with Venezuelan President Nicolas Maduro's administration, which has floundered amid soaring inflation rates and severe shortages of basic goods.
"There is real concern that Ecuador is going down the road of Venezuela," said Robert Albro, research associate professor for the Center for Latin American and Latino Studies at American University in Washington, D.C.
The current wave of protests began in June, triggered by Correa's support for a controversial rise in inheritance taxes. Middle-class Ecuadoreans and some conservative parties took to the streets for several days in a row, arguing that the new laws would punish incentives to succeed. Those protests stirred momentum for other groups to reiterate their own grievances. Trade unions and indigenous groups, who had already staged several protests this year, returned to the streets this month to air out an array of complaints: Doctors railed against the creation of a government-run agency to monitor healthcare quality, demanding an independent body instead. Retirees came out against the government's plans to cut down its contributions to pension funds. Indigenous groups pushed back against oil extraction projects in environmentally sensitive areas.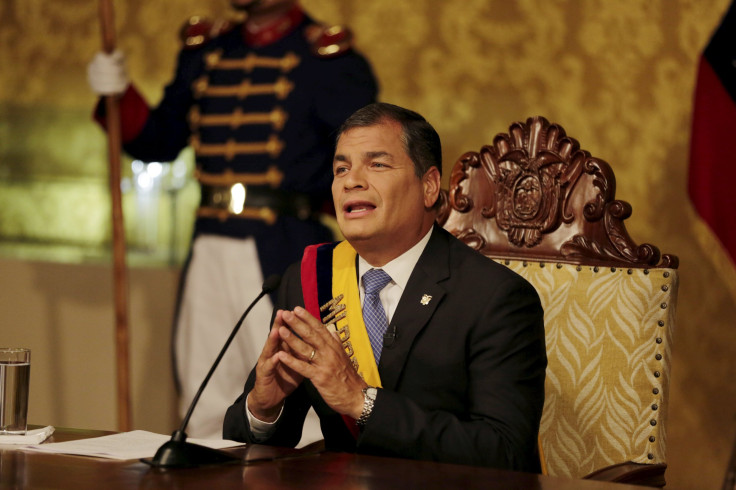 Correa warned citizens in January that 2015 would be a tough year, but many critics see the difficulties as the result of a short-sighted economic model. Ecuadorian society is now "divided between those who still believe in the 'citizens' revolution,' Correa's country project, and those who have been affected by it," said Victoria Ramirez, vice president for the Ecuador chapter of international student activist movement Students for Freedom. "[The demonstrations are] a reaction to a whole regime that based all their efforts in something that was temporary."
That the protests include groups from opposite ends of the political scale, including indigenous groups who had initially supported Correa, underscores how broad the dissatisfaction has become. Controversial government policies over water rights, expansion of mining and drilling projects, and crackdowns on indigenous leaders who spoke out against the administration have added to the swell of backlash.
"It's odd bedfellows for sure. But he's equally upset a great number of people across the spectrum," Koenig said.
Among the protesters' many grievances, the main demand is for Correa to drop a bid to open a pathway for him to run for office indefinitely. Correa's third term ends in 2017, and he is constitutionally barred from running for office again. But he has backed a constitutional amendment to eliminate presidential term limits, and the measure faces a December vote in the national assembly, which is dominated by members of Correa's Alianza PAIS party.
The idea of a potential fourth term for Correa galvanized those critical of not just his policies, but also his governing style. Correa is known for being sensitive to public criticism, and has used strong rhetoric against his opponents, often branding them as agents set on destabilizing the country. His record of censorship of Ecuadorean media groups over the years has also incensed free-speech proponents.
"There were high hopes and a lot of expectations that he would be an ally of the indigenous people" at the start of his term, said Koenig of Amazon Watch. "But over time, the indigenous groups became disillusioned with his policies, which continued to be very much along the same lines as the past governments."
Correa has repeatedly denounced the protests, blasting alleged attempts at a "soft coup" and decrying road blockades as "blackmail" against the state. He also implied that conservative parties have co-opted indigenous protest movements.
"The true indigenous movement is with the Latin American revolutions," Correa tweeted last week.
His response has done little to quell the unrest and in recent days street protests have only become more chaotic. Indigenous-led protests in various parts of the country in the past week resulted in more than 130 injuries of both protesters and police and more than 100 arrests. International advocacy group Human Rights Watch reported several instances of "excessive use of force" by Ecuadorian authorities against demonstrators.
"It's hard to see how a dialogue could happen under these conditions," Koenig said. "There's been a real deterioration in the situation, and Correa has showed no signs of budging or listening."
© Copyright IBTimes 2022. All rights reserved.
FOLLOW MORE IBT NEWS ON THE BELOW CHANNELS