Egypt Crisis: At Least 51 Killed In Clashes Between Muslim Brotherhood Supporters And Security Forces On Eve Of 1973 Arab-Israeli War Anniversary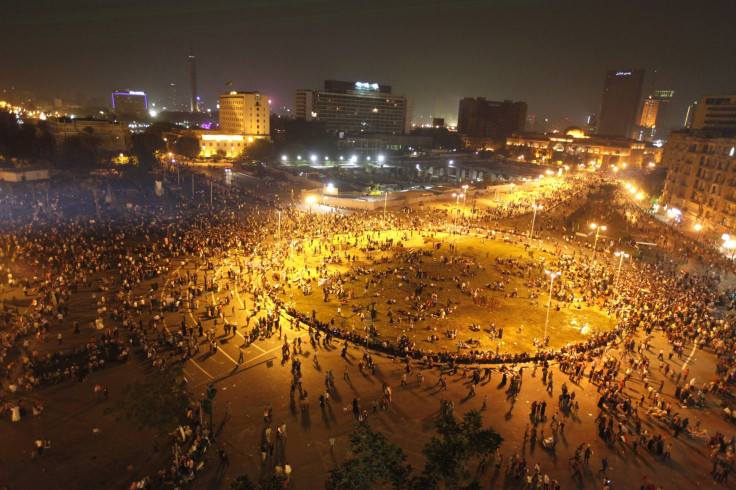 Clashes erupted between Egyptian security forces and supporters of ousted President Mohamed Morsi in several Egyptian cities on Sunday, killing at least 51 people and injuring hundreds, as the military-supported interim government commemorated the fortieth anniversary of the 1973 Arab-Israeli war.
Earlier, a massive crowd of hundreds had gathered in Cairo's Tahrir Square, the flashpoint of the Egyptian revolution that brought down former President Hosni Mubarak, and jets and choppers flew overhead as part of a military display to mark the anniversary. However, rival demonstrations called by supporters of Morsi that branded the military chief, Abdel-Fattah el-Sissi, a "killer," led to violent clashes and security forces used tear gas and live ammunition to bring the situation under control, BBC reported.
"Egyptians turned out in unprecedented numbers, as witnessed by all news agencies, and were confronted by cold-blooded coup forces that shot to kill, with live bullets … in a bloody scene masterminded by ruthless, bloody-minded coup commanders and collaborators," a statement, published on Monday on the Muslim Brotherhood's official website, said.
Clashes were also reported in the city of Alexandria, and the town of Delga, in Qulubiya province, 300 kilometers (190 miles) south of Cairo, Reuters reported. Islamists called for more protests from Tuesday and urged people to gather on Tahrir Square on Friday, indicating that violence could escalate further in the North African nation.
Hundreds of Islamist supporters have died in violence that erupted after Morsi was deposed on July 3 and was replaced by an interim government led by President Adly Mansour, and on Aug. 14 alone, scores of people died when Egypt's security forces launched a crackdown in Cairo to clear two camps where supporters of Morsi had been staging sit-ins.
Egyptian authorities had issued a warning on Saturday against staging protests on the anniversary of the war in 1973, when Egypt and Syria attacked Israel on the holiest day of the Jewish calendar -- Yom Kippur -- in retaliation against Israel capturing land from Egypt, Syria and Jordan in 1967.
More than 400 people were arrested on Sunday, the Interior Ministry said, adding that Islamists' protests were an attempt to "ruin the celebrations and cause friction with the masses," Reuters reported.
In a televised address, Prime Minister Hazem el-Beblawi, said Egypt is facing a "critical time" and urged people to "stand together, be optimistic about the future."
© Copyright IBTimes 2023. All rights reserved.