Egypt Election: Mohammed Morsi Vs. Ahmed Shafiq - Profiles Of The Front-Runners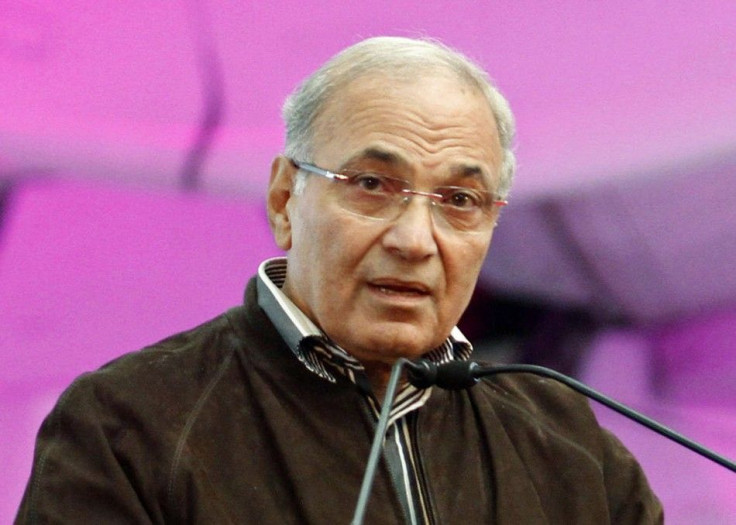 With vote-counting now under way, preliminary tallies from Egypt's presidential elections have begun to trickle in, but the final result won't be revealed until Tuesday. Nonetheless, the Muslim Brotherhood is already calling the race for its candidate, Mohammed Morsi.
Morsi already appears to have won 25 of Egypt's 27 governorates, a good indicator that he will move on to a runoff vote scheduled for mid-June. With 4.4 million votes -- about 26.5 percent -- Morsi narrowly edged out independent Ahmed Shafiq, who Al Ahram has in second place with 24.75 percent of the votes.
Barring some dramatic unforeseen event, one of these two men will become the next leader of Egypt. One represents Egypt's future -- a future that could see the country move toward nonsecularism -- and the other represents, in a way, a bridge between the old and the new.
Mohammed Morsi
Morsi was actually the Brotherhood's second choice. The 82-year-old organization originally selected Khairat el-Shater, its longtime financier, to run for president as the preferred candidate of its Freedom and Justice Party, or FJP, but he was disqualified because of a criminal conviction.
A University of Southern California-trained rocket scientist, Morsi split his time between his job as head of the engineering department at Zagazig University in Egypt and his seat in the lower house of parliament for 10 years. He has been a loyal and prominent member of the Brotherhood for decades, and he even became the group's representative in 2005 after then-spokesman Shater was arrested.
After serving in an active role in the Tahrir Square revolution at the beginning of last year, Morsi was appointed by the Brotherhood to serve as president of its newly created political arm, the FJP.
Morsi is more conservative than his two-time predecessor, Shater, who can be described as a capitalist first and a Muslim second (albeit a close second). Although the religious Salafist Front and Nour Party both endorsed Morsi's political rival Abdel Moneim Aboul Fotouh, Morsi is still a popular figure among Islamists, especially those who were turned off by Fotouh's increasing moves toward liberalism.
Like most of his party, Morsi endorses a political form of Islam, one in which laws are informed, but not dictated by, religious codes. However, the prospect of sharia law is hard for Egypt's human-rights activists, leftists, moderate Muslims, and Christians to swallow -- as it is for Israel, as well. A Brotherhood victory would give its party dominance over Egyptian politics. The FJP holds a majority of the seats in parliament, as it did in the constitutional assembly, before that was suspended.
I think we are on the verge of a new era. We trusted God, we trusted in the people, we trusted in our party, prominent Brotherhood figure Essam el-Erian said on Thursday.
Ahmed Shafiq
Shafiq is one of a handful of former members of deposed President Hosni Mubarak's government who remains active in Egyptian politics. He is diametrically opposed to Morsi on many important fronts.
As a member of the old regime, Shafiq is a secular candidate, but his association with Mubarak and with the ruling Supreme Council of the Armed Forces, or SCAF, makes him unpopular with revolutionaries and activists. Nonetheless, that experience made him one of the early front-runners in an Egypt where more and more people are looking for some sort of political stability.
Additionally, Shafiq has the benefit of name recognition. He had a long career under Mubarak, serving first as the military attache in the Egyptian embassy in Rome before rising through the government ranks to civil-aviation minister, until Mubarak finally appointed Shafiq prime minister during the revolution. He served for a very interesting 33 days, and he was in charge when pro-government thugs attacked protesters in Tahrir Square.
Shafiq is also seen by many as the military's top choice. The SCAF has been accused of trying to influence the election to remain in power, and Shafiq, who was once the commander of the Egyptian Air Force, is notably the only candidate with any serious military background.
More than 50 million people cast their ballots in Egypt's first presidential election since the fall of the Mubarak regime 15 months ago, in what could be considered the nation's first democratic presidential election in its expansive history. Currently trailing behind Morsi and Shafiq are anti-Mubarak Nasserist candidate Hamdeen Sabbahi, ex-Brotherhood leader Fotouh, and former Mubarak foreign minister Amr Moussa with 20 percent, 18 percent, and 10 percent of the vote, respectively.
© Copyright IBTimes 2023. All rights reserved.