Egypt Investigates Pyramid Porn Film: Russian Tourists Reportedly Filmed Video Near Giza Pyramids, Sphinx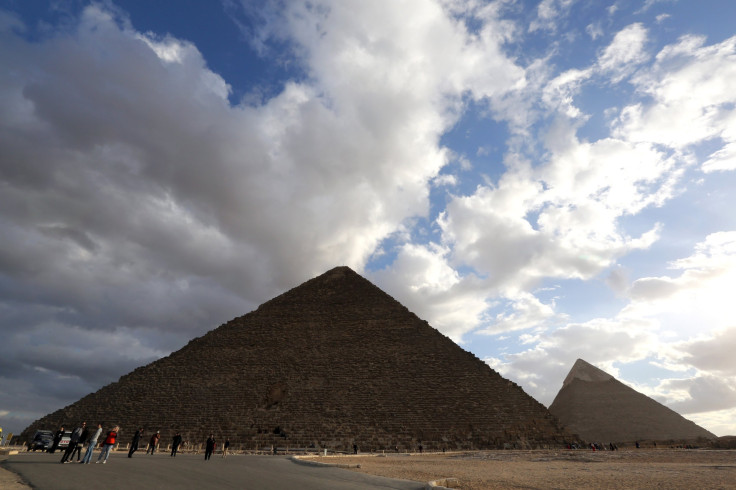 Authorities in Egypt are investigating the production of a pornographic film that was allegedly shot near the ancient pyramids, outraging Egyptians. The incident has been referred to a public prosecutor, said Minister of Antiquities Mahmoud Al Demati in a statement Thursday reported by Gulf News.
The film's existence became known when it was brought to the attention of a non-governmental antiquities organization, which called for an investigation. "Where was security during this incident?" asked Osama Karar, coordinator of the Popular Front to Defend Antiquities in Egypt, to Egypt Independent on Wednesday. "There is supposed to be an engineering unit inside the pyramids, responsible for watching over the site. If a violation occurs, it should be spotted immediately," he said. Karar also pointed out that the security system installed in the Giza Pyramid complex cost more than $30 million.
Russian tourists allegedly produced the scenes near the Sphinx and the Senn al-Agouz area near the pyramids, later translating the dialogue into English, Egypt Independent said. The 10-minute film has been available online for nine months and has been uploaded on three porn websites.
Karar alleged in televised remarks Thursday that security officials in the area had knowledge of the film's production and had "deliberately" put surveillance cameras in the area out of commission, Gulf News reported. Karar's claims were echoed by an Egyptian lawyer who filed a lawsuit against senior police chiefs in the area for allegedly facilitating the filming and "damaging the country's name."
While an Egyptian antiquities official initially claimed that the video was Photoshopped in order to harm Egypt's reputation, the ministry now says it is installing new surveillance cameras as part of a plan to overhaul the Giza site, which is Egypt's biggest tourist attraction. Tourism has long been one of the Egyptian economy's most important sectors but has taken a major hit in the four years of turmoil following the 2011 uprising that ousted longtime ruler Hosni Mubarak.
Egypt has previously attempted to outlaw online pornography, but such bans have been difficult to enforce because of the high cost associated with blocking porn websites. Proponents of banning porn in the country argue that it goes against traditional Egyptian values, although Egypt is near the top of the list of countries in online porn searches, according to Alternet.
© Copyright IBTimes 2023. All rights reserved.