Egypt Seeks $25M To Buy Back Ancient Sekhemka Statue Sold In Christies Auction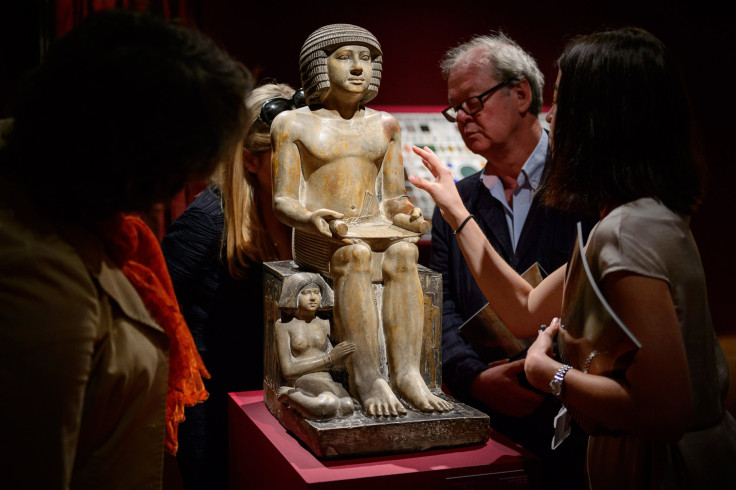 The Egyptian government has urged its citizens to help raise nearly $25 million so the country can buy back an ancient statue sold at auction by Christies in London last year. Egyptian Antiquities Minister Mamdouh el-Damaty called on Egyptians worldwide Saturday to donate money to help return the 4,500-year-old "irreplaceable masterpiece" to its native country, the Cairo Post reported.
The painted limestone statue of an Egyptian royal scribe called Sekhemka sold at auction in July 2014 to an unknown buyer for nearly $20 million by Northampton Museum to help fund its renovations. The sale has angered Egyptian authorities and raised a number of ethical and legal questions. The prized piece might "never be seen on public display again" if purchased by a wealthy private collector when an export ban imposed on the statue expires at the end of August, el-Damaty warned during a press conference at Egypt's antiquities ministry in Cairo.
"The sale of the statue is an indelible stain on the museum's reputation and is a moral crime against world heritage in general and the Egyptian heritage in particular," he said, the London newspaper the Independent reported. "I am calling all Egyptians around the world to help Egypt to preserve its ancient Egyptian heritage and to collect the required fund to buy the Sekhemka statue."
El-Damaty also announced Saturday Egypt has halted all its dealings with the Northampton Musuem to protest its "unethical role" in the sale of the Sekhemka statue. It was believed to be the first time a museum had sold an Egyptian antiquity. El-Damaty said these historical pieces are given to museums "to spread information about civilization, heritage, arts and culture. Therefore, the final resting place for any antiquity is the museum."
"What this museum is doing is considered an ethical crime against human and Egyptian heritage," el-Damaty said during the press conference in Cairo, according to the Associated Press.
The Sekhemka statue belonged to an ancient Egyptian court official and scribe during the fifth dynasty from 2,400 B.C. to 2,300 B.C. It was later found during excavation from the Sakkara archeological site, about 16 miles south of the Giza pyramids. The statue was then acquired by Spencer Compton, the second Marquis of Northampton, during his trip to Egypt in 1849-50. It was later given to the Northampton Museum by the third or fourth Marquis prior to 1880, the Cairo Post reported.
© Copyright IBTimes 2022. All rights reserved.
FOLLOW MORE IBT NEWS ON THE BELOW CHANNELS