Egypt Soccer Match Leads to Riot, 9 Most Deadly Football Riots in History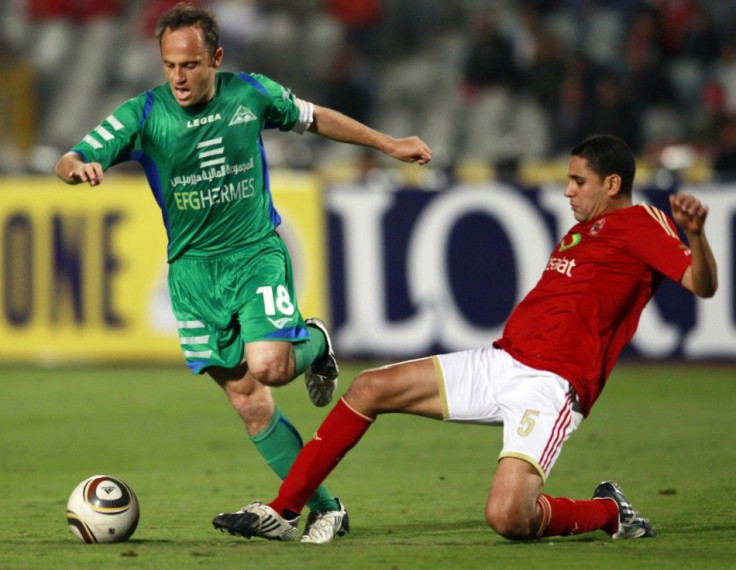 More than 70 people were killed on Wednesday when riots broke out between soccer fans of rival Egyptian football teams in Port Said, Egypt. An estimated thousand fans were injured in the riots, but authorities remain uncertain of exactly how many fans were killed.
Al Jazeera reported that supporters of the victorious al-Masry team ran on to the field following a game with the country's top club al-Ahly. Al-Masry enjoyed a rare 3-1 win and, in response, fans allegedly stormed the field, chasing players and attacking supporters of the opposing team by throwing rocks, fireworks and bottles at them.
This is not football. This is a war and people are dying in front of us. There is no movement and no security and no ambulances, Abo Treika told the Ahli television channel. I call for the premier league to be cancelled. This is horrible situation and today can never be forgotten.
The two teams have a long history of conflict with clashes frequently erupting between their fans, Al Jazeera reported. The Telegraph claims that there has been increased violence at soccer matches in North African in the past year, potentially related to the political unrest that has swept the area.
Unfortunately, the deadly soccer clash in Egypt is not the first of its kind. There have been a number of deadly football-related riots leading to hundreds of deaths and thousands of injuries. Take a look at the deadliest incidents in football history.
The Nine Most Deadly Soccer Riots in History:
9. England vs. Italy (1985) in Brussels, Belgium
On May 29, 1985, England's Liverpool fans attacked Italian supporters of the Juventus of Turin team at the Heysel Stadium in Brussels, Belgium before the European Champion's Cup final. The rioters broke a concrete retaining wall and 39 people were trampled to death while more than 400 people were injured.
8. Celtics vs. Rangers (1971) in Glasgow, Scotland
On Jan. 2, 1971, 66 fans were killed and more than 160 were injured in the Glasgow Rangers' home stadium when fans who were leaving the stadium tried to return to watch a late goal that had just been scored in Glasgow, Scotland.
7. River Plate vs. Boca Juniors (1968) in Buenos, Aires
After a first-division game between River Plate and the Boca Juniors, 74 people were killed and 150 fans were injured when fans headed towards a closed exit and were crushed against the doors in Buenos Aires, Argentina.
6. Zambia vs. Sudan (1996) in Lusaka, Zambia
Nine soccer fans were trampled to death and 78 others were wounded in a stampede following Zambia's victory over Sudan in a World Cup qualifying game on June 16, 1996 in Lusaka, Zambia.
5. Guatemala vs. Costa Rica (1998) in Guatemala City
In a 1998 World Cup qualifying match between Guatemala and Costa Rica, at least 80 fans were killed and more than 150 were injured in a stampede on Oct. 16, 1998.
4. Liverpool vs. Nottingham Forest (1989) in Sheffield, England
During an English FA Cup semifinal match between Liverpool and Nottingham Forest in Sheffield, England, 96 people were crushed against a barrier and killed when fans rushed onto the field. The crushed were predominantly Liverpool fans. It is the United Kingdom's worst soccer disaster.
3. Accra's Hearts of Oak vs. Assante Kotko (2001) in Accra, Ghana
More than 100 soccer fans were killed in a stamped at a soccer match in Accra, Ghana on May 9, 2001. With five minutes left in the game, Assante fans began to throw bottles and chairs onto the field as their team was losing. Police fired tear gas, which created panic in the stands, and a stampede ensued.
2. Peru vs. Argentina (1964) in Lima, Peru
On May 24, 1964, more than 300 soccer fans were killed and over 500 were injured following a riot and panic started by Peruvian fans after an unpopular ruling by the referee in Peru vs. Argentina soccer match in Lima, Peru. The game determined which team would qualify for the 1964 Olympics.
1. Spartak Moscow vs. Haarlem of Netherlands (1982) in Moscow, Russia
More than 340 fans died in Lenin Stadium in Moscow, Russia on Oct. 20, 1982 when exiting soccer fans were crushed by returning fans who had heard a final goal was scored. Police were blamed for the incidence as they pushed fans down a narrow staircase before the match had ended. The Soviet Sports Committee claimed only 61 died and denied the claim that police had pushed fans.
Related Article: Egypt Soccer Riot: 'This is Not Football. This is a War' [Video]
© Copyright IBTimes 2023. All rights reserved.