'Elden Ring': Founding Rain Of Stars Location
KEY POINTS
The Founding Rain of Stars is found inside Heretical Rise in Mountaintops of the Giants
Players need to cross an invisible bridge to reach Heretical Rise
Use Rainbow Stones or arrows to mark a safe path before crossing the bridge
One of the legendary sorceries, the Founding Rain of Stars can be found much later in the game once players access the Mountaintops of the Giants.
After defeating Morgott at the royal capital of Leyndell, they will receive a medallion that can activate the Grand Lift of Rold past the Forbidden Lands. To get there, players need to pass the large gates by the northern part of Leyndell's main avenue.
Push through the Forbidden Lands and either fight or skip the gargoyle field boss by the steps. Activate the lift to reach the Mountaintops of the Giants.
Once on the mountain, players need to make their way to the Heretical Rise, a small abandoned keep surrounded by Avionette and Marionette soldiers. The tower can only be reached via an invisible bridge.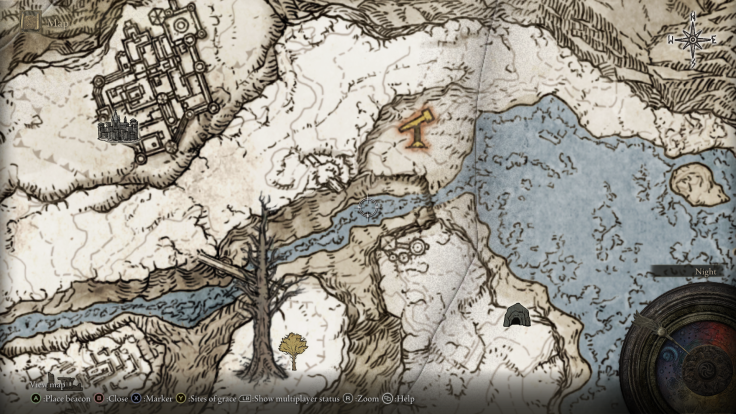 The invisible bridge starts at the north of the Heretical Rise, and it leads to a balcony on the tower. A faint mist can be spotted lingering over the bridge.
The most reliable way to find this bridge is by simply going online. This will allow players to see messages left behind by others on the bridge itself. However, getting across the bridge can be troublesome.
Bring a handful of Rainbow Stones and throw them forward before moving up. Alternatively, bring any bow with basic arrows and try to shoot them at the bridge. This will create a visible trail that players can follow along the winding, invisible path.
After crossing the bridge, go inside and fight the enemies. Take the lift up to the top of the tower and open the chest containing the legendary sorcery.
Founding Rain of Stars creates a cloud that releases a barrage of projectiles down toward enemies. The size of the spell is fairly sizable, but the cast range is limited. However, this spell can be cast while moving. It can be charged for greater effect.
Like Comet Azur and Stars of Ruin, Founding Rain of Stars is a Primeval Sorcery. No item in the game can specifically boost its damage output except for Lusat's Glintstone Staff, which buffs all spells.
© Copyright IBTimes 2023. All rights reserved.