Election 2016: Mitt Romney Says He's Giving 'Serious Consideration' To Third Presidential Bid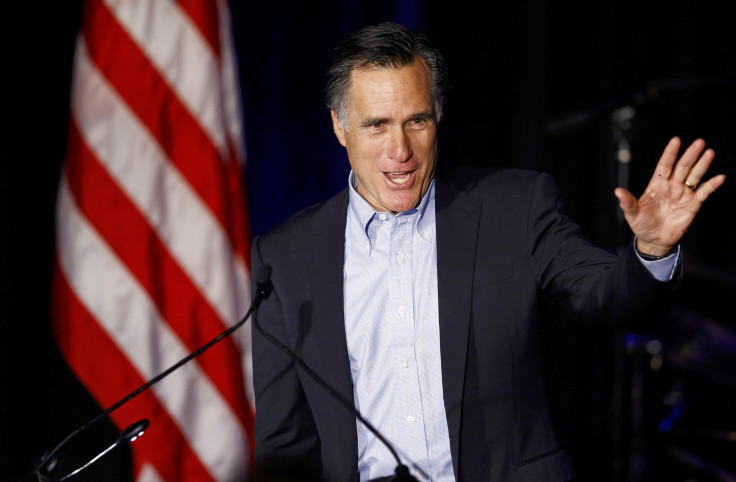 Mitt Romney, the 2012 Republican U.S. presidential candidate and the former governor of Massachusetts, conceded Friday that he was contemplating another presidential bid, according to media reports. Romney's comments were made during an address to members of the Republican National Committee in San Diego, California.
"I'm giving some serious consideration to the future … but this I know, we can win in 2016 as a party in the House, in the Senate, and in the White House if we communicate a clear vision of where we are taking this country and what we believe in," Romney reportedly said, without providing further details about his plans.
Romney's remarks on Friday were the first public acknowledgement of his 2016 presidential ambitions since he signaled his interest during a meeting with a group of donors last week.
Romney, who, during his 2012 campaign, was criticized for alienating the nation's poor and the middle class, also added that the Republican Party's 2016 presidential campaign should focus on three principles -- making the world safer, increasing opportunity, and lifting people out of poverty, according to a CNN report. In 2012, Romney was defeated by incumbent Democratic President Barack Obama, and in 2008, he lost the Republican presidential nominating race to Senator John McCain.
"Under President Obama the rich have gotten richer, income inequality has gotten worse and there are more people in poverty in American than ever before," Romney reportedly said.
However, Romney's declaration that he was considering a third shot at the White House was not particularly welcomed by many within his own party, according to media reports.
"Mitt Romney is an exceptional man with great experience, but I think there's a lot of other Republican candidates that are putting their names forward," said Colorado Republican Party Chairperson Ryan Call, according to ABC News. "I think a lot of folks here on the committee as well as throughout the country are all wanting to see how the other horses get out the gate before running too quickly to one camp or the other."
© Copyright IBTimes 2023. All rights reserved.