Election 2016: Who Leads In The Iowa Caucus? Trump Edging Carson, Clinton Holds Huge Lead, Poll Finds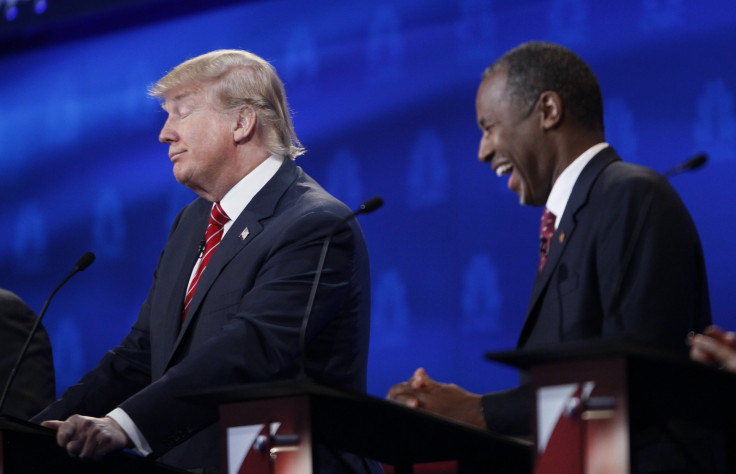 Republican presidential hopefuls Donald Trump and Dr. Ben Carson are neck and neck at the top in Iowa, according to the latest CNN/ORC poll of likely caucus participants, released Friday. On the Democratic side, former Secretary of State Hillary Clinton holds a commanding lead.
Real estate mogul Trump earned 25 percent of the vote compared with 23 percent for former neurosurgeon Carson. Moving down the ranks for the GOP candidates, Florida Sen. Marco Rubio took third place with 13 percent, Texas Sen. Ted Cruz came in at 11 percent while the foundering former Florida Gov. Jeb Bush earned 5 percent.
A pack of GOP candidates earned less than 5 percent. Former Hewlett-Packard CEO Carly Fiorina and Louisiana Gov. Bobby Jindal took 4 percent each while New Jersey Gov. Chris Christie earned 3 percent. Bringing up the rear taking 2 percent apiece were South Carolina Sen. Lindsey Graham, former Arkansas Gov. Mike Huckabee, Ohio Gov. John Kasich and Kentucky Sen. Rand Paul. Just 3 percent of likely participants in Iowa had no opinion.
Donald Trump | PrettyFamous
Likely caucusgoers said they most trusted Trump on issues such as the economy, illegal immigration, foreign policy, social issues and government programs. Forty-nine percent said they most trusted Trump on the economy with Bush and Carson tied for second at nine percent. Carson led for "social issues, such as abortion and same-sex marriage," earning 27 percent of the vote with Trump following at 13 percent.
The winner on the Democratic side was clearer than the GOP race. Clinton led Vermont Sen. Bernie Sanders 55 percent to 37 percent. Former Maryland Gov. Martin O'Malley was a ways off at 3 percent. Three percent had no opinion.
The poll was conducted Oct. 29 through Nov. 4 and surveyed 548 likely Republican caucusgoers with a margin of error of plus or minus 4 percentage points -- which puts Trump's lead within the margin of error -- as well as 498 likely Democratic caucusgoers with a margin of error of plus or minus 4.5 percentage points.
Carson has narrowed Trump's lead since the last CNN/ORC poll in Iowa. In August, Trump led at 22 percent, while Carson trailed at 14 percent. An October poll from Quinnipiac University put Carson ahead of Trump in Iowa, leading 28 percent to 20 percent. An October poll from Monmouth University put Clinton way ahead of Sanders, leading 67 percent to 24 percent.
Carson holds a slight edge over Trump nationally leading 24.8 percent to 24.6 percent, according to the Real Clear Politics average of polls. Using the same site's average of polls, Clinton leads Sanders 54.8 percent to 32.5 percent.
© Copyright IBTimes 2023. All rights reserved.
FOLLOW MORE IBT NEWS ON THE BELOW CHANNELS