In Iowa, Ben Carson Beating Donald Trump In New Poll Of Likely Republican Caucus Voters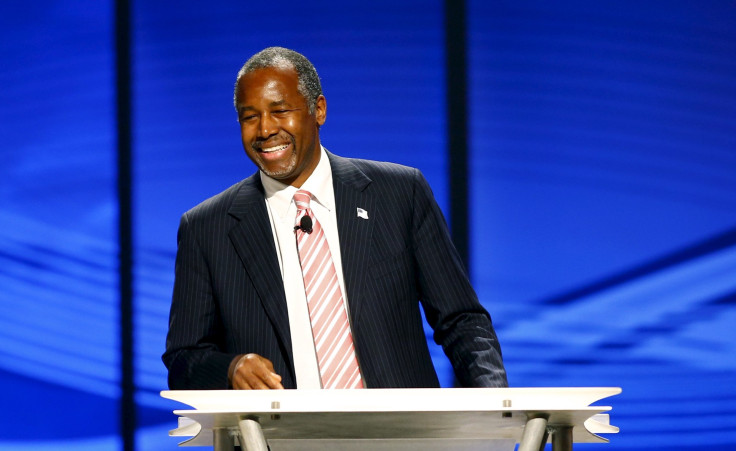 Dr. Ben Carson has surpassed Donald Trump among likely Republican caucus participants in Iowa, according to a Quinnipiac University Poll released Thursday. A significant boost from women put Carson at the head of the field with 28 percent, while Trump took second place with 20 percent.
These numbers are very different from a September Quinnipiac survey that showed Trump at 27 percent and Carson at 21 percent in the first voting state. This time around, Florida Sen. Marco Rubio took third place with 13 percent and Texas Sen. Ted Cruz got 10 percent. This is a big boost for Rubio, as well, since he polled at just 5 percent in September.
Following Cruz in the new poll was Kentucky Sen. Rand Paul, who had 6 percent, and former Florida Gov. Jeb Bush and Carly Fiorina with 5 percent each. The other candidates all came in at less than 3 percent support.
Carson led Trump particularly among women and white, evangelical Christians in the poll. The retired neurosurgeon saw support from 33 percent of women compared to Trump's 13 percent, and 36 percent of evangelicals to Trump's 17 percent. He also had "almost unheard of" favorability numbers, according to Peter A. Brown, assistant director of the Quinnipiac University Poll.
Ben Carson Presidential Candidate Profile | InsideGov
"Those who know Carson seem to like him. He has an almost unheard-of 84-10 percent favorability rating among likely Republican caucusgoers, compared to Trump's 53-43 percent rating. To borrow the line from Madison Avenue, 'Almost no one doesn't like Ben Carson,'" Brown said in a statement.
Carson has been receiving significant attention in recent weeks after strong debate performances and inflammatory comments about Muslims, mass shootings and gun rights. While Trump had a monopoly on attention for controversial comments when he entered the race, Carson seems to have made this part of his strategy as well.
Unfortunately for the New York tycoon, his attitude did not win him the same favor in Iowa that Carson's did. Thirty percent of voters said they "would definitely not support" Trump. In addition, Bush saw 21 percent of respondents say they would not support him.
The Iowa poll also showed good signs for Carson's compatibility with Iowa voters, as 84 percent of Republicans said he shares their values and 87 percent said they felt he cares about voters' needs and problems. Another 89 percent believed he was honest and trustworthy.
These numbers are better than many candidates have seen in other polls this election cycle. As the Republicans approach their third debate next Wednesday, they will be looking for another chance to win over voters. But for now, it's still Carson's turn to shine.
The Quinnipiac poll was taken Oct. 14 to 20 and included 574 likely Iowa Republican caucusgoers. It was conducted via land lines and cell phones and had a margin of error of plus or minus 4.1 percentage points.
Donald Trump Presidential Candidate Profile | InsideGov
© Copyright IBTimes 2023. All rights reserved.