Election Day 2012: Twitter Endorses Barack Obama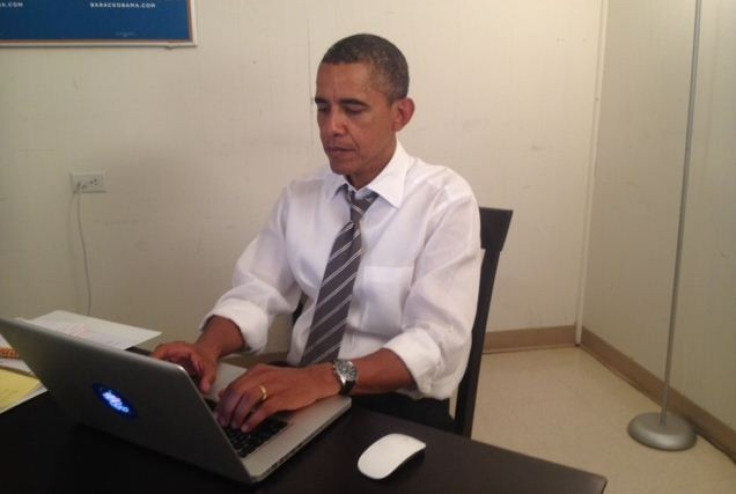 When voters head to the polls on Tuesday, they will bring to an end what has been the most social-media-saturated presidential election in history. During the 2012 election season, more tweets have been sent every two days than were sent throughout the entire 2008 season combined. And as the nature of political discourse changes, the outcome may change with it.
Every few election cycles, a new technology comes along that influences the outcome of a presidential race. In 1952, the Eisenhower campaign became the first to use television ads. In 1960, the first televised debate between Nixon and Kennedy skewed voters toward the more TV-friendly JFK. And in 2008, when Barack Obama squared off against Sen. John McCain, Obama harnessed the Internet's capacity to motivate people in a way that no presidential hopeful had ever done before. And it paid off.
"Obama placed major emphasis on leveraging the Internet to engage with voters while John McCain virtually ignored leveraging social media and engaging with voters online," wrote Kenneth Wisnefski, founder of the Internet marketing company WebiMax, in a statement. "Social media has only dramatically risen in prominence since then."
Today, both candidates understand the vital need for a prominent social media presence, which may explain why 2012 is being called the first true Twitter election. "Twitter has shown its power to reframe a story within a matter of minutes," wrote Jay Barth in the Arkansas Times. "Vice presidential candidate Paul Ryan's speech accepting his nomination at the Republican National Convention was well-delivered. However, numerous tweets during the speech highlighted various untruths."
Even greater than Twitter's ability to influence public opinion is its capacity for tracking it. Never before has a tool provided political strategists and analytics junkies with the kind of big-data snapshots offered to those who mine Twitter's millions and millions of election-related tweets. "For the first time, it's possible to measure conversations that just an election cycle ago were limited to coffee shops, dinner tables and water coolers," wrote Adam Sharp, Twitter's head of government, news and social, in a blog post.
Unfortunately for Gov. Romney, however, the majority of Twitter stats and analytics charts favor Obama over his challenger -- significantly so, in some cases. Let's start with followers. The president has more than 21 million followers compared to Mitt Romney's 1.6 million. Obama only got a slight head start on the site, having joined Twitter 69 months ago compared to Romney's 67 months. But that said, the president is still the fifth most popular person on the site, sandwiched between Twitter stalwarts Rihanna and Britney Spears. Romney has just broken the top 600, and he's still several slots below Louis C.K.
Of course, followers aren't everything. But even the most ambitious Twitter-analytics data project indicates a decided preference for Obama over Romney. The most recent snapshot of Twitter's Political Index shows Obama with a comfortable favorability lead over Romney -- 59 to 53 at last count. The index, as USA Today puts it, is a "daily measure of sentiment expressed by Twitter posts about President Obama and Mitt Romney." Not only is Obama leading Romney less than 24 hours before the election, but he has consistently ranked higher than his challenger since the beginning of September.
Granted, attempts to predict election results based on such anecdotal data as Twitter sentiment is foolhardy at best, so it's at least worth mentioning that the latest national CNN poll has the candidates in a dead lock: 49 percent of likely voters say they'll pull the lever for Obama, and 49 percent say they'll choose Romney.
It's a close race by any measure, but it will be interesting to see if the world's first unofficial Twitter endorsement will sway voters toward the decidedly more tweet-friendly candidate.
© Copyright IBTimes 2023. All rights reserved.
FOLLOW MORE IBT NEWS ON THE BELOW CHANNELS