Elon Musk Sounds Off On COVID Vaccines, Alien Technology, And Memes
Elon Musk sounded off on a range of topics in an interview on startup app Clubhouse on Sunday night, giving some insight into how the Tesla CEO (TSLA) thinks about everything from the COVID vaccine to Twitter.
In the interview, he seemed rather optimistic about the COVID-19 vaccine, telling Clubhouse he is "not an anti-vaxxer. I am a pro-vaxxer," a departure from the auto billionaire's previous sentiments about the pandemic.
In September, Musk said that when a vaccine became available, he and his children would not get vaccinated. He made the controversial comments on an episode of The New York Times' "Sway," saying he and his family were not "at risk for COVID."
But Musk, who has a net worth of $190 billion, according to the Bloomberg Billionaires Index, said in the interview with Clubhouse that "there is going to be an avalanche of vaccine" coming.
He also said that "the Tesla machine can make a bazillion doses [of the vaccine] super fast."
The COVID vaccine wasn't the only topic that Musk took a stance on as he told Clubhouse that it is "quite possible" there is such a thing as Alien technology, despite noting there not being a single shred of conclusive evidence of their existence.
He joked that it exists at least at the "7/11" level and might be at the "500 Megapixel camera" or "at least iPhone 6 level."
Musk, who has a knack for influencing the market with a single tweet, evidenced by his support of Signal, Etsy, Shopify, GameStop, Cyberpunk's CD Projekt, and even his own company, Tesla, told Clubhouse that he also enjoys the simpler aspects of social media. When he was asked about memes he said, "He who controls the memes controls the universe."
He continued, "I love memes, they can be very insightful."
When asked if he purposefully tries to sound crazy on Twitter, he simply said, "I started crazy on Twitter."
Shares of Tesla were trading at $820.51 as of premarket hours on Monday, up $26.98 or 3.40%.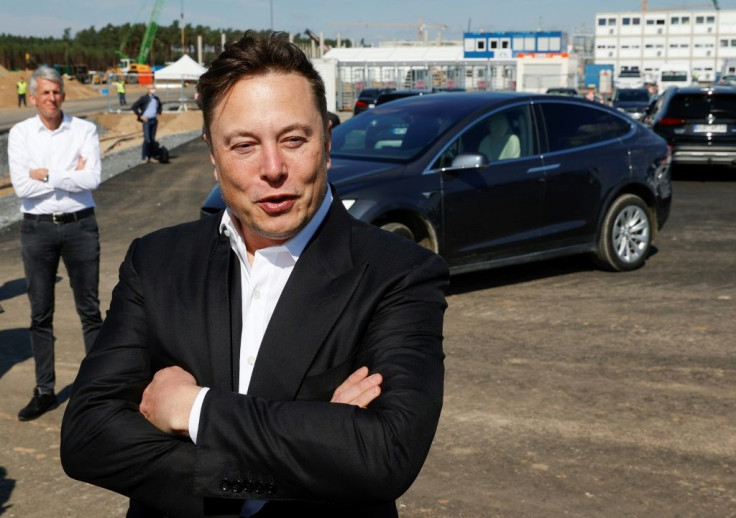 © Copyright IBTimes 2022. All rights reserved.
FOLLOW MORE IBT NEWS ON THE BELOW CHANNELS