9 Biggest Elon Musk Controversial Moments Of 2020
Elon Musk become the second richest person in the world this year as his electric car company Tesla (TSLA) gears up to join the S&P 500 on Dec. 21.
Musk, who has a net worth of $7.2 billion, surpassed Microsoft founder Bill Gates and trails behind only Amazon's Jeff Bezos, according to Bloomberg's Billionaires Index.
Musk saw his fortune grow by $100.3 billion this year – the most of anyone on the Bloomberg Billionaires Index – sending him from a 35th ranking to the No. 2 spot, The Daily Mail reported.
The 49-year-old owns a 20% stake in Tesla, which makes up three-quarters of his net worth, as well as an interest in rocket company SpaceX, which sent four astronauts to the NASA Space Station as the first commercial space trip earlier this month.
However, Musk's profound success has not come without controversy. He has found himself in the center of criticism and backlash on a number of occasions for his outspoken comments on topics that center around the coronavirus, its vaccines, and even the pronunciation of of his own child's name.
Here are Musk's most controversial moments of 2020 thus far:
COVID
Musk has made it clear his feelings on the coronavirus, and when he defied orders by reopening Tesla's Fremont Factory in Alameda County, California, despite a statewide lockdown during the pandemic, he found himself in hot water.
He was held accountable by the county for the coronavirus infections of several workers that tested positive for COVID-19 at the assembly plant. But Musk threatened retaliation, saying on Twitter, "This is the final straw. Tesla will now move its HQ and future programs to Texas/Nevada immediately. If we retain Freemont manufacturing at all, it will be dependent on how Tesla is treated in the future."
Musk sued the county in May but later dropped the suit. The county eventually allowed the factory to reopen as long as Tesla agreed to adhere to safety measures during the pandemic.
COVID Vaccine
Musk has made his thoughts on the coronavirus pandemic clear, saying that the panic caused by the virus is "dumb" and showing his disdain for statewide lockdowns. But when it comes to COVID-19 vaccine, Musk also has an opinion.
He said in September that when a vaccine becomes available, he and his family will not get vaccinated. Musk made the announcement on an episode of The New York Times "Sway," saying that he and his kids were not "at risk for COVID." Those words would later come back to haunt him.
COVID Lockdowns
In a March Business Insider report, Musk called COVID lockdowns "forcible imprisoning" and "fascist" at the very beginning of the outbreak in the U.S.
Musk said at the time there would be "close to zero new cases" of the coronavirus by the end of April, which have now approached over 12.4 million cases in the U.S. and accounted for over 257,000 deaths, according to Johns Hopkins University.
COVID Testing
Twitter was quick to call out Musk for his lack of understanding on how COVID testing worked after he tweeted that something "bogus" was going on after having "Two tests came back negative, two came back positive. Same machine, same test, same nurse."
Musk had taken a rapid antigen test, which produces rapid test results that can often produce inaccurate results. He was schooled on Twitter for his lack of knowledge on the subject and called "Space Karen" for not knowing that his test could produce false results and that a PCR test would produce more accurate results in a lab environment.
Big Letdown
Musk teased of a "very insane" reveal at Tesla's Battery Day in September that pumped up stock prices and left the audience feeling underwhelmed.
While social media fans speculated that Tesla would be unveiling at least two of its own Roadrunner battery cells, the event failed to deliver on the promises. Instead, Tesla touted a series of production and manufacturing measures that would reduce the cost of its cars in the future.
Twitter
Musk isn't one to shy away from Twitter, and he often posts some opinionated tweets that rub people the wrong way. Over a 48-hour period, Musk posted a series of tweets that address Bill Gates, aliens, and the Egyptian Pyramids that left social media scratching its collective head.
On Gates, Musk addressed the romance rumors, saying "Billy G is not my lover," a reference to Michael Jackson's 1988 hit song "Billy Jean". Regarding the pyramids and aliens, Musk suggested that that the former was built by the latter, leaving many to wonder the meaning of his cryptic tweets.
Bill Gates
Musk's beef with Gates has been well documented, and the CEO didn't miss a beat when he was asked on Twitter about the Microsoft founder buying an electric Porsche Taycan instead of Tesla. Musk responded by saying, " My conversations with Gates have been underwhelming tbh [to be honest]."
College
Musk may have gotten some questionable looks when he suggested that college is "basically for fun and to prove that you can do your chores." He made the claims during the Satellite 2020 conference in March, saying it is about discipline, such as learning to complete "annoying homework assignments."
However, SpaceX requires a bachelor's degree on its job description and, in some instances, prefers a master's degree. But Musk maintained the requirement is "exceptional ability." He said, "I don't consider going to college evidence of exceptional ability. In fact, ideally you dropped out."
X Æ A-Xii
In May, Musk and singer girlfriend/musician Grimes welcomed their firstborn child together – a son. But the name of the child, X Æ A-12, sent some on social media reeling. The controversial name was eventually changed to X Æ A-Xii due to California law, but how to say the name had the couple divided.
Musk said the name was pronounced as like the letter X and the "AE" was pronounced like "ash." But Grimes told a fan on Instagram the AE was said like the letter A then I. It is still unclear how to correctly say the child's name.
Shares of Tesla were trading at $543.74 as of 10:33 a.m EST, up $21.89 or 4.19%.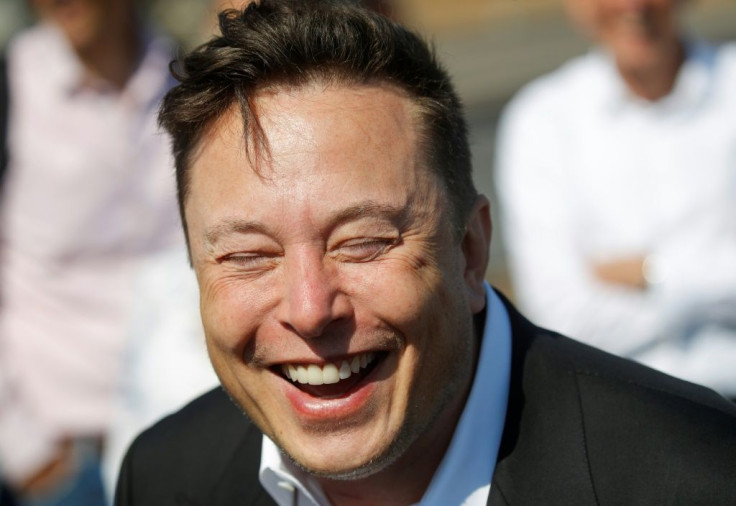 © Copyright IBTimes 2022. All rights reserved.
FOLLOW MORE IBT NEWS ON THE BELOW CHANNELS