Enrique Peña Nieto Approval Rating 2015: Mexican President's Institutional Revolutionary Party Leading Federal Election Polls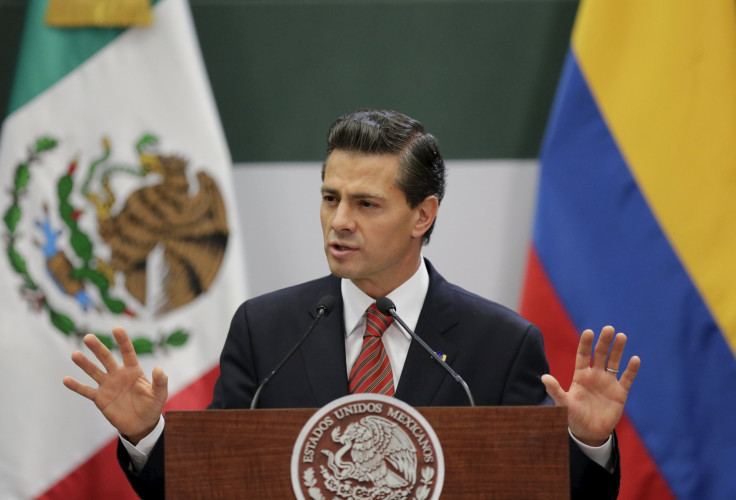 Mexican President Enrique Peña Nieto's party has maintained its lead over its rivals with less than a month before Mexico holds elections for its lower chamber of Congress, Reuters reported Tuesday, citing a Consulta Mitofsky poll. The Institutional Revolutionary Party (PRI) is holding a roughly seven-percentage-point advantage over the National Action Party (PAN), 31.1 percent to 23.6 percent.
The latest poll shows support relatively unchanged between the PRI and the PAN, which was in power from 2000 to 2012. A Parametria poll released in late April had the PRI with 32 percent and the PAN with 24 percent. The Democratic Revolution, a center-left party, was in third with 17.6 percent, while the National Regeneration Movement (Morena), headed by Peña Nieto's main rival for the presidency, had 10.7 percent support. The center-right Green Party, which is part of a coalition with the PRI, had 6.3 percent.
The PRI holds 207 seats in the Chamber of Deputies, the lower house of Congress, while the PAN has 114 seats.
Mexico is holding federal elections on June 7 to elect 500 members to its lower chamber of Congress. When voters head to the polls, they'll also be deciding on governors in nine Mexican states and hundreds of local offices. The Mexican people, however, don't appear to be keeping a close eye on the race, according to Consulta Mitofsky. Only 44 percent of Mexicans said they know the date of the election and 78 percent said they know the contest will occur in June, the polling company said.
While Peña Nieto's party is leading in the polls, the president himself is not viewed favorably by the Mexican public. About 85 percent of Mexicans said in a February poll that they don't trust Peña Nieto and 60 percent said corruption -- one of the top concerns for voters -- has increased since Peña Nieto was elected in 2012.
The recently released poll by Consulta Mitofsky polled 1,000 potential voters in Mexico from April 24-27. It has a margin of error of 3.1 percentage points.
© Copyright IBTimes 2023. All rights reserved.