Ethiopian Muslims Accused Of Terrorism, Jailed For 22 Years After Obama's Visit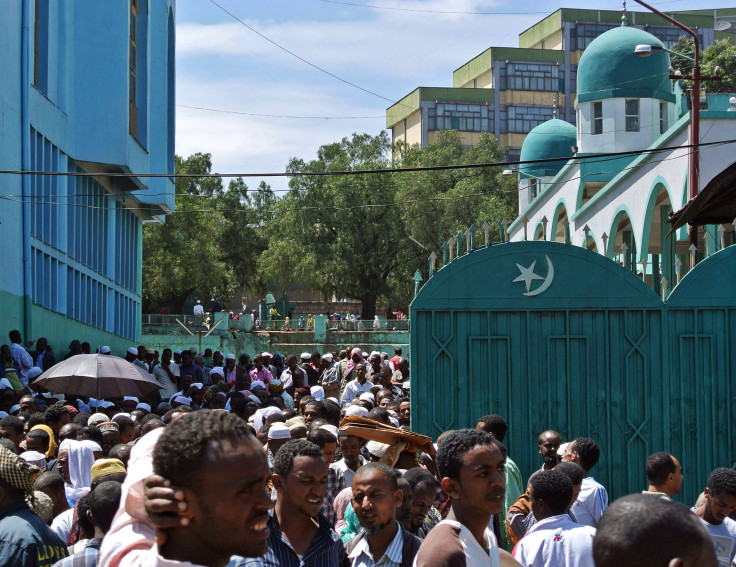 An Ethiopian court has jailed 18 Muslims, including clerics and a journalist, for terms of up to 22 years under controversial anti-terrorism laws in the mainly Coptic Christian country. The group was convicted last month on charges including terrorism and conspiracy to establish an Islamic state, after they were arrested three years earlier for protesting against the government, according to Ethiopia's privately owned Addis Standard magazine.
Four of the defendants were sentenced to 22 years in prison each, while the sentences for the other 14 ranged from seven to 18 years. All 18 have denied the charges and said they were mistreated during their detention, BBC News reported. The group was among hundreds of thousands who staged protests in 2011 and 2012 over the government's alleged interference with the affairs of Ethiopia's highest religious body for Muslims.
Human rights groups have listed Ethiopia as the world's second-worst jailer of journalists and one of the most repressive regimes in Africa. The severe sentencing came just weeks after U.S. President Barack Obama's controversial trip to Ethiopia, during which he called on the government to improve its tainted record on governance. However, human rights activists criticized the U.S. president for not putting more pressure on the Ethiopian government to change its authoritarian ways, which it has long denied.
While meeting with Ethiopian Prime Minister Hailemariam Desalegn in the capital Addis Adaba last month, Obama largely praised the "democratically elected" government as an "outstanding partner" in fighting Islamist militants and stemming violence in the easternmost corner of Africa. But Ethiopia's ruling party, which has governed for the past 24 years, has been widely accused of rigging elections and intimidating voters.
The Ethiopian People's Revolutionary Democratic Front, led by Desalegn, and its allies secured all of the parliamentary seats in the country's May 24 general elections, which lacked any viable competition or oversight by Western observers. Opposition leaders accused the ruling party of stifling dissent to ensure victory.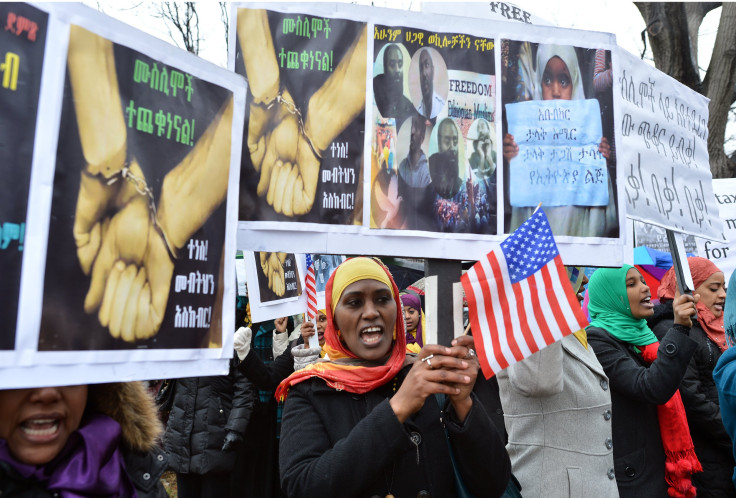 In 2009, Ethiopia passed two anti-terrorism laws that used broad language to define terrorism and terrorists, which human rights activists said the government has used to throw journalists and opposition leaders in prison without substantial evidence. At least 60 journalists have fled the East African country since 2010, while others sit in jail, according to a January report by Human Rights Watch.
Nearly 34 percent of Ethiopia's 83 million people are Muslims. The minority community has been protesting since 2011 after the Ethiopian government allegedly insisted the Islamic Supreme Council accept members from an Islamic sect known as al Ahbash and tried to impose its teachings on the Muslim community. The government also allegedly sought to influence the operations of the Awalia mosque in Addis Ababa, according to Human Rights Watch.
"There seems to be no limit to the Ethiopian government's use of its anti-terrorism law and unfair trials to stop peaceful dissent," Leslie Lefkow, deputy Africa director of Human Rights Watch, has said. "The government's treatment of these Muslim leaders bears the hallmarks of a politically motivated prosecution."
© Copyright IBTimes 2023. All rights reserved.
FOLLOW MORE IBT NEWS ON THE BELOW CHANNELS