Obama In Ethiopia: Human Rights Groups Criticize US President's Visit After Ethiopian Elections, Alleged Abuses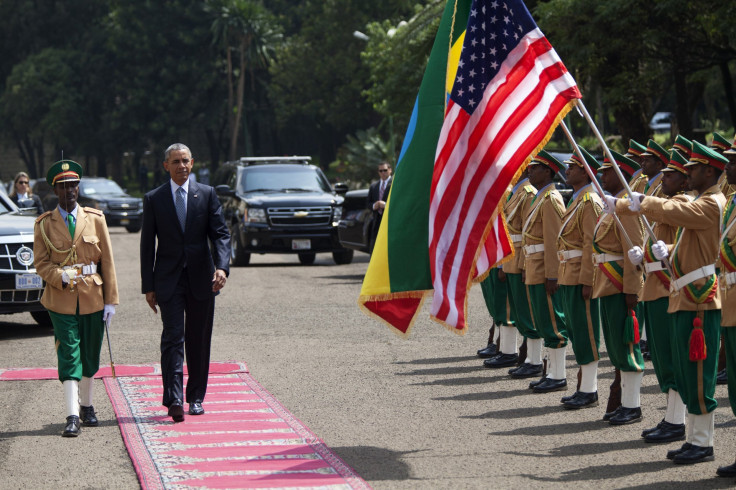 U.S. President Barack Obama's friendly visit to Ethiopia this week came on the heels of a controversial election and growing repression in the East African country, raising concerns among activists that the U.S. government is still prioritizing security and development over democracy and human rights in the strategic region. Ethiopia has long been considered one of the most repressive regimes in Africa, but it has faced little pushback from Washington.
"It sends a terrible message about the [U.S.] president's commitment to these issues," said Sarah Margon, Washington director at Human Rights Watch, an international nongovernmental human rights organization.
After a two-day visit to Kenya, Obama made history this week as the first sitting American leader to travel to Ethiopia. He met with Ethiopian Prime Minister Hailemariam Desalegn in the capital Addis Adaba on Monday to discuss human rights, regional security issues and neighboring South Sudan's civil war. And while the U.S. president called on Ethiopia to improve its tainted record on good governance, he largely praised the "democratically elected" government as an "outstanding partner" in fighting Islamist militants and stemming violence in the easternmost corner of Africa.
Ethiopia's ruling party has governed Ethiopia for the past 24 years and has won each of the last five elections in landslide victories. Most recently, the Ethiopian People's Revolutionary Democratic Front and its allies secured all of the parliamentary seats in the country's May 24 general elections, which were largely noncompetitive. The 59 election observers sent from the African Union said the vote was "calm, peaceful and credible."
However, there were no international observers from Western nations monitoring the polls, and opposition politicians alleged the ruling party used authoritarian tactics to ensure victory, including harassment and the illegal detainment of rival candidates and journalists. Human rights groups have listed Ethiopia as the world's second-worst jailer of journalists.
In 2009, Ethiopia passed two anti-terrorism laws that used broad language to define terrorism and terrorists, which human rights groups said the government has used to throw journalists and opposition leaders in jail without substantial evidence. At least 60 journalists have fled the country since 2010, while others sit in prison cells, according to a January report by Human Rights Watch.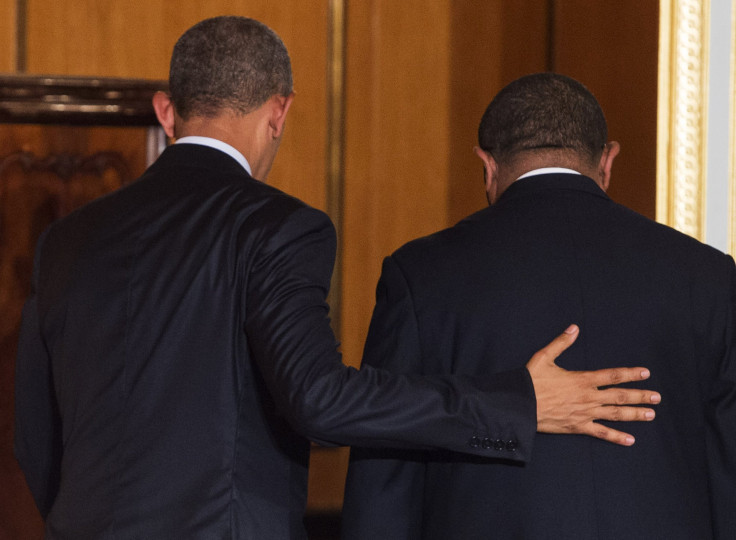 Ethiopia's prime minister said during a joint press conference with Obama on Monday that the country needed "ethical journalists," not reporters that "pass the line" and work with "terrorist groups." Ahead of Obama's historic visit, the Ethiopian government freed journalists and bloggers who were detained since April 2014 on charges of incitement and terrorism. But many more remain in prison, according to human rights activists.
"It should not be taken as any indication of an interest or commitment to reform institutionally," Margon said in a telephone interview Monday. "It seems very likely the Ethiopians will spin [Obama's] visit as an indication they are moving in the right direction."
Obama told reporters Monday he was tough on human rights and political freedoms during his conversations with Desalegn and other leaders. But human rights groups said Obama should apply pressure on the Ethiopian government to take further steps toward actual progress rather than phony promises and photo ops.
"In order for this not to appear as merely a token gesture, the Ethiopian government must release all its imprisoned journalists and bloggers, and carry out longer-term, more meaningful reforms such as amending legislation that severely restricts the work of civil society and the media, allowing independent monitoring of detention centres and ending impunity for serious violations carried out by the security forces," said Rachel Nicholson, Horn of Africa campaigner for Amnesty International, a nongovernmental human rights organization based in London.
Despite a long list of alleged human rights abuses, corruption and rigged elections within Ethiopia's ruling party, consecutive U.S. governments have remained friendly and continue to funnel millions of aid dollars to the country. Ethiopia received $580 million in American foreign aid in 2012 alone. In April, Obama nominated Gayle Smith to run the U.S. Agency for International Development and manage its billion-dollar budget. Smith, who has served under the Obama and Clinton administrations, has been criticized for coddling Ethiopia's autocratic leaders.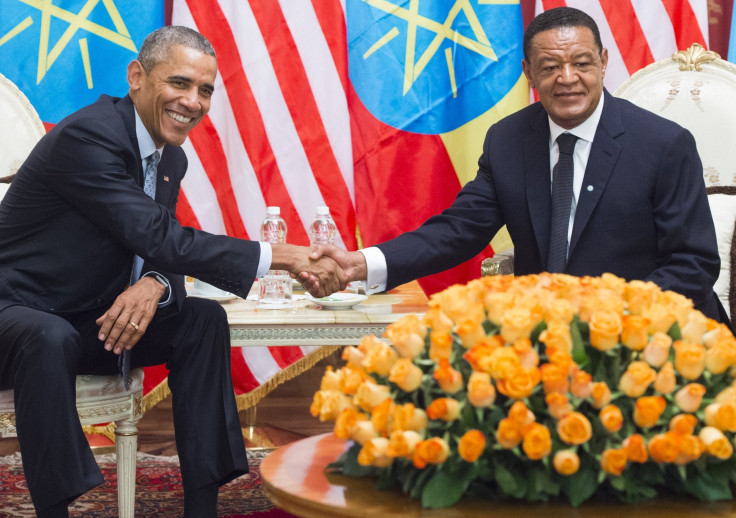 However, African policy experts defended Obama's visit to Ethiopia and said the East African country has seen immense progress since the overthrow of a Marxist military regime in 1991. Today, Ethiopia is the fourth-largest global and largest African contributor to United Nations peacekeeping operations, and it has one of the fastest-growing economies in the world. Ethiopia also hosts the headquarters of the African Union, a 54-member regional bloc, which Obama addressed Tuesday.
"Anyone who has visited the country more than once notes the transformation taking place constantly and will remark on the dynamism of the people," said J. Peter Pham, director of the Atlantic Council's Africa Center, a Washington-based think tank. "I applaud President Obama's decision to make a historic visit."
While the United States and Ethiopia might not see eye-to-eye on all issues, the East African nation is a country of enormous importance in the geopolitically sensitive Horn of Africa. Ethiopia's 3,310 miles of land borders put it next to some of the most politically and economically challenged states on the African continent, including Djibouti, Eritrea, Kenya, Somalia, South Sudan and Sudan.
Ethiopia has been a leading actor in a regional effort to end South Sudan's raging civil war. South Sudan, the world's youngest nation, crumbled into conflict in December 2013 over clashes between forces loyal to President Salva Kiir and rebels allied with former Vice President Riek Machar. The conflict has triggered a humanitarian crisis in which about 1.6 million people have been internally displaced and hundreds of thousands have fled to neighboring countries, according to the United Nations refugee agency.
The warring sides face an Aug. 17 deadline to agree on a regional peace and power-sharing deal. Obama and Desalegn hosted talks on South Sudan with leaders from Kenya, Uganda and Sudan as well as the chair of the African Union in Addis Ababa. Obama also hailed the Ethiopian government as a close ally in fighting Al Shabab, a terror group which aims to impose its strict interpretation of Islam on Somalia.
Thousands of Ethiopian troops have been battling Al Shabab militants in Somalia along with the African Union's force and the Somali army – a military offensive which has pushed the al Qaeda-aligned group into increasingly smaller areas of territory this year. The Ethiopian government has allowed the United States to deploy drones into Somalia from southern Ethiopia to target Al Shabab.
Ethiopia has worked with the United States in the global effort against terrorism following the September 11, 2001, attacks by al Qaeda on U.S. soil. The two nations also fought on the same side during World War II and during the Korean War, Pham noted.
"There will be those who criticize [Obama's] visit because of one difference or another with the government of Ethiopia," he said in an email. "But the president's visit is not so much a 'Good Housekeeping seal of approval' so much as an opportunity to engage a key partner, including on topics on which we might differ, and, above all, to advance U.S. strategic interests."
Still, human rights advocates said the U.S. government's cozy relations with Ethiopia's repressive regime show a lopsided approach to foreign policy that's not in the best interest of Ethiopia's some 90 million people. "We've seen a repeated focus on security and development and a very weak focus on human rights," Margon said. "It's a short-sighted approach."
© Copyright IBTimes 2023. All rights reserved.