Euro Lenders To Pass Bailout Judgment As Greece Backs Reforms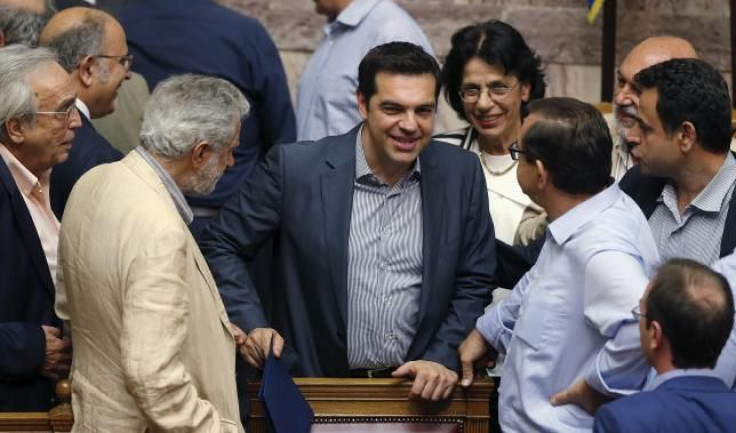 Greek Prime Minister Alexis Tsipras won backing from lawmakers on Saturday for painful reforms but it remained unclear it would be enough to secure a bailout from German and other euro zone ministers meeting in Brussels.
In parliament overnight, Tsipras had to rely on opposition votes from the right after some of his leftist allies opposed spending cuts, tax rises and other measures he proposed in order to unlock 54 billion euros in three-year credit and save Greece from a bankruptcy that would force it out of the euro zone.
But Germany, the biggest creditor in two previous bailouts totaling 240 billion euros ($265 billion), is deeply skeptical after five months of abortive negotiations. Euro zone sources said it was far from certain that the 19-strong Eurogroup of finance ministers would agree to open negotiations at a crisis meeting scheduled to start at 3 p.m. (1300 GMT).
"The high figures for financing needs over the next three years may be too high and too sudden," one said. He added that EU and IMF experts estimated Greece's needs at 82 billion euros, factoring in cash to come from the IMF and other EU sources.
A spokesman for German Finance Minister Wolfgang Schaeuble declined comment on a newspaper report that he found Tsipras's proposals inadequate and would oppose further talks. He said the outcome of Saturday's talks remained "completely open".
Schaeuble, as well as French Finance Minister Michel Sapin, arrived more than two hours early, as did new Greek Finance Minister Euclid Tsakalotos. IMF head Christine Lagarde said on arrival: "I think we are here to make a lot more progress."
German Chancellor Angela Merkel has made clear she does not want to see a "Grexit" that could disrupt the ailing European economy and undermine a supposedly irreversible union. However, she faces stiff opposition among her own conservative allies.
A positive assessment of the Greek proposals delivered by the European Commission, European Central Bank and International Monetary Fund late on Friday, along with bullish comments from Athens' key euro zone ally France, had raised expectations that the Eurogroup would give a green light to new loan negotiations.
Euro zone leaders, including Merkel and French President Francois Hollande, are due to meet on Sunday, either to endorse the ministers' decision or, along with other EU leaders, to take steps to contain the fallout from a looming Greek bankruptcy.
Among the hawkish, small east European states whose voters are loath to pour more money into a country some believe the euro zone would be better off without, Lithuania's finance minister said the Eurogroup would judge Tsipras's credibility.
"We have to take the best decision for the euro zone," said Rimantas Sadzius. "We have to evaluate, how constructive and realistic it is ... We have no right to blindly borrow taxpayers' money - we have to be sure they will be paid back".
Related Coverage
› Euro zone finance minister comments on Greece
› Greece needs debt relief, France's Macron tells German newspaper
PARLIAMENT DIVIDED
With Greece's banks shut and completely dependent on a credit lifeline from the European Central Bank, the measures were seen as a last chance to avert financial collapse.
The European Commission, ECB and IMF told euro zone governments after a review of Tsipras's proposals that they was sufficient basis to start negotiating conditional loans from the currency bloc's ESM bailout fund.
But in an ominous sign for the stability of the Greek government, 10 members on the ruling benches abstained or voted against the measures and another seven were absent, leaving Tsipras short of the 151 seats needed for a majority of his own.
Prominent leftwingers in his Syriza party signaled before the vote that they could not support the mix of tax hikes and spending cuts proposed by Tsipras, following the rejection of similar austerity measures by voters in Sunday's referendum.
Energy Minister Panagiotis Lafazanis, Deputy Labour Minister Dimitris Stratoulis as well as the speaker of parliament, Zoe Constantopoulou, all called "Present", in effect abstaining from the vote and withholding their support from the government.
"The government is being totally blackmailed," Constantopoulou said.
Following the vote, where many leftists in his own party were stunned by his acceptance of previously spurned austerity measures, Tsipras said he would now focus on securing a deal.
"The parliament today gave the government a strong mandate to complete the negotiations and reach an economically viable and socially fair agreement with its partners," he said.
"The priority now is to have a positive outcome to the negotiations. Everything else in its own time."
Related Coverage
› Euro zone not certain to agree Greek bailout: sources
› Germany says result of finance ministers' Greece meeting 'completely open'
› EU, IMF tell Eurogroup Greek proposals form basis for bailout talks
"HEAVY HEART"
After the jubilation in Athens last Sunday following the resounding rejection of further austerity in a referendum, there was bitterness that parliament was being asked to accept a strikingly similar package of measures.
The leader of the right wing Independent Greeks party, the junior coalition party in Tsipras' government, said his lawmakers would back the proposals "with a heavy heart".
U.S. Treasury Secretary Jack Lew said on Friday that Greece and its creditors appeared to be closer to a deal, calling for an adjustment to Athens' debt burden to ease its cash flow.
Greece asked for 53.5 billion euros ($59 billion) to help cover its debts until 2018, a review of primary budget surplus targets in the light of the sharp deterioration of its economy, and a "reprofiling" of the country's long-term debt.
A senior EU official said the Eurogroup talks would include discussions on whether Greece needs some debt relief.
In addition to cash from the euro zone, if Greece makes payments it missed last month to the IMF, the global lender still has a facility to lend Greece some 16 billion euros.
Any deal would also have to be endorsed by national parliaments including in Germany, which must also formally approve the loan negotiations being started.
The latest offer includes defense spending cuts, a timetable for privatizing state assets such as Piraeus port and regional airports, hikes in value added tax for hotels and restaurants and slashing a top-up payment for poorer pensioners.
Greek banks have been closed since June 29, when capital controls were imposed and cash withdrawals rationed after the collapse of previous bailout talks. Greece defaulted on an IMF loan repayment and now faces a critical July 20 bond redemption to the ECB, which it cannot make without aid.
(Additional reporting by Renee Maltezou, Michele Kambas, George Georgiopoulos, Costas Pitas, Lefteris Karagiannopoulos, Georgia Kalovyrna, Matthias Williams and James Mackenzie in Athens, Andrius Sytas in Vilnius, Sabine Siebold and Paul Carrel in Berlin, Andreas Rinke and Miranda Alexander-Walker in Brussels and Jan Strupczewski; Writing by Alastair Macdonald; editing by Ralph Boulton)
© Copyright Thomson Reuters 2023. All rights reserved.