Europe Preparing For War? Largest US Military Reinforcement In Decades In Europe, More Than 3,000 US Soldiers To Be Stationed In Poland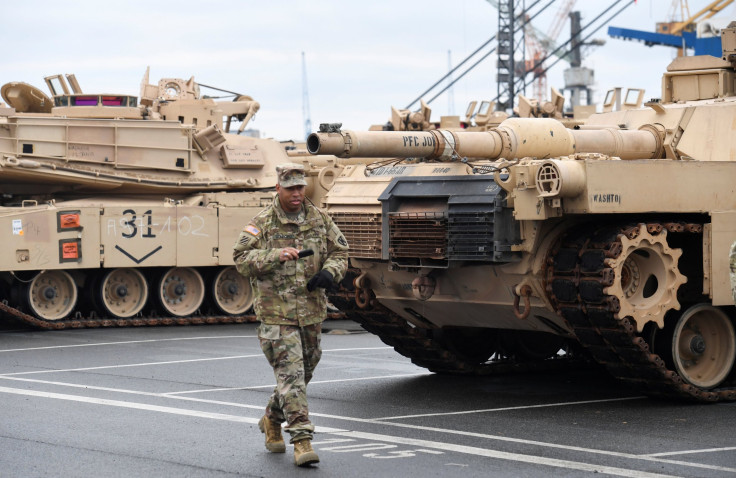 The largest U.S. military reinforcement of Europe in decades, comprising more than 3,000 U.S. soldiers along with U.S. tanks and armored vehicles, started arriving Thursday in Poland, as part of the outgoing President Barack Obama's attempt to reassure nervous NATO allies concerned over aggressive posturing by Russia.
Over 80 main battle tanks and hundreds of armored vehicles are now being transported through land into Eastern Europe, either by road or rail. The Baltics will also be the ground for U.S. Armored Brigade to carry out military exercises and the plan is to rotate forces every nine months, according to the BBC.
The full fulcrum of support to the troops also includes about 2,800 tanks and other pieces of military equipment, according to the Independent. The armaments also include self-propelled howitzers.
"This is one part of our efforts to deter Russian aggression, ensure territorial integrity of our allies and maintain a Europe that is whole, free, prosperous and at peace," Air Force Lt. Gen. Tim Ray, deputy commander of the U.S. European Command, reportedly said.
NATO's latest mobilization of troops is part of Operation Atlantic Resolve, which began in May 2014 after Russia spooked its neighbors through its annexation of Crimea. Since then, the U.S. Army has been conducting many training operations in Europe.
In October last year, for instance, the Kremlin began mobilizing warships through the English Channel, prompting Poland to increase defense spending. The U.S. Defense Security Cooperation Agency announced in late November that Poland will buy 70 Air-to-Surface Standoff Missile Extended Range missiles for its F-16 fighter jets from U.S.-based Lockheed Martin, but was confronted with a warning from Russia in December. Moscow has also deployed nuclear-capable missiles to Kaliningrad on the Baltic coast near Lithuania and Poland. Poland's minister of defense recently said that the country needs to double its army size to 150,000 soldiers.
As the geopolitical situation between the Baltic States and Russia remains on the edge, NATO in November explained its decision to put 300,000 troops on alert. "We have seen Russia being much more active in many different ways. ... We have seen a more assertive Russia implementing a substantial military build-up over many years – tripling defense spending since 2000 in real terms; developing new military capabilities; exercising their forces and using military force against neighbors. We have also seen Russia using propaganda in Europe among NATO allies and that is exactly the reason why NATO is responding. We are responding with the biggest reinforcement of our collective defense since the end of the Cold War," Jens Stoltenberg, the secretary-general of NATO, reportedly said.
However, President-elect Donald Trump's apparent pro-Russia stance has left analysts and political commentators puzzled about the whether the U.S. military posturing in the region would continue under him. Trump's pick for the post of defense secretary — Gen. James "Mad Dog" Mattis — is expected to be asked about the new administration's future plans regarding Russia during his Senate confirmation hearing later on Thursday.
The U.S. currently has about 70,000 troops in Europe.
© Copyright IBTimes 2023. All rights reserved.