European Central Bank Meeting Minutes To Provide Clues To Future Policy Moves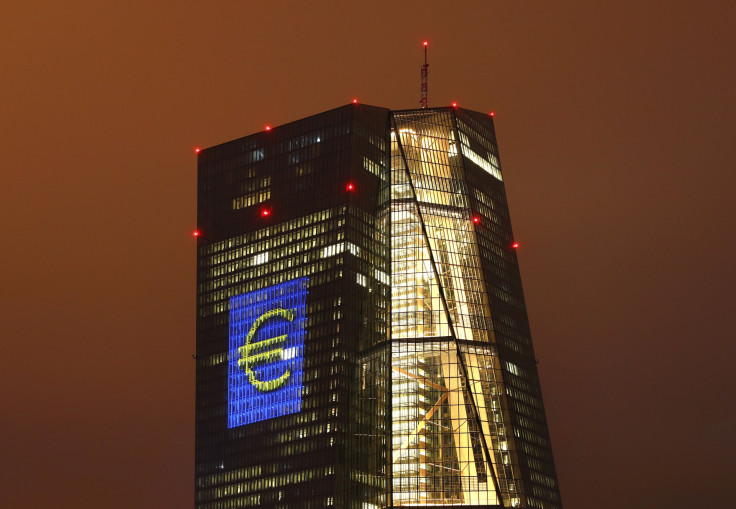 The European Central Bank (ECB) will, at 7:30 a.m. EDT Thursday, release minutes of its March policy meeting, when it announced a raft of fresh stimulus measures. The details of the meeting, to be unveiled a day after the U.S. Federal Reserve released the minutes of its March meeting, are likely to show a dovish ECB willing to do more to more to boost growth in the eurozone, and will provide an insight into the factors the policymakers are focusing on while expanding the central bank's stimulus program.
Investors and analysts would also peruse the minutes for signs of any policy divergence, both between the U.S. Fed and the ECB, and within the ECB. Although the U.S. Fed minutes revealed Wednesday that most of its officials were against a rate hike in April, the view was not unanimous. The ECB meeting minutes, however, are unlikely to show much dissent among the central bank's policymakers.
"The ECB minutes should reveal the strength of consensus behind March's big easing move," analysts at Canada's TD Securities reportedly said. "We would look for any signs of compromise from the more hawkish members, as well as indications of how much further the Governing Council appears willing to ease, should the need arise."
Last month, in an attempt to prevent a deflationary slump in the 19-nation eurozone — where inflation has stubbornly remained in the negative territory — the ECB slashed its interest rates to record lows. Additionally, it also ramped up its quantitative easing program to 80 billion euros ($91 billion) per month from 20 billion euros, and announced that it would also start purchasing some corporate bonds.
"The prolonged period of low inflation we are in today has increased the risks that inflation misses might become persistent, which would be deeply damaging for the economy," Peter Praet, the ECB's chief economist, said during a speech earlier this week. "This is why we have reacted so forcefully to secure our objective — and will continue to do so in the future if necessary."
Ahead of the release of the minutes, the euro was holding steady against the dollar at 1.1410. Last month, after the ECB announced its fresh policy easing measures, the 19-nation currency, contrary to expectations, appreciated sharply.
"The euro should struggle to perform given the risks ahead — Greece as well as a lingering global growth slowdown," Valentin Marinov, head of Group-of-10 currency research at Credit Agricole in London, told Bloomberg.
© Copyright IBTimes 2023. All rights reserved.