European Markets Rise On Spain Hopes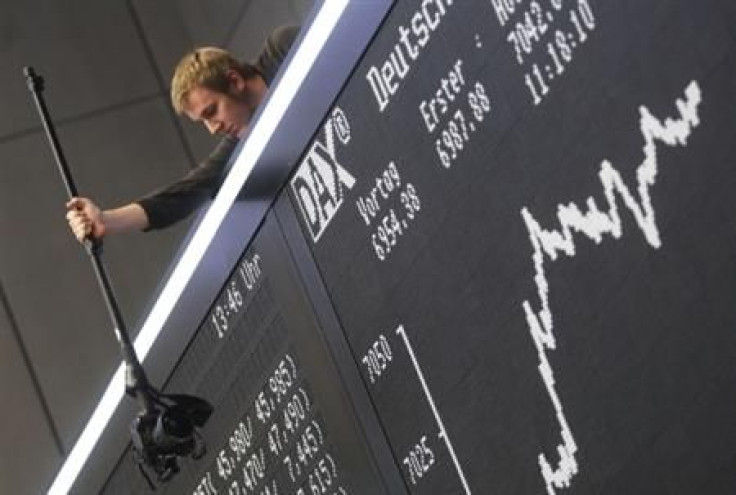 European markets rose Monday as investor sentiment turned positive with expectations that Spain would soon seek help to reduce its increasing debt burden.
The French CAC 40 index was up 0.44 percent or 14.72 points to 3369.54. Shares of Accor SA gained 1.83 percent and those of Danone SA advanced 1.04 percent.
London's FTSE 100 index was up 0.16 percent or 9.47 points to 5751.54. Shares of Shire PLC rose 1.76 percent and shares of Barclays PLC gained 1.63 percent.
The German DAX 30 index gained 0.37 percent or 26.56 points to 7242.71. Shares of SAP AG rose 1.71 percent and those of Adidas AG advanced 0.85 percent.
Spain's IBEX 35 was up 0.32 percent or 24.50 points to 7733. Shares of Bankia SA rose 1.92 percent and those of Abengoa SA advanced 1.80 percent.
Market participants expect that Spain seek a bailout under the enhanced conditions credit line, which will trigger the bond purchasing operation by the European Central Bank.
"The banking stress test results and budget outlook figures offer some much-needed transparency and can be seen as another step in the rescue process," Credit Agricole said in a note.
The ECB's recent promise to buy the peripheral government bonds without limit has certainly helped boost the financial market sentiment. But the market players are worried about the disagreement between Germany and France over the formation of a banking union as part of the measures to overcome the debt burden faced by the euro zone.
Investors will also be focusing on the credit rating decision on Spain to be announced later Monday by Moody's Investors Service. Presently, Spain has a credit rating of Baa3. A downgrade on this rating could severely affect the market sentiment.
The interest rate on Spain's 10-year benchmark bond was around 6 percent, which dropped last week after the Spanish government announced cuts on spending that are expected to slim down the deficit faced by the country.
© Copyright IBTimes 2023. All rights reserved.