Tech Shares Regain Mojo But LVMH Tiff Takes Tiffany Down
Equities rose on both sides of the Atlantic on Wednesday, with US tech shares regaining their mojo even as iconic American jeweler Tiffany slumped on news its buyout by France's LVMH was called off.
The tech-rich Nasdaq led major Wall Street indices higher after being at the center of a three-day pullback that shaved 10 percent from the index following a record on September 2.
But Tiffany shares tumbled after French luxury group LVMH said it was withdrawing from a $16.2 billion acquisition which would have been the biggest ever in the luxury industry. LVMH blamed arguments over deal-closing deadlines and threatened US tariffs on French goods, while Tiffany filed a lawsuit against the French company in a US court.
At the close in Europe, London's benchmark FTSE 100 gained 1.4 percent, helped by the struggling pound.
"Stock markets are back in rally mode as investors look to get back to their 'buy the dip' ways that proved so successful over the past few months," said Chris Beauchamp, chief market analyst at IG.
Shares in British pharmaceutical group AstraZeneca limited losses to 0.5 percent after the company "voluntarily paused" a randomized clinical trial of its coronavirus vaccine, in what it called a routine action after a volunteer developed an unexplained illness.
The company, which is developing the drug alongside the University of Oxford, is a frontrunner in the global race for a Covid-19 vaccine.
Sterling remained under pressure on fears Britain will fail to strike a post-Brexit trade deal with the European Union as the euro barreled still higher to 91.09 pence to the pound before settling back below the 91 pence mark. Sterling also got down to a six-week low against the dollar at $1.2919 before coming back somewhat.
Oil prices rebounded slightly, meanwhile, from recent sharp losses.
Large tech companies such as Apple and Amazon were back on offense after the three-day retreat caused by profit-taking and concerns the firms that have prospered during the pandemic have risen too far, too fast.
But Gregori Volokhine, portfolio manager at Meeschaert financial Services, said the reversal was too indiscriminate.
"You can't put all the companies in the same basket," said Volokhine, who said that some valuations such as Tesla's had gotten out of control.
"But you can't say the gains of companies like Apple and Microsoft have really lost a link to reality," he added.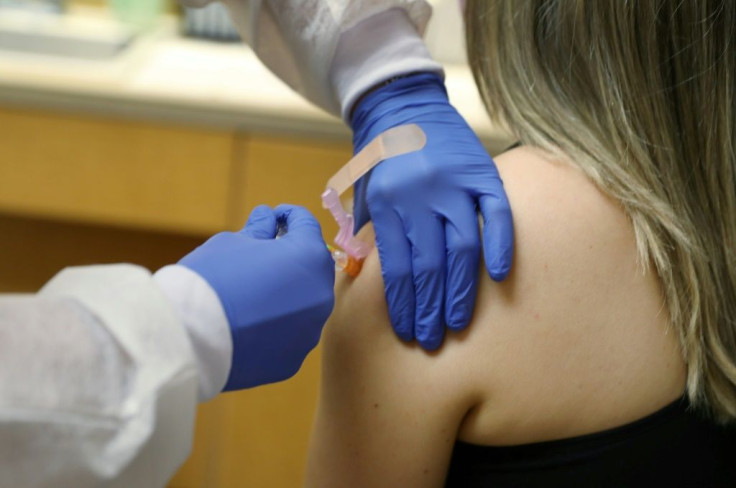 New York - Dow: UP 1.6 percent at 27,940.47 (close)
New York - S&P 500: UP 2.0 percent at 3,398.96 (close)
New York - Nasdaq: UP 2.7 percent at 11,141.56 (close)
London - FTSE 100: UP 1.4 percent at 6,012.84 (close)
Frankfurt - DAX 30: UP 2.1 percent at 13,237.21 (close)
Paris - CAC 40: UP 1.4 percent at 5,042.98 (close)
EURO STOXX 50: UP 1.8 percent at 3,324.83 (close)
Tokyo - Nikkei 225: DOWN 1.0 percent at 23,032.54 (close)
Hong Kong - Hang Seng: DOWN 0.6 percent at 24,468.93 (close)
Shanghai - Composite: DOWN 1.9 percent at 3,254.63 (close)
Pound/dollar: UP at $1.3000 from $1.2982 at 2100 GMT
Euro/pound: UP at 90.80 pence from 90.72 pence
Euro/dollar: UP at $1.1805 from $1.1778
Dollar/yen: UP at 106.12 yen from 106.03 yen
West Texas Intermediate: UP 3.5 percent at $38.05 per barrel
Brent North Sea crude: UP 2.5 percent at $40.79 per barrel
© Copyright AFP 2023. All rights reserved.