Europe's Last Dictator Lukashenko On Latin American Tour, Visits Chavez, Castro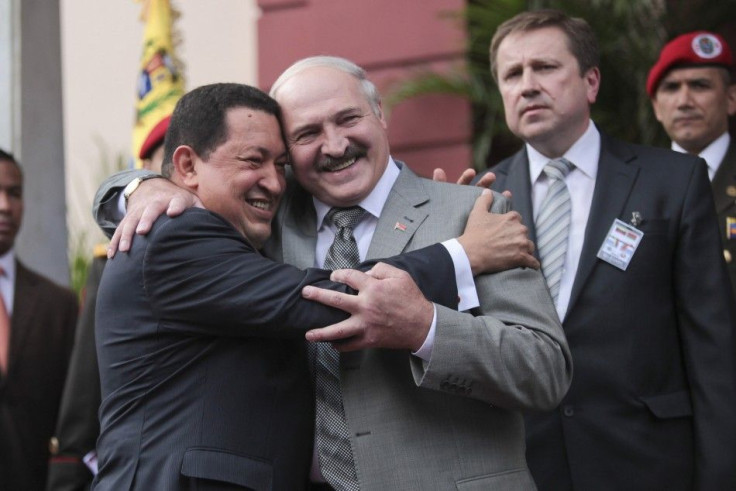 Venezuelan President Hugo Chavez warmly embraced his Belarusian counterpart Alexander Lukashenko as the two met in Caracas Tuesday to sign a set of cooperative deals.
Venezuela is full of joy, decked out to welcome our brother president, Chavez said at the welcoming ceremony. Over the years we have not only built a true strategic alliance, but a sense of brotherhood.
In Chavez, Lukashenko has found a like-minded leader, as both are known for their autocratic style of rule and their entrenchment as heads of state. Chavez has held the presidency since 1999, while Lukashenko has been in power since 1994.
At the meeting, Chavez made light of the fact that both leaders have been characterized by Western powers as authoritarians.
The United States and Europe call him (Lukashenko) 'Europe's last dictator' ... They also call me a 'dictator,' which he dismissed as the propaganda of capitalism and imperialism.
The two countries signed some 20 agreements, ranging from joint oil ventures and auto manufacturing deals to housing projects and agricultural developments.
We have come, not to enrich ourselves, but to transfer technology, build homes and teach Venezuelan specialists, Lukashenko said.
Venezuela stands to gain from Belarusian technical expertise, while Belarus views its partnership with Venezuela as the key to expanding its ties with other Latin American countries.
Hugo Chavez has done a lot so that we can begin a dialog with other countries, such as Brazil, Argentina or Chile, Lukashenko said.
Lukashenko has also sought out other leftist governments in Latin America, meeting with Cuban President Raul Castro in Havana before arriving in Venezuela. He will also travel to Ecuador where he will meet with President Rafael Correa, concluding his three-nation tour.
Belarus' diplomatic push into Latin America is particularly important for the Eastern European nation which has been isolated by EU sanctions over its record of political oppression. Relations with neighboring Russia, once a strong ally, have deteriorated in recent years over Lukashenko's failure to support Russian ambitions for a strategic regional bloc.
© Copyright IBTimes 2023. All rights reserved.