Eurozone Unemployment Rate Drops To Lowest Level Since August 2011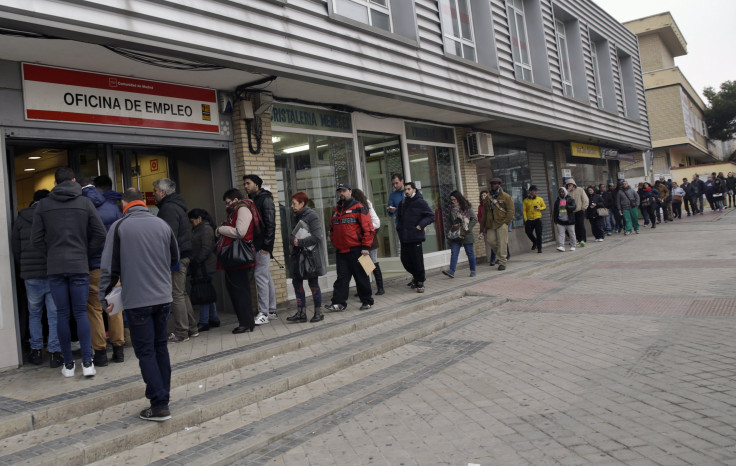 Unemployment in the 19-nation eurozone dipped for the sixth consecutive month in January, dropping to 10.3 percent — the lowest level since August 2011. The unemployment rate in the 28-nation European Union, meanwhile, was recorded at 8.9 percent in January — the lowest since May 2009 and down from 9 percent in December.
The EU statistics agency Eurostat estimates that in January, 16.64 million people were unemployed in the single currency zone — a drop of 105,000 over the previous month. This was largely due to robust job growth in the eurozone's largest economy Germany.
Germany, with 4.3 percent, boasted the lowest unemployment rates in the EU, followed closely by the Czech Republic, where the unemployment rate stood at 4.5 percent at the beginning of the year. Unemployment in Greece and Spain, meanwhile, remained above 20 percent.

Although a drop in the level of unemployed people should, in practice, translate into an increase in consumer spending and boost inflation, recent data suggests otherwise. Inflation in the eurozone, which has consistently remained way below the European Central Bank's target of 2 percent, fell back into the negative territory in February, largely due to a decline in global oil prices.
Moreover, weaker demand for eurozone's exports — caused due to a recent slowdown in emerging economies — has also hurt growth and business sentiment. The European Commission said last week that its Economic Sentiment Indicator, which aggregates measures of consumer and business confidence, fell to 103.8 in February from 105.1 in January — the lowest reading since June 2015.
The drop in business confidence, coupled with the return of deflation in bloc, increases the likelihood that the European Central Bank will announce further stimulus measures when policymakers meet later this month.
© Copyright IBTimes 2023. All rights reserved.